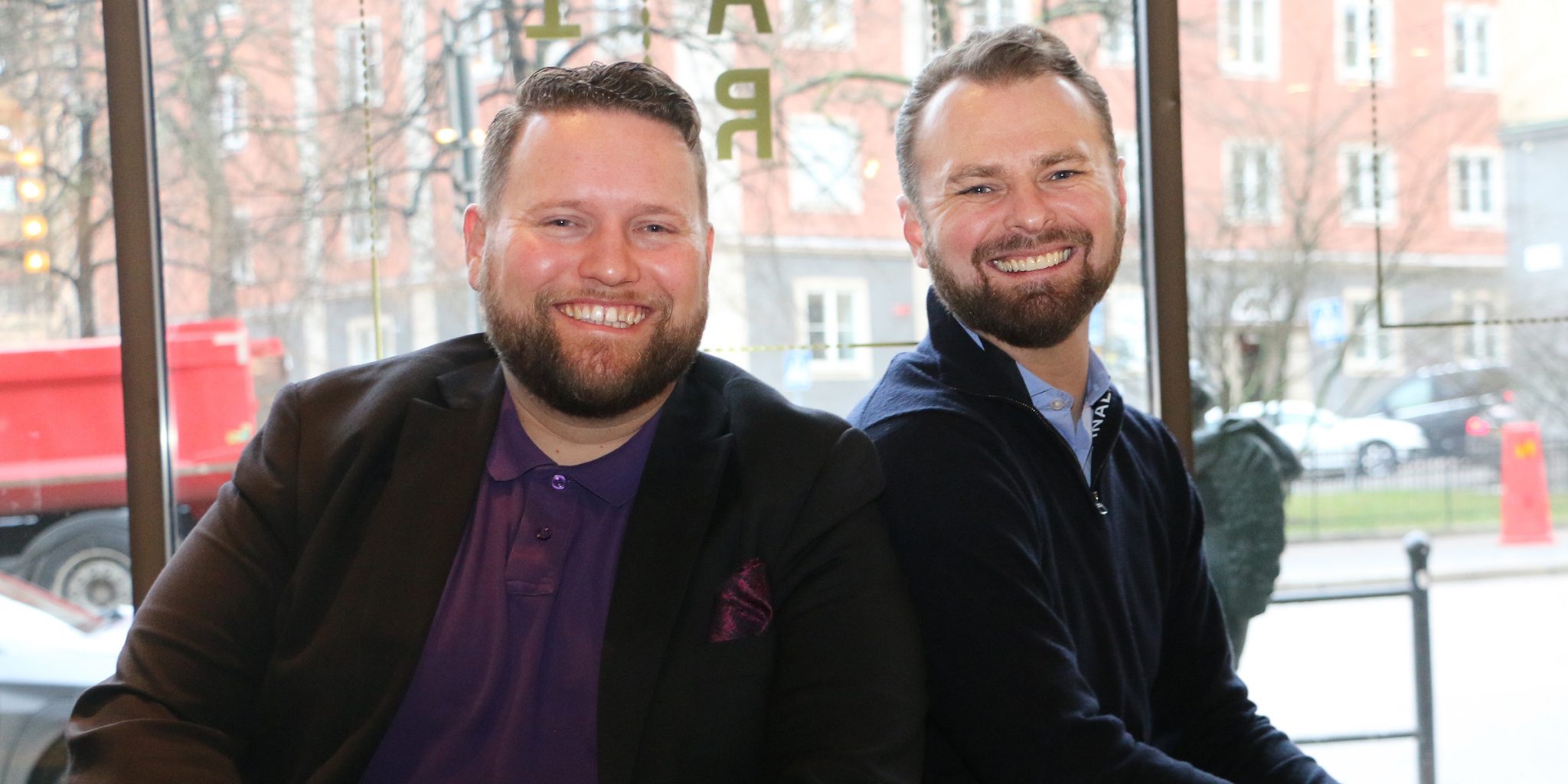 When the recipient of the EY Entrepreneur Of The Year Award was announced on January 31st in Blå hallen, Stadshuset in Stockholm, finalists Niclas Lundell (Male Rising Star Of The Year), Personalkollen from Umeå, and Harry van der Veen (Best International Growth), CEO and co-founder of NUITEQ from Skellefteå, were among the attendees.
Over the years, both Niclas Lundell and Harry van der Veen have received business support from Uminova Innovation.
Although neither of them took home the final prize in their respective categories, they are both honored to have been considered.
The trip to the Swedish finals went via the regional finals in Luleå last fall. Both Niclas Lundell and Harry van der Veen are happy to have come so far and are glad they got to enjoy every moment. Both admit to being a bit nervous about meeting the jury, which was the last step before deliberation.
Extremely unexpected

"I was touched when I won in the regional finals in Luleå," says Niclas Lundell. "I have never been so touched by any competition before." Personalkollen received several awards, including Growth Company of the Year at the Umeågalan 2019. Niclas Lundell adds: "It's one thing when you look at the company's numbers in those kinds of competitions, but when it comes to personal competitions, I am not so used to it. It was extremely unexpected in Luleå."
Niclas Lundell considers it an honor to be in the Swedish finals of a major entrepreneurial competition: "Although for me personally it's not that important, one may not say so because it's important to support entrepreneurs." He adds: "I am almost exclusively driven by the employees and wanting to grow the company." This team spirit that Niclas Lundell alludes to is evident when he says: "I'm glad to be here, but tomorrow is a new working day. The team is so important and I can certainly feel it this time; I would like to have everyone here by my side."
Everything is a team win
Harry van der Veen, who has driven NUITEQ into an internationally successful company with 20 employees in Skellefteå and just as many employees around the world, is also honored to be in the competition.

"It's a fantastic event, I already saw that when we were in Luleå. It's a prestigious competition and it's a great honor to be one of six in my category," says Harry van der Veen, who competed in the Best International Growth category. "It's always fun for people to pay attention to what you do and all the work you put in. But if it was only for myself, our business would have ended after only a month," says NUITEQ's Harry van der Veen. "Everything is a team win, even though this particular race is about choosing an entrepreneur."
Giving back to the community
Just like Niclas Lundell, Harry van der Veen emphasizes the importance of a good team to grow a business. He also emphasizes that as an entrepreneur, it is of great importance to be able to give back to the community. "We are not the biggest company in terms of sales, but we want to give back to others in the ways we can. We sponsor a women's soccer team, we help young girls find a way to study technology and science, we have built a brand new school in Uganda, we have bought books for children in India. I am happy about that," says Harry van der Veen.
Anders Jonsson, Rototilt in Vindeln, and Maud Spencer, Svalson in Öjebyn also participated from Northern Sweden.
About NUITEQ®
NUITEQ® is a collaborative software company that enables teams, educational institutions, and businesses to add value through smarter human interaction.
As a pioneer in the collaborative software world, NUITEQ believes anyone can participate, exchange, learn, and get inspired by smarter human interaction with no digital boundaries.
The company offers its customers collaborative software and adapted content in order to improve and increase the value in human interactions.
Its award-winning software solutions maximize the use of any multi-touch touchscreen with fully independent zones that can be used simultaneously. Customers in over 70 countries have chosen NUITEQ.
For more information, visit www.nuiteq.com.
NUITEQ® and Natural User Interface® are registered trademarks of Natural User Interface Technologies AB in Sweden, EU, and the USA.