Skellefteå, Sweden / Seoul, South Korea – May 13th, 2016 – NUITEQ®, the award winning and world leading provider of collaborative multitouch software solutions, has signed a new Snowflake distribution agreement with its existing South Korean Partner AVA Vision. With the strengthened relationship, AVA Vision and NUITEQ® continue to work closely together to offer an increased number of new and innovative interactive solutions to the Asian market.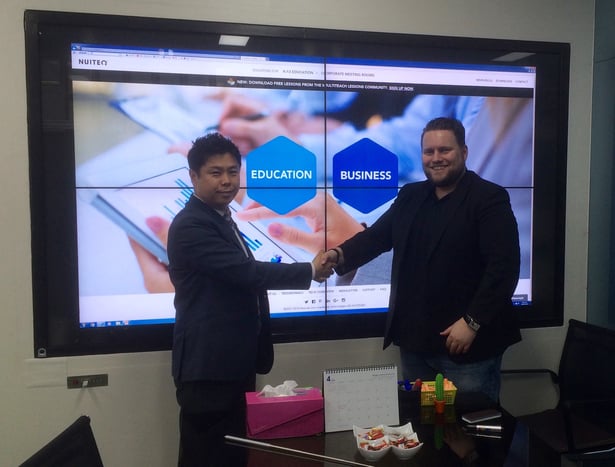 AVA's interactive touch foils, multi-touch enabled sensors such as overlays, tables, kiosks and walls are primarily being deployed in the Digital Signage and Education markets. AVA's clients are manufacturers of DID and related digital display products and system integrating companies that install Video and Audio devices. Both AVA's multi-touch sensors and related software applications are among their highest demanded products. AVA utilizes NUITEQ's Snowflake multi-touch software in combination with its interactive multi-user touch screens, to give it's customers that complete solution experience.
"We are excited about this contract renewal. It is a great testament to the trust AVA places in our products and capabilities, to help and make innovative solutions available to their customers.", says NUITEQ's CEO, Harry van der Veen.
Year-on-year AVA has seen their business grow and demand for their interactive multi-touch displays and the interactive industry is continuously growing. This growing demand for their displays goes hand in hand with the demand for software solutions that leverage the capabilities of their screens.
"We have sold many different types of touch software in Korea and other Asian countries. In our opinion Snowflake is the best multi-user touchscreen software that is available today for touch sensors. We have been successfully distributing interactive solutions for years and we are continuing to bundle our touch enabled hardware products with Snowflake. Snowflake helps us to sell more of our touch sensors. NUITEQ® is the right partner for our interactive business.", says JJ Park, CEO of AVA Vision. He adds: "Our customers and partners have shown strong interest in Snowflake MultiTeach®, the multi-touch software suite for elementary education, pre schools and early learning."
NUITEQ® and AVA Vision have been collaborating for over six years to deliver multi-touch software Snowflake with AVA Vision's multi-user touch displays to the different regions in Asia.
About AVA Vision
AVA Vision Co, Ltd. is a technology-based company, specialising in system integration with audio and visual applications and networks. AVA Vision develops interactive products and offers their solutions, including touch sensors and 3d displays, to a wide market range. Visit www.avavision.co.kr for more information.
About NUITEQ®
NUITEQ® is a world leader in collaborative touchscreen software that enable natural interaction. The company is re-imagining and redefining education technology. It's software suite of collaborative learning games, Snowflake MultiTeach®, helps to improve education outcomes for teachers, students and schools. The software creates higher engagement, greater enjoyment and better collaboration while learning. MultiTeach® is used by schools in over 70 countries. NUITEQ's vision is to empower educators to help kids learn by playing. For more information, visit www.nuiteq.com.
NUITEQ® and Natural User Interface® are registered trademarks of Natural User Interface Technologies AB in Sweden, EU and USA.
Media enquiries
Contact: Alina Chioran, Marketing Officer at NUITEQ® +46 73 087 7099, ac@nuiteq.com