Last week, NUITEQ® had the honor to be celebrated by Almi - a national risk capital firm - during the announcement of the year's Growth League, a list of the fastest growing companies in Västerbotten, Sweden.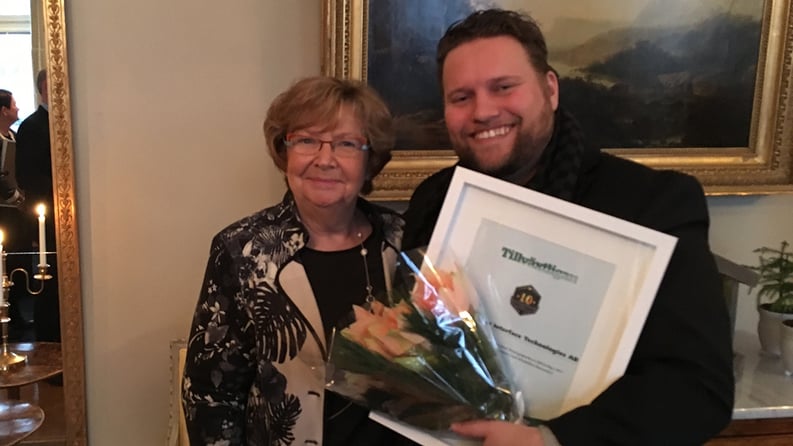 Västerbottens Governor Magdalena Andersson and Harry van der Veen, CEO & Co-founder NUITEQ.
Once a year, Almi publishes a list of the ten fastest growing companies in Västerbotten. Growth is measured as revenue growth in the last fiscal year. Companies should have between 5 and 250 employees and show a positive result, in order to be considered for the award.
NUITEQ was ranked 9th on the fastest growing companies list, with its increased turnover of 125 percent.
In recent years, NUITEQ has had great success, having developed Snowflake MultiTeach, probably the world's most fun educational software for classrooms, and as of recent Lessons Online, a cloud-based version of the software.
"At NUITEQ we are fiercely passionate about making teaching and learning more fun for both teachers and students so that it improves their educational results. It is great to see our dedicated and hard work being recognized by Almi," said Harry van der Veen, CEO and co-founder of NUITEQ, when he received the award from Governor Magdalena Andersson at the ceremony held in Umeå's at the Governor's residency.
In addition to educational software, NUITEQ also serves the business and entertainment markets with its products Snowflake Business, a multi-user collaborative meeting-room solution, and Snowflake Entertainment, a multitouch software for interactive kids corners and public spaces.
Since its launch in 2007, NUITEQ's journey has been an exciting journey with excellent partners such as Intel, Sahara, Clear Touch, Lenovo, Fortune 100 companies, as well as end-user such as teachers and students.
"We have barely begun scratching the surface of our potential. Our team constantly develops new innovative solutions at high speed. Over the years, we have received over ten million kronor in venture capital, and our products are used in over 70 countries. We have our headquarters in Skellefteå and we also have offices in India, Brazil, USA, and Canada", says Harry van der Veen.
See the full list of Almi Growth League 2017
About the Growth League
Once a year, Almi publishes the list of the 10 fastest growing companies in the county. Growth is measured as revenue growth for the last two years. Companies should have between 5 and 250 employees and show a positive result. The aim of this list is to highlight successful companies as inspiration for other companies in the region.
About Almi
Almi offers loans, venture capital, and advisory services in all phases of enterprise, from ideas to successful companies. The organisation's vision is to create opportunities for all sustainable ideas and businesses to develop. It may be an idea of a new product or service, starting a new company or developing an existing company. Almi is owned by the state together with regional owners and is close to customers with 40 offices throughout the country. Almi Company Partner Nord is active in Norr- and Västerbotten through offices in Luleå, Skellefteå, and Umeå.
About NUITEQ®
NUITEQ® is a pioneer in collaborative touchscreen software that enables natural interaction. The company is re-imagining and redefining education, meeting room & entertainment technology. Its software suite of collaborative apps helps to attract audiences, engage them and leave memorable impressions. The Snowflake software is used in over 70 countries. NUITEQ's vision is to empower educators, business professionals and companies in their day-to-day work through the use of touchscreen technology.
For more information, visit www.nuiteq.com.
Media enquiries
Contact: Alina Chioran, Marketing Officer at NUITEQ® +46 73 087 7099, ac@nuiteq.com