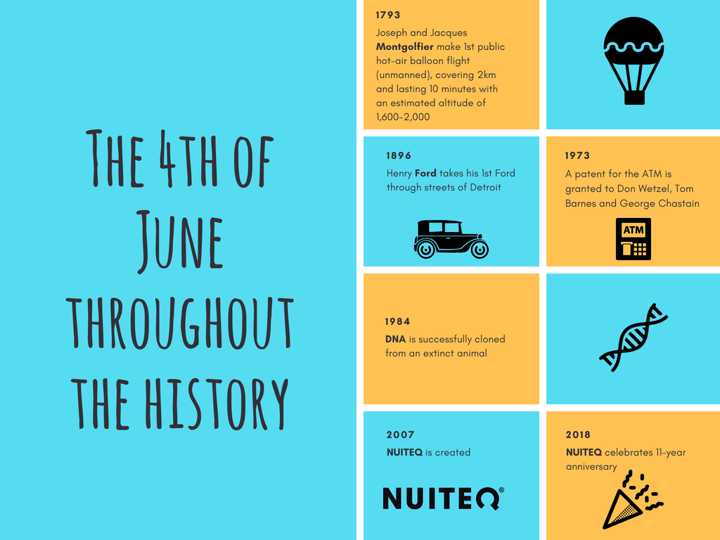 4th of June 2007
As shown in the infographic above, significant innovations have marked the 4th of June throughout history.
It happens to be so that the 4th of June has a special meaning for us at NUITEQ®, namely it being the date our company was created.
Started by a group of students, with the belief that multitouch technology would change the way people would interact with technology and information on a global scale, NUITEQ evolved from producing silicon rubber sheets and complete interactive hardware solutions into a company that today develops multitouch software for touch screens, computers, laptops, Chromebooks ™, interactive projectors and mobile devices.
The software serves these purposes:
NUITEQ CEO and co-founder, Harry van der Veen, is proud to have seen the company evolve into a collaboration solutions provider, serving partners and customers in over 70 countries.
"We feel humbly blessed and are thankful to all our customers, partners, fans and supporters that have helped NUITEQ to grow and develop into the company it is today. With all this tremendous support, we are able to work passionately every day on what we love, namely technology that is helping people to develop their ideas and themselves.", says NUITEQ CEO and co-founder Harry van der Veen.
Read more about multitouch pioneer, Harry van der Veen.
The NUITEQ team consists of tech loving, passionate and dedicated people in offices across 4 continents: Europe (HQ in Skellefteå, Sweden), Asia (Bangalore, India), North America (Longboat Key, Florida, US and Calgary, Canada), and South America (São Paulo, Brazil).
What we learned in 11 years
During its 11 years of existence, with the help of its partners, NUITEQ has grown into an industry leader.
One of the things that we learned is how to value and respect our partners and customers. Our customer support is ranked above many industry competitors (we use a service that measures our customers' satisfaction, how great is that?).
In an industry where the only constant is change, we learned that continuous innovation is the only way to evolve. This is why our team has the freedom and autonomy to develop its own ideas.
We learned that a flat hierarchy is ideal to be able to work together and collaborate as a team. This ties in with our culture that everyone is equal.
We learned the value of mutual respect, and that all opinions matter. We try to always treat others better than we expect to be treated.
We learned to be compassionate. We give back to the less fortunate through charity and volunteering, and we share our success with our community through sponsoring.
We are hungry to learn and agree that we still have a lot to learn, but for the moment, we're happy to say that all our learnings constitute the NUITEQ values.
How we celebrate 11 years of NUITEQ
There's that saying: "The more, the merrier"... so for NUITEQ's 11th birthday we've managed to fly in the Bangalore and Canada teams, who'll be at the HQ for 2 weeks.
And because around here we have the "Work hard, play hard" mentality, we've planned a bunch of cool activities:
We'll have a company party, catered by the best cafe in town, Society Café
Our party will be extended with a LAN party
We sponsor and attend the 11th edition (coincidence:)) of Creative Summit, a "mixture of a conference, workshop, party and some very secret ingredients that we are not allowed to mention."
We'll even do some outdoor activities, such as barbecues and driving quads in the beautiful Swedish forest.
Secret activity. You'd find that out if you join the company ;).
Thank you
The NUITEQ journey wouldn't have been possible without the support of our dedicated employees, amazing partners, customers, fans, mentors, and investors.
Thank you all!
Infographic resources:
https://www.onthisday.com/events/june/4