Skellefteå, Sweden, 6 November 2019 - NUITEQ®, a collaborative software company that enables educational institutions to add value through smarter human interaction, announced today that it has appointed Carmen Rocío Castillo as an Education Technology Specialist.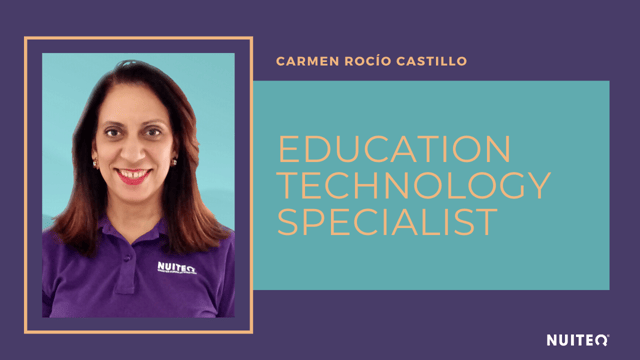 With almost three decades of experience in the education sector and an ongoing passion for teaching, Rocío comes to reinforce NUITEQ's Global Content Department.
In her role as an Education Technology Specialist, Rocío is mainly responsible for the creation of educational standards-aligned lesson content. In addition to that, she will offer support to the other members of the Global Content Department and provide feedback to the development team to further improve the User Experience (UX) of the NUITEQ Snowflake educational software.
"Teaching has always been the passion of my life. Becoming part of the NUITEQ family opens a door to learning and growing with other educators in order to create meaningful educational resources for teachers and students around the world. Being able to reach learners through a creative, fun digital platform is a wonderful opportunity that gives a fresh, attractive, and purposeful perspective to the teaching and learning processes. I am more than grateful for the opportunity to live this unique experience and very honored to share it with a brilliant and committed group of professionals in the educational field.", says Carmen Rocío Castillo, NUITEQ Education Technology Specialist.

"We're excited to have another passionate educator join our team in the Dominican Republic, as we continue to invest in the creation of standard-aligned curriculum material for the NUITEQ Snowflake platform, which is created by teachers for teachers and students. We're looking forward to working with Rocio and leveraging her years of experience as a teacher, to the benefit of our users and partners.", says Harry van der Veen, NUITEQ CEO and co-founder.
In parallel to her NUITEQ role, Rocio is currently an Early Childhood Principal at Mindful Community School Santo Domingo, Dominican Republic.
Rocio holds an Education Administration Master's from Universidad Iberoamericana (UNIBE), and a Preschool and Elementary Teacher Bachelor's from Universidad Autónoma de Santo Domingo (UASD), Dominican Republic.
About NUITEQ
NUITEQ® is a collaborative software company that enables educational institutions to add value through smarter human interaction.
Designed to support digitalization, productivity, and augmented learning in schools, Snowflake, NUITEQ's educational software solution enables educators to enhance interactive learning. It helps reduce lesson planning time, offers the tools needed for personalized learning, and provides a safe environment for authentic feedback in a collaborative setting.
Snowflake empowers digital natives' expressive learning through memorable digital storytelling.
Customers in over 70 countries have chosen the award-winning Snowflake software.
For more information, visit www.nuiteq.com.
NUITEQ® and Natural User Interface® are registered trademarks of Natural User Interface Technologies AB in Sweden, EU, and the USA.