THIS POSITION HAS BEEN FILLED.
NUITEQ® is looking to appoint a Community Growth Manager. This is a new position in the company, and you will be able to shape the role together with your colleagues.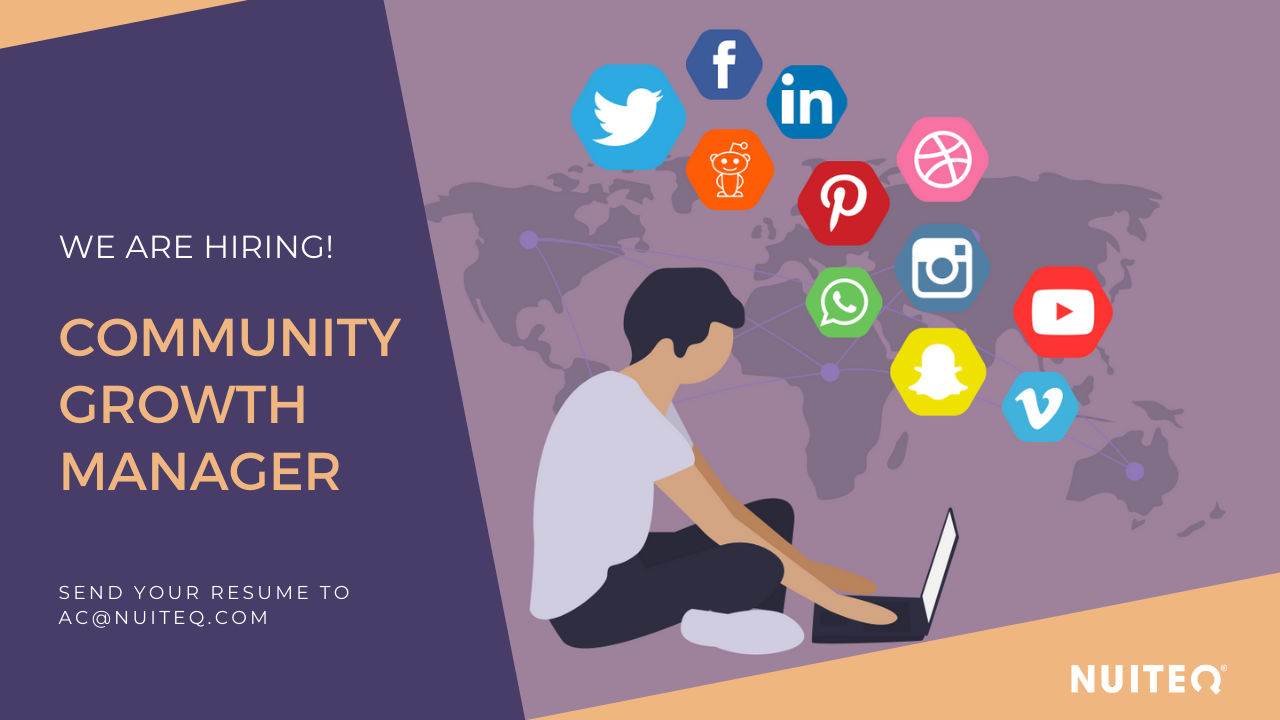 At NUITEQ, we believe in a collaborative world where anyone can participate, exchange, learn and get inspired by smarter human interaction with no digital boundaries.
We work in a collaborative environment and pride ourselves on having built a team of technology passionate people. The company's headquarters is in Skellefteå, North Sweden.
MAIN DUTIES AND RESPONSIBILITIES
We are looking for a passionate Community Growth Manager who is dynamic and result-oriented. You will directly engage with members across all community platforms (Snowflake Community, potential Snowflake forum, Facebook, Instagram, Twitter, Linkedin), while also managing other responsibilities related to community engagement, development, and growth.
In this role, you will be part of the marketing team and be working closely together with the Design, Content, and Development teams to build a community around the NUITEQ Snowflake brand, which is NUITEQ's educational software platform.
KEY RESPONSIBILITIES
Create and shape the community and its deliverables.
Create a good understanding of end-users and their need
Develop and deploy ongoing strategies that drive and maintain ongoing member engagement
Develop and implement strategies to effectively manage content; identify and fill content gaps
Serve as a brand ambassador and manage all community communications
Refer community members to relevant content within and outside the community
Regularly monitor, initiate and facilitate community discussions among members
Respond to member requests in a timely manner
Identify, nurture, and leverage member 'ambassadors'.
EXPERIENCE AND REQUIRED SKILLS
Community
Minimum 3+ years' experience in a similar role
Proven track record in building, maintaining and growing online communities to drive community engagement
Prior experience in launching community initiatives (e.g., ambassador program)
Strong relationship building skills
Demonstrates empathy and compassion in all interactions
Ability to identify and track relevant community metrics
Social Media
Social Media execution and monitoring
SEA management
Create, optimize and control the SEA campaigns
Analyze and interpret the campaign-relevant metrics
You have at least 2-year experience in building Search Engine Advertising and Display campaigns.
IN ORDER TO SUCCEED IN YOUR ROLE
Excellent ability to prioritize, to independently run work, and to lead others in their work
Strong analytical skills; ability to analyze data, identify themes, and communicate findings effectively
Responsiveness, cooperation, and good ability to communicate and to structure and present information
Curiosity, creativity, and problem-solving ability
Experience in digital marketing
Good experience of working with digital communication in multiple channels.
Experience from B2B as well as the Education market is a plus
Experience in using Google Analytics, Adwords editor, Facebook Business manager
Knowledge of HubSpot is a plus
Master Swedish and English fluently in speech and writing (Spanish is a plus).
WHAT WE OFFER
We are a growing company in a growing industry
Fun and dynamic work environment, where we reward performance
An environment where your input is heard
Possibility to learn new things about the most exciting market out there
Flexibility in working hours
Long term opportunity to benefit from the success and growth of the company.
STARTING DATE
As soon as possible, but we are flexible.
HOURS
Full time.
SALARY
As per discussion during the interview.
CONTRACT DURATION
6 months evaluation period with the goal to turn this into long term employment. When we employ people, even if it is for 6 months, our goal is to have you join our team for the long term, as we will invest significant time, money and energy into trying to make you successful.
Apply today by sending an email to ac@nuiteq.com or clicking the button below:
About NUITEQ
NUITEQ® is a collaborative software company that enables teams, educational institutions, and businesses to add value through smarter human interaction.
As a pioneer in the collaborative software world, NUITEQ believes anyone can participate, exchange, learn, and get inspired by smarter human interaction with no digital boundaries.
The company offers its customers collaborative software and adapted content in order to improve and increase the value in human interactions.
Its award-winning software solutions maximize the use of any multi-touch touchscreen with fully independent zones that can be used simultaneously. Customers in over 70 countries have chosen NUITEQ.
For more information, visit www.nuiteq.com.
NUITEQ® and Natural User Interface® are registered trademarks of Natural User Interface Technologies AB in Sweden, EU, and the USA.