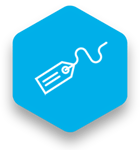 What it does
Tags is a lesson type that provides students a way to identify and label items in a diagram.
Students drag tags representing items from a list of words located on the right side of the screen to the corresponding location on a target diagram or photo on the left side of the screen.
The target photo or diagram can be zoomed by pinching, or can be dragged around on the screen.
Target and background photos/diagrams are easily imported into the lesson.
Good for
Previewing and reviewing information related to a lesson topic
Understanding diagrams related to science
Structure and organization of human or animal anatomy, plants, etc.
Subject-matter vocabulary development
Supports teaching-learning of more complex concepts using visualizations/ diagrams.
Also supports
The Tags lesson type supports a wide range of subjects. It is especially useful for teaching STEM subjects.
Works well with
In Zones:
Presenter
Nodes
Educational video clips
Educational PDFs.
Other lesson types that represent the same or similar educational content/concepts:
Cards
Match
Guess (for content-related vocabulary development and review)
Scramble (for content-related vocabulary development and review).
Conversions
A Tags lesson type can be easily converted into the following lesson types:
Find out more
You can learn more about the Tags lesson type in the Snowflake MultiTeach user manual. Access the dedicated Tags page here.
Alternatively, check out the Tags lesson type video.
Ready to use Groups to create touchscreen lessons that can be used in your classroom? Download the FREE 14 days Snowflake MultiTeach trial by clicking the button below.