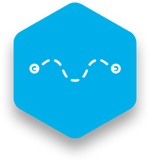 What it does
Arrange is a lesson type that supports presentation and creation of timelines. Students arrange items, randomly placed at the top and bottom of the screen, in the correct order on a timeline.
The timeline and objects can be moved by dragging on the background, and items can be zoomed in and out by pinching.
A button in the top right corner can be toggled to display which items are correctly placed, via a small checkmark on the item.
Toggling the Hide/Reveal button in the corner menu can move items into their correct position and then back onto the screen.
Good for
Recall of sequentially-related facts, such as stages of the butterfly life cycle, the water cycle, physiological systems
Visual sequencing
Sequential reasoning
Sequencing activities of daily living, such as getting dress, folding towels, making a sandwich, etc.
Supports self-correction.
Also supports
Understanding of broader sequential process across diverse subject areas
Life cycles/Circle of Life
Stages/phases of growth and development across species
Ordering, sequencing of historical events
Ordering and sequencing events in a story.
Works well with
In Zones:
Presenter
Nodes
Educational video clips
Educational PDFs.
Other lesson types that represent the same or similar educational content/concepts:
Cards
Match
Guess (for content-related vocabulary development and review)
Scramble (for content-related vocabulary development and review).
Conversions
An Arrange lesson type can be easily converted into the following lesson types:
Sentences
Match
Spinner
Cards
Find out more
You can learn more about the Arrange lesson type in the Snowflake MultiTeach user manual. Access the dedicated Arrange page here.
Alternatively, check out the Arrange lesson type video and the Using the Arrange lesson type blog.
Ready to use Arrange to create touchscreen lessons that can be used in your classroom? Download the FREE 14 days Snowflake MultiTeach trial by clicking the button below.