With more meetings happening remotely or in a hybrid setting than ever before, government organisations and companies need meeting hosts to get more out of their time with their peers. This means more engaging, interacting, and producing in the same or preferably less amount of time.
A survey of almost 4000 global workers found that 67% of employees reported that more than half of the online meetings they attended were not valuable.
Change begins with the organizer: here's 8 host tips to make sure that your next hybrid or remote meeting is more engaging and productive.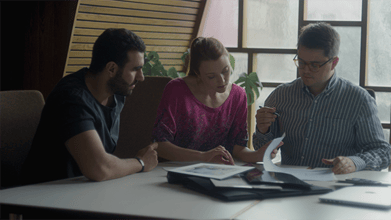 1. Clear purpose and action
Before the meeting starts every person needs to agree that they are the right person to attend. This is done by having a clear purpose that explains the benefit of attending the meeting in the digital meeting invite. Try to keep it short, a good rule of thumb is 38 characters because beyond that text will be cut off on most mobile phones. Try to avoid passive words like 'report' 'presentation' and use more active words like 'hands-on', 'activity', and 'decision'.
Ask yourself what benefit would someone get from participating in this meeting? Keep in mind you need to "sell" why this meeting is the most important thing that they can do with their time.
For example, "3 Actions from user feedback" "Hands-on with NUITEQ Stage" "Q2 brainstorming activity".
NUITEQ Stage is a fabulous product! We use it and our customers love its simplicity; it has no fuss and you can connect immediately. Well done to you all at NUITEQ for producing such a great product.
2. Webinar, workshop, hybrid, remote
Decide in advance if your meeting is going to be a presentation or a collaboration and include that as the first word of the event: 'webinar' or 'workshop' as this will set the expectation for collaboration among your participants.
Often if the session is a webinar, participants will ask if there is a way they can get a recording or the materials of the presentation. Let them choose the method of consumption that works best for their schedule: live, recording, or presentation materials.
Holding a webinar does not mean that participants need to be passive. Ask them to write a comment in the chat about where they are listening from and what time it is locally. The purpose is so that they feel comfortable writing in the chat.
A digital workshop sets the expectation that there will be a lot of input requested from each participant. The host can acommodate hybrid and remote participants by choosing a shared digital space (e.g. a NUITEQ Stage board) in advance.
Hybrid meetings require hosts to think about how those in a meeting room would participate, while a fully remote meeting might use a voice and video solution. Test your set up in advance so that there are no surprises.
3. Action oriented agenda
Let's face it, most meetings are non-interactive presentations that should have been recorded. Make sure that your meeting includes a list of decision items or action items that require participant input. Let your attendees know in advance when you expect their participation.
For example, and simple agenda for the 3 actions from user feedback meeting:
15 mins - Create feedback categories
15 mins - Group feedback into category
25 mins - Vote and assign leader for the top 3 actions
4. Start on time
A key reason why 67% of employees said that more than half the meetings they attended were of no value was because most hybrid meetings start late. Precious time feels wasted waiting for the host to set things up digitally. Just think of how annoyed, frustrated, and angry you might feel when the host says "sorry, we'll get started soon – we're having some technical difficulties."
It's crucial for hosts to arrive a few minutes in advance of their meeting so that they can ensure that everything is working. Bow out early of your previous meeting if you need to. This extra time allows you to use a backup device or hosting service if there are problems.
Meeting participants also end up joining late when they need to download a meeting client or type in a password. Include the meeting links in the calendar invite, include the password so it's all there in one place. Use meeting platforms that don't require a download like NUITEQ Stage.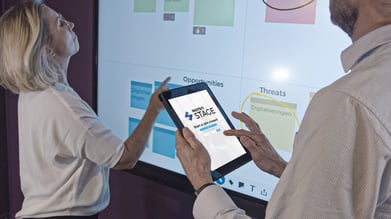 5. Waiting room
In this age of online meeting bombing it is important to make sure that only those allowed to participate attend your meetings. One way to vet or check the ID of those who come into your digital meeting is with a waiting room where participants are given the chance to rename themselves so they can be identified by the host.
If monitoring the waiting room is too much for the host then it's important to assign someone who can attend early to serve as the host of the meeting. Sometimes you can have a trusted colleague serve as the host of a meeting on your behalf so that you can focus on the discussion at hand.
6. Recap actions
It's good to start a meeting by reiterating the meeting purpose and actions. Sometimes a recurring meeting had actions from the previous meeting, it's can be helpful to follow up on the previous meeting actions for accountability. If there were previous meetings minutes an action review for our 3 actions from user feedback could look like:
ACTION: Easier to join meetings - Johan

ACTION: Time left on the agenda - Harry

ACTION: Mobile screen sharing - Jill
In this scenario, Johan, Harry and Jack would report on the actions that they were responsible for from the previous meeting.
NUITEQ Stage is a very powerful platform for communication and collaboration, yet very simple to use. No installation needed, no learning curve, and it fits all types of meetings or distance learning. In short, NUITEQ Stage is brilliant!
7. Set time limits
An extended discussion at the beginning of your meeting can completely derail the agenda and leave most of your participants feeling that the meeting was not valuable. As the host, it is your responsibility to be the time moderator.
Set a time limit for each agenda item and stick to it closely. If others are speaking, remind them when they only have 5 and 2 minutes left so that they know they need to wrap up soon.
If a discussion with many people is needed then it's important to set expectations so that everyone's time feels respected. For example here's a set of rules that we could use for our 3 actions from user feedback meeting:
Host writes down a list of speakers from the group chat

3 minutes max per person

Please wait till all others have spoken before sharing your next idea
As a host you can tell people when their time is up and move on to the next speaker.
8. Follow up
The meeting may not be very useful if participants do not follow up on the actions from the meeting. In your thank you, make sure to include a summary of the presentation materials, and list any follow up actions in the email and make it clear that these items will be the first to be discussed in the next meeting.
Meeting surveys are one of the best way to ensure that your meetings improve over time. A simple poll asking to rate "how helpful was this meeting to you?" or asking "how would you describe our progress toward our goals?" can provide useful insights to improve your next hybrid meeting.
These are just some of the best practices built into our innovative digital workshop solution NUITEQ Stage. Learn more about NUITEQ Stage below.
Contact us, if you're interested in NUITEQ Stage for your organization.