Working together and keeping in contact was challenging this year, yet we must acknowledge that 2020 was a year where online collaboration software took a major leap forward.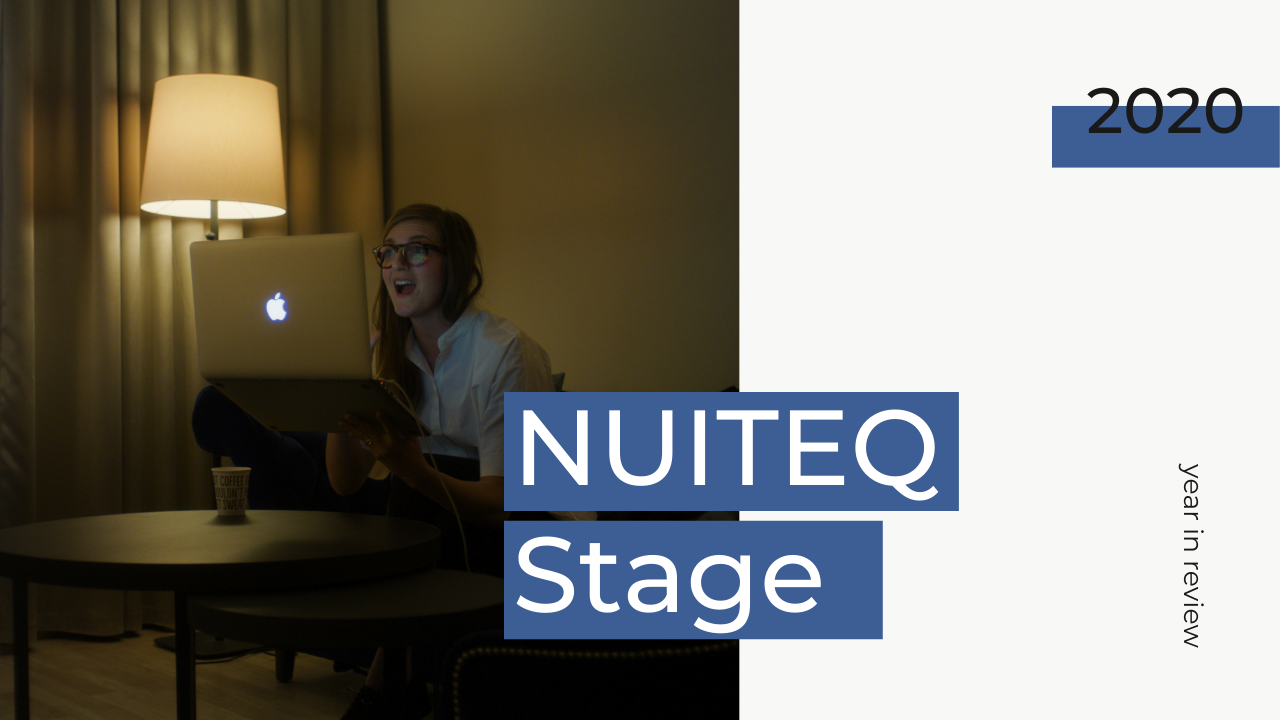 With over a decade of pioneering in collaborative experiences, NUITEQ's ambition in the past year was to reimagine and redefine how online meetings are conducted. This year, in particular, our focus was on improving our online collaboration tool, NUITEQ Stage. With Stage we offer users a continuous workspace, an all-in-one solution for remote work with voice, video and an integrated digital whiteboard. Our solution enables you to safely save your projects, files or meeting notes in the cloud and allows your team to access them at any moment.
In terms of the best Stage features for remote collaboration, here's what happened:
We added:
a way to choose a board when scheduling a meeting
move objects above/below other objects and to send objects to be fully behind other objects, in addition to the earlier 'Bring to front' option
duplicate sticky notes
see

a list of people that are already on the board, before joining a board

3 size modes to screen share window, floating and move-able, semi-fullscreen (covering board area), fullscreen (covering entire screen)
set the opacity of the board background
add emojis as reactions on a Sticky note
new designs for Stage landing and login pages
resize the chat and participants panels
copy and share a link to a specific page on the board
download images with annotations
choose to include chat messages in the board exported as a PDF
support for the Microsoft Edge browser on Mac and Windows
a Swedish version of the getting started guide; check it out here.
a 'Waiting room' allowing the host to approve/disapprove users joining the board
the host can set presentation or collaboration mode when setting up the board
the host can set the name of the board when starting a new board
the host can specify, when setting up the board, if participant's cameras and mics should be allowed
a 'Test setup' section for participants joining a board enabling them to set name, preview camera and test microphone
chat with individual participants one to one (direct messaging)
change cameras when on call
use emojis in chat
set the background using online image search
duplicate a page
choose between 3 eraser sizes
'raise hand' to signal to the host and the presenter and get their attention
the host can turn off the camera feed of all participants at once or remove a user from a Stage meeting
an option to make uploaded images downloadable
copy-paste an image and file from the clipboard
share the board as a PDF to Slack
a grid view under camera full-screen mode
the option to use online image search for adding the board logo (in addition to browse from the computer)
export a PDF of the board directly to cloud storage service Dropbox, Google Drive and OneDrive
upload content from your Dropbox account
download documents uploaded to the Stage board, including PDF, DOC, DOCX, PPT and PPTX
change the thickness of pen strokes
choose contacts from your Gmail account when scheduling a meeting from Stage
pin a user and have the video feed locked to them
links to Stage training on the landing pages and under the help section
add a logo on the boards
search for a board by name in the board selector
quickly to move a page to a different position by entering a page number
a way for choices made previously on the 'Start a board' page to be remembered
We improved the
full-screen video section
user experience (UX) of the call button
UX on mobile screens
underlying structure for better performance and stability
architectural back-end rewrite leading to improved reliability and stability
participants, camera feed and chat user interface (UI)
We updated the
UI on the pages in the page switcher so that it shows a user count and list instead of user index numbers

UI to go to full screen or 2x modes in camera feed on the top right
Furthermore, in presenter mode, the participants' video state (position/play/pause) now follows that of the host, and invitation links (ics/Google Calendar) have more information about the Stage meeting.
Curious to see how all of the above performs in an online meeting? Get in touch by clicking the button below.