The Media App in Snowflake MultiTeach is a multi-user, multimedia tool that is often used for presenting digital content such as images, text, and video for use in instruction in K-12 settings. It also can be used to support open-ended learning activities for preschool-age children and those who have special cognitive needs.
Students benefit from exploring content, and the Media App is ideal for supporting open-ended exploration. In the example pictured below, students are working on learning how to match colors to colors and colors to items of the same colors.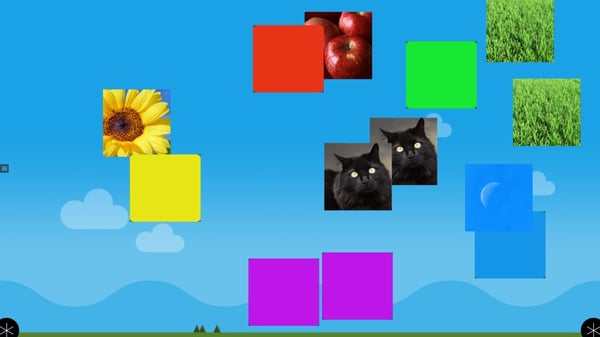 Depending on the needs of the students, teachers can quickly create content for planned learning sessions, or on-the-fly, using content they have previously selected and loaded into Media project folders. Below are some examples of the types of content to have on hand for similar matching exploration activities:
Picture to Same Picture
Picture to Similar Picture
Picture to Same Picture with Text
Picture to Similar Picture with Text
Picture with Text to Picture with Text
Picture to Text
Here is a short video that explains how this example can be set up in MultiTeach:
The Media App can be used in Zones with the Lessons App, to provide access to lessons that correspond with the same or similar learning objectives, as pictured below: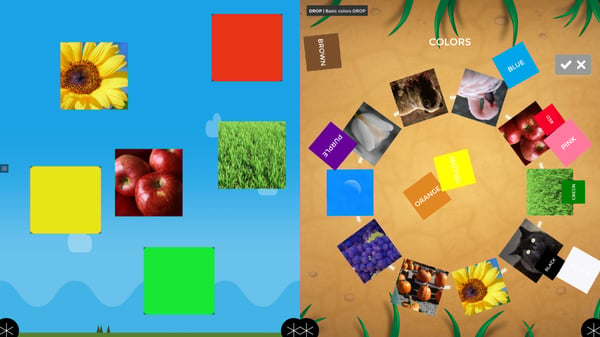 The Zones feature allows teachers to save apps and lessons, retaining the same configuration for future use. This makes it ideal for use during front-of-class activities or in situations where MultiTeach is accessed in tabletop mode as a learning station.
For more tutorials covering the Snowflake MultiTeach educational software, subscribe to our YouTube channel by clicking the button below:
For all the Snowflake video tutorials, go to our Video Tutorials Page.