For the beginning of this new school year, Opelika schools, in Alabama, USA have installed 108 new interactive touch panels in their classrooms.
The multitouch panels, that are provided by NUITEQ's US partner, Clear Touch Interactive, come pre-installed with collaborative classroom software Snowflake MultiTeach®.


Source: WSFA 12 News
Personalized learning
The main reason why the Clear Touch panels were introduced was their ability to personalize the learning experience for the children. Indeed, due to the multitouch capacities of the panels, together with apps such as Snowflake MultiTeach Zones, multiple children can use the panel at the same time, working on different types of curriculum material simultaneously.
Stacy Royster, District Technology Coordinator explains: "It's got software on it that allows you to divide the board into regions and provide personalized learning to the students. Up to 10 students can be on the same board, at one time, doing different things."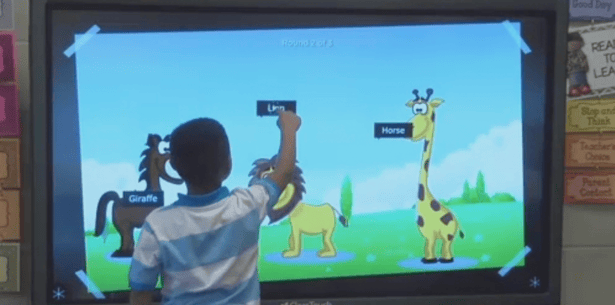 Source: WSFA 12 News

Benefits for the students, teachers, and parents
The interactive panels change and improve the traditional way of teaching and allow teachers to present their lessons in a more fun, engaging, and memorable fashion.
Teachers say the panels "keep children's attention, they're vibrant, colorful, and get children excited about learning, which makes them want to do it more."
According to the Assistant Superintendent of Curriculum and Instruction at the Opelika schools, Jean Miller, the touch displays will have benefits to teachers because the software that comes with the panels is intuitive for students.
For the students, the touch screens provide visual and hands-on interactive instruction, which will help with engagement and therefore performance.
Parents are also excited about having their children enrolled in a forward-thinking school. Even if they don't have access to such technology at home, they are glad the Opelika schools provide 21st-century learning technology to all their students.
Interested to have a look at the software that comes bundled with the Clear Touch Interactive multi-touch displays, that is being used in the Opelika schools? Go ahead and download a FREE 14-day trial now, by clicking the button below:
Resources:
Opelika City Schools rolls out new technology, programs