Skellefteå, Sweden, 20 December 2018 – NUITEQ®, a collaborative software company that enables teams, organizations, educational institutions, and businesses to add value through smarter human interaction, announced today the release of edition 6.2 of Snowflake MultiTeach®, the collaborative solution for interactive classrooms where learning is fun, engaging and memorable.
Upgrade to Snowflake MultiTeach 6.2
In this release, we continued to implement a significant amount of user feedback to enhance the UX (User Experience) of Snowflake MultiTeach. Most of the new features that were released come from user feedback and are designed to fit our user needs more accurately.
Para nuestros amigos que hablan español aquí hay una copia de este video en español https://youtu.be/AYaR2D5wonA
New in Snowflake MultiTeach 6.2:
We completely redesigned the corner menu to improve interaction and readability for a better user experience.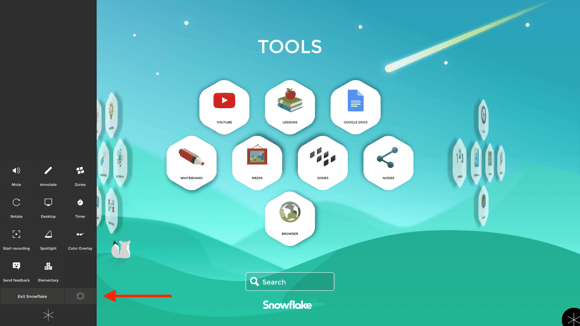 Added the Screenshare app
Screen sharing allows you to run a mirror of your iOS devices such as an iPhone or iPad or a Windows/macOS computer in Snowflake MultiTeach; you can share it either full screen or in a Zone.
To use Screenshare for Windows or macOS, download the Screenshare app from nuiteq.com/screenshare and install it on the computer you want to share the screen from.
To use the screen share function with iOS, download the latest version of Snowflake Remote from the Apple App store.
Added the ability to specify standards for a lesson
When a teacher creates a lesson that they'd like to share to the MultiTeach Lessons Community, they can now add the specific standards that their lesson covers. Teachers can also browse by grade, subject, and standards in the Lessons app.
Added a Snowflake front-end Configurator
You can now access a front-end Configurator via the corner menu. The Configurator allows you to change the background (includes internet search), app names, category names, app placement as well as active/inactive and external apps. Access to the Snowflake front-end Configurator can easily be disabled for situations where being able to modify settings is not wanted.
In the corner menu, you can now find a timer that allows you to set a time, start, stop and reset the timer. Once you've started a timer, you can open any other application. The timer will only stop if you close it or when the indicated time has run out.
Added a "Send feedback" form
In the new corner menu, you can now find the "Send feedback" option. This allows teachers to send us immediate feedback or any other comments. Snowflake MultiTeach is built with the users' feedback in mind. We believe direct communication will allow us to improve the software even further.
Added a screenshot function in the corner menu
The Screenshot button in the corner menu allows you to take a screenshot of any app, that is running in a Zone and then send that screenshot to an app that runs in a different Zone or on another computer on the local network that is running Snowflake.
This feature is, for example, useful in the apps that are used for creation and presentation, so a teacher can, for example, use the Browser in one Zone and send screen grabs to another Zone, where she uses the Media app. This cross zone interaction feature allows true collaboration.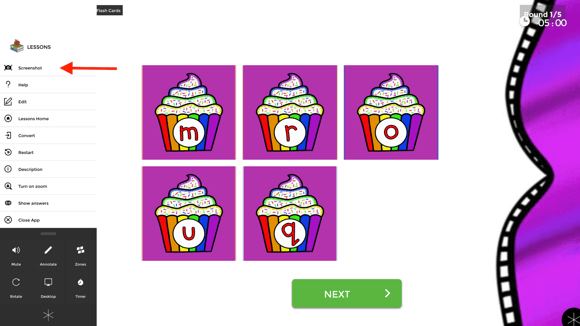 Added support to automatically open PDFs downloaded using the Browser app in Media
Added in the ability to use YouTube search to add YouTube videos to lessons in the Lessons app rather than having to copy URLs from the browser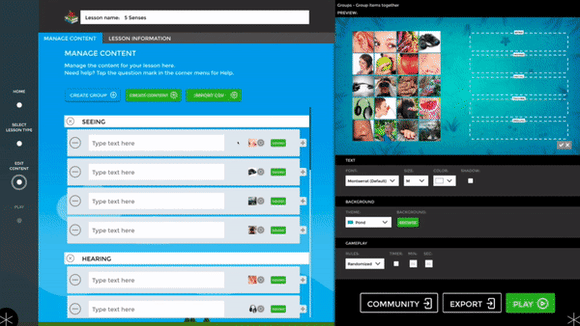 Added the ability for administrators to "adopt" accounts that teachers have made on their own in license management
Added a zoom function to the Show app combined with iOS (Snowflake Remote)
Added a "play list randomly" option in the Lessons app home screen as well as after you completed playing a list of lessons
Added an option to give tags different colors to the markers in the Tags lesson type, in the Lessons app
Added support for having multiple rounds in the Cards lesson template in the Lessons app
Added support for more characters when setting tags (now 300 characters) and lesson description (now 3000 characters) for lessons in the Lessons app
Added larger font options to all Lessons templates including XXL and XXXL
Added the option to lock words to their row in the Sentences lesson type, in the Lessons app
Added to the Favourite apps in the main menu, the option in the corner menu to launch the edit module of the Lessons app so that Favourite apps can be edited with one click.
Added fresh new content to the Digital Content Gallery
Added a new splash screen with the Arctic Fox
Added Chinese keyboards to more Chinese regions
Improved the ability of the Media app to receive files from apps running in other Zones
Improved saving layouts with web pages in them by better maintaining Browser state
Improved interaction in Quick Search when doing subsequent searches
Improved interaction with folders in the Media sidebar
Improved the Snowflake Updater
Improved the Guided Access PIN dialog by making it smaller, so that a teacher can block it off better from the students
Fixed that a linked YouTube video does not show up in the description dialog in the Lessons menu
Fixed that a Zone stays rotated if it goes to full screen
Fixed an interaction bug with four split Zones where one could control a Zone from another Zone
Fixed the Lessons player default for a movable background
Fixed the Digital Content Gallery in Nodes
Removed background audio from the underwater theme to make it consistent with other themes
Removed the English Spelling app. Users can now instead use the Words and Sentences lesson types in the Lessons app
General improvements and fixes.
You can check the history of all the Snowflake release notes here.
For more information check out our Support Page.
About NUITEQ
NUITEQ® is a collaborative software company that enables educational institutions to add value through smarter human interaction. NUITEQ maximizes the use of any multitouch touchscreen with fully independent zones that can be used simultaneously. Its educational software empowers expressive learning through memorable digital storytelling. NUITEQ provides a safe environment for providing authentic feedback in collaborative settings. Its award-winning Snowflake software is used in over 70 countries.
For more information, visit www.nuiteq.com.
NUITEQ®, MultiTeach®, and Natural User Interface® are registered trademarks of Natural User Interface Technologies AB in Sweden, EU, and the USA.