Open Educational Resources (OER) have exploded in popularity in recent years. These free resources are described as tools to provide quality educational materials, improve access to content for remote learners, and allow us to participate in the global EdTech community. A meta-study of more than 100 000 students found that students who reported that they faced financial difficulties found that OER provided a benefit to them and that there was no instance where a majority of students or teachers reported that OER was inferior in quality to modern textbooks.
Our hands-on training with NUITEQ Snowflake often results in questions about the best way to find quality OER materials that engage students while aligning with curriculum standards. Evaluating OER often involves long rubric forms, therefore we've made them easier to remember using the PALACE acronym. We describe categories of OER to make it easier to find the resources that we need.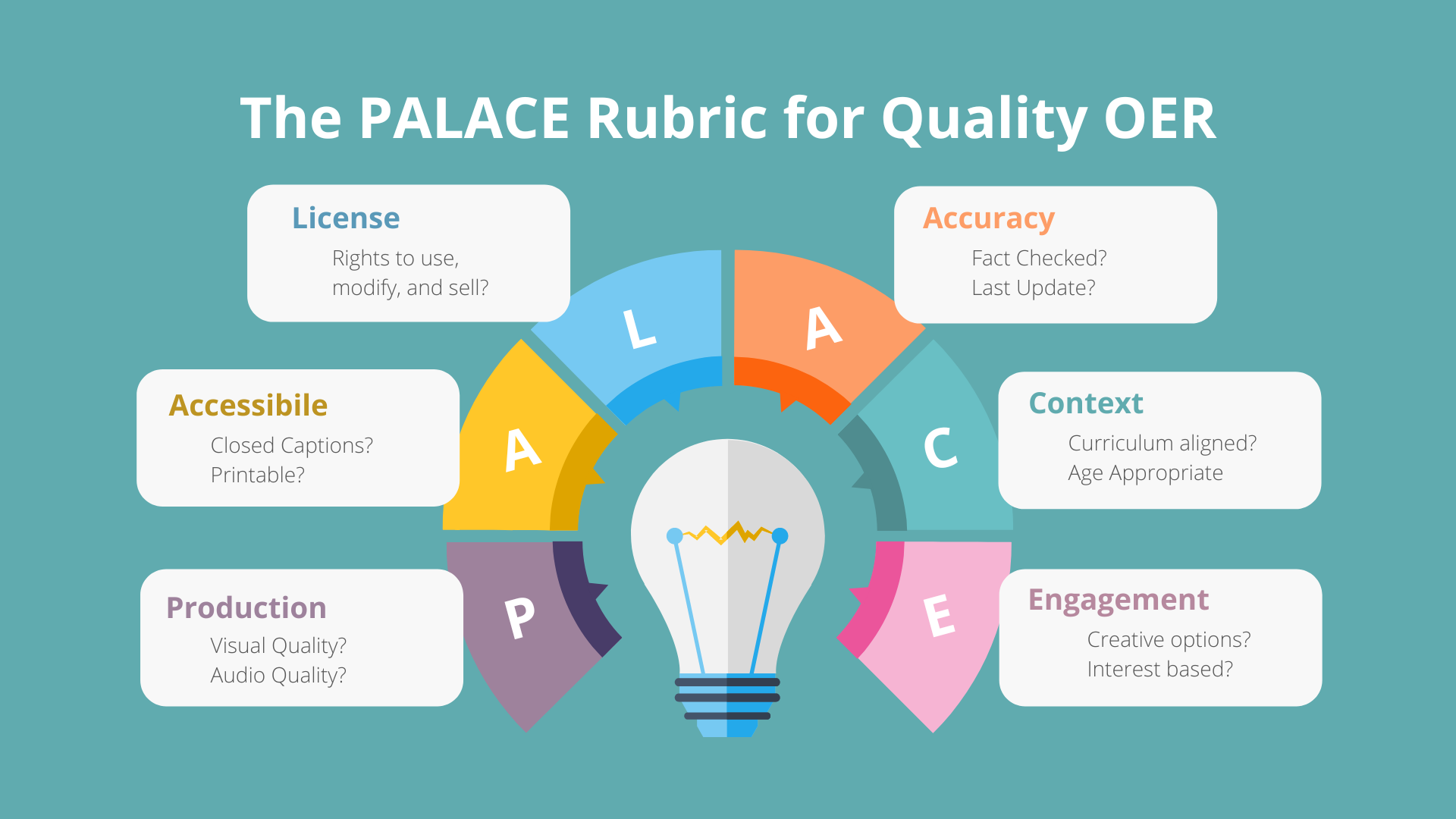 Rubric for Open Educational Resources
The PALACE acronym, illustrated above, is an easy way to evaluate the quality of an open educational resource. PALACE stands for Production, Accessible, License, Accuracy, Context and Engagement. Expanded below
Production: The visual quality and the audio quality often provide clues about the quality of the OER resource itself and the amount of effort put into the creation of the resource.
Accessible: Open educational resources should follow Universal Design for Learning principles by providing multiple means of representation, this includes text captions and printable worksheets when appropriate.

License

: Does the license permit you to use, modify, and resell the materials? CC0 or No Rights Reserved content allows you to use content in any way that you like.
Accuracy: Look in the comments on the OER resource, have any facts been disputed? Recently updated resources are more likely to include current scientific consensus.
Context: Time will be saved if the material is aligned with current curriculum standards, sometimes keywords from the standards can also be used in the event that the OER was not tagged correctly.

Check to see if there are any comments about the age appropriateness of this resource.

Engagement: Is there a creative activity built into the educational resource? Is the topic related to the interests that you have seen in your classroom?

Searching for Quality OER
Open Educational Resources may not be organized and labelled in a consistent way across the different places that content is stored. We categorize OER content to make it easier to find the type of content you need for your lessons.
Online Textbooks: In addition to searches by keyword, grade, and subject OER Commons has collections of curated content for Common Core ELA and Math and Next Generation Science. Open Stax offers open textbooks for secondary grades.
Online Literature: Libby offers e-books, audiobooks, and magazines in collaboration with local libraries. Project Gutenberg has many books in the public domain, and Librivox offers public domain audiobooks.

Simulations

: PhET offers science and math simulations and is integrated with NUITEQ Snowflake. iCivics offers role-play games and document-based questions for middle and high school.

Graphics, Videos, and Music

: Bensound categorizes music by mood and genre while Pixabay offers a large library of images and illustrations including some short video clips. The NUITEQ Snowflake Content Channel offers free Educational videos aligned to Common Core ELA, Math and NGSS standards.
Making quality open educational resources is an important part of the future of education accessible for every learner. NUITEQ is proud to contribute to open educational resources through our free NUITEQ Snowflake Content channel.