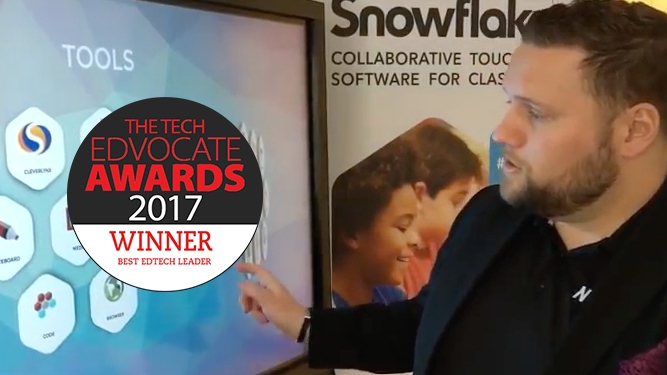 In recent years, the fast evolution of technology transformed the way students learn and educators teach. Due to this rapid growth, the EdTech sector keeps on growing, and many innovative companies and people with great ideas came in to answer the needs of a 21st-century education system.
The Tech Edvocate Awards selected this year's top EdTech companies, products and people, to determine whose performance has a positive influence in today's education system. The finalists and winners were ultimately determined by a panel comprised of two EdTech thought leaders, two PreK-12 teachers, one college professor, two K-12 administrators, one college administrator and two PreK-12 parents.
NUITEQ's CEO, Harry van der Veen, has been awarded the 2017 Tech Edvocate Award for Best Global EdTech Leader, due to his dedication and continuous desire to make EdTech accessible to students around the globe.
"I feel honoured and humbled to win the award for Best Global EdTech Leader. I want to thank the Edvocate organisation for their recognition. I personally see this award as a prize for our amazing team at NUITEQ as well as our partners and customers around the globe, because without them, I would have never been where I am today.", said Harry van der Veen, CEO and co-founder, NUITEQ®.
If you wish to learn more, get in contact by clicking the button below:
Media enquiries
Contact: Alina Chioran, Marketing Officer at NUITEQ +46 73 087 7099, ac@nuiteq.com