Skellefteå, Sweden, August 24, 2021 – NUITEQ® announced today that its EdTech solution, NUITEQ Snowflake, has been awarded the Tech & Learning Back to School Award of Excellence in secondary education.
The Tech & Learning Back to School Award of Excellence recognizes outstanding education products that support effective teaching and learning as teachers and students head back to school.
After thorough review, Tech and Learning selected NUITEQ Snowflake as a winner of the Secondary Education (grades 6 to 12, or ages 11 to 17) category of the Back to School Award of Excellence program. NUITEQ Snowflake will be featured in a special edition of Tech & Learning magazine, reaching more than 50,000 EdTech professionals.
As we head into another uncertain year in education, technology will continue to be one of the key drivers for innovation. Our judges chose the winning products recognized here for their versatility, compatibility, value, and ability to help schools solve challenges and support continuous instruction.
The Tech and Learning Award of Excellence committee found products with exceptional ease of use, value, and versatility that solve current educational challenges. NUITEQ Snowflake helps to close achievement gaps with our active adaptive curriculum.
We're in great company. Some of the other winners of this year, which we'd like to congratulate, include Clear Touch Interactive, Discovery Education, NVIDIA, Acer, ClassLink, Scholastic and other impressive companies and startups in the industry.
We're excited, humbled, and proud that we have won in this award category. We appreciate that our educational solution of collaborative learning activities and our standards-aligned content is recognized for it's ease of use, value, and versatility by technology in learning experts. This award further fuels our passion for closing achievement gaps with active adaptive curriculum.
NUITEQ Snowflake supports schools, teachers, and students and allows for an engaging learning experience. Whether learning happens on distance or in the classroom, Snowflake simplifies personalized learning and makes differentiated instruction with an easy-to-use interface and lesson activities aligned to curriculum standards.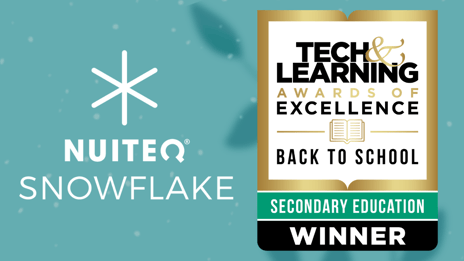 For a complete overview of all the awards we've won, please check this link and try our multiple award-winning educational solution for free today with a 60-days trial.
About NUITEQ
NUITEQ® is a collaborative software company that enables educational institutions to add value through smarter human interaction.
Designed to support distance learning, digitalization and productivity, Snowflake, NUITEQ's educational software solution enables educators to enhance interactive learning. It helps reduce lesson planning time, offers the tools needed for personalized learning, and provides a safe environment for authentic feedback in a collaborative setting.
Our award-winning software solution is used by customers in over 70 countries.
For more information, visit www.nuiteq.com.
NUITEQ® and Natural User Interface® are registered trademarks of Natural User Interface Technologies AB in Sweden, EU, and the USA.