Skellefteå, Sweden, 17 August 2022 – NUITEQ®, a collaborative software company that enables educational institutions to add value through smarter human interaction, announces a new release of NUITEQ Snowflake (the desktop version) and Snowflake.live (the online version) that improves integration with ClassLink and Microsoft Classroom Single Sign-On (SSO).
NUITEQ Snowflake is a teaching and learning platform that allows teachers to transform education and provide students with the tools they need to be able to learn anytime, anywhere.
Here's what's new:
Desktop Single Sign-On
A significant project that we've been working on over the last couple of months is the integration of Single Sign-On (SSO) within the desktop version of NUITEQ Snowflake.

If you have a Microsoft or ClassLink account, it's now even simpler to sign into Snowflake.live, if you are using the Lesson Activities app in the desktop version of NUITEQ Snowflake. Just enter your credentials and you will immediately be able to access the vast library of high-quality curriculum-aligned educational content - no need to memorize yet another password!
Delete Multiple Lesson Activities
Furthermore, we've added the ability to delete multiple lesson activities at the same time. It is now even easier to keep your "My lesson activities'' page in Snowflake.live nice and tidy!
Bug fixes and UI/UX improvements
Aside from the major development of SSO, we have also fixed a number of small bugs and made further improvements on the User Interface (UI) and User Experience (UX) side, including image optimization of older lesson activities, to make your experience even more seamless and fun.
Try it out now!
Try the latest release of NUITEQ Snowflake by using the standards-aligned lesson activities that our dedicated educational content team has created. These lesson activities come with complete lesson plans and other fun, educational resources, which you can use in your classroom right away.

Planning, building and testing a prototype
Graphing and Interpreting Points on Quadrant I/PDF
Find the short and long vowels!
With the latest improvements in NUITEQ Snowflake, we're making it even easier for teachers to activate and engage their students.
You can check the history of all the NUITEQ Snowflake release notes here. For more information, check out our Support Page.
Do you feel like something is missing? Any feature you'd like to see in a future release? Let us know by getting in touch with us today.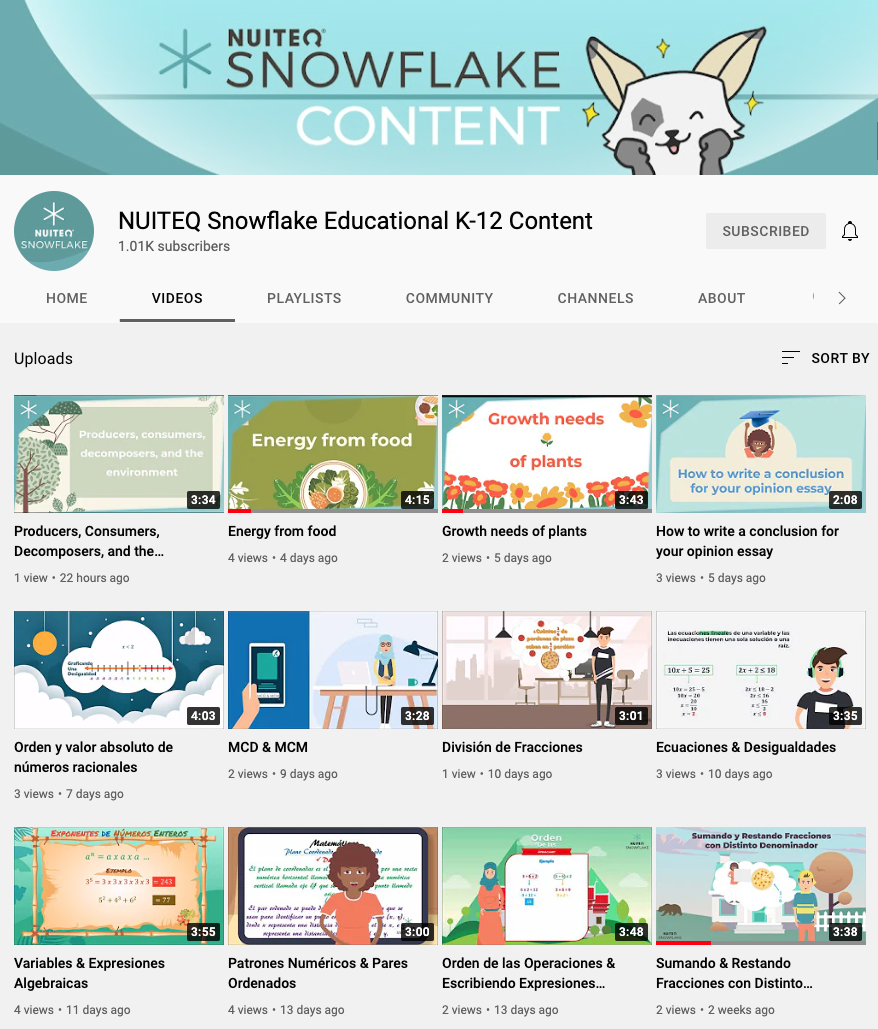 Also, make sure to check out our NUITEQ Snowflake Educational K-12 Content channel on YouTube here to access tons of great video content that you can use for free.

About NUITEQ®
NUITEQ is a collaborative software company that enables educational institutions to add value through smarter human interaction.
Designed to support hybrid, remote and in-class learning, digitalization and productivity, NUITEQ Snowflake, the company's educational software solution enable educators to enhance interactive learning. It helps reduce lesson planning time, offers the tools needed for personalized learning, and provides a safe environment for authentic feedback in a collaborative setting.
NUITEQ Snowflake empowers digital natives' expressive learning through memorable digital storytelling.
Customers in over 70 countries have chosen the award-winning NUITEQ Snowflake software.
For more information, visit www.nuiteq.com
NUITEQ® is a registered trademark of Natural User Interface Technologies AB in Sweden, the EU, and the USA.