Skellefteå, Sweden / Santo Domingo, Dominican Republic – 5 December 2018 – NUITEQ®, the award-winning pioneer in collaborative touchscreen software solutions, has signed a Snowflake MultiTeach® distribution agreement with Dominican Republic-based, SwifTech Interactive.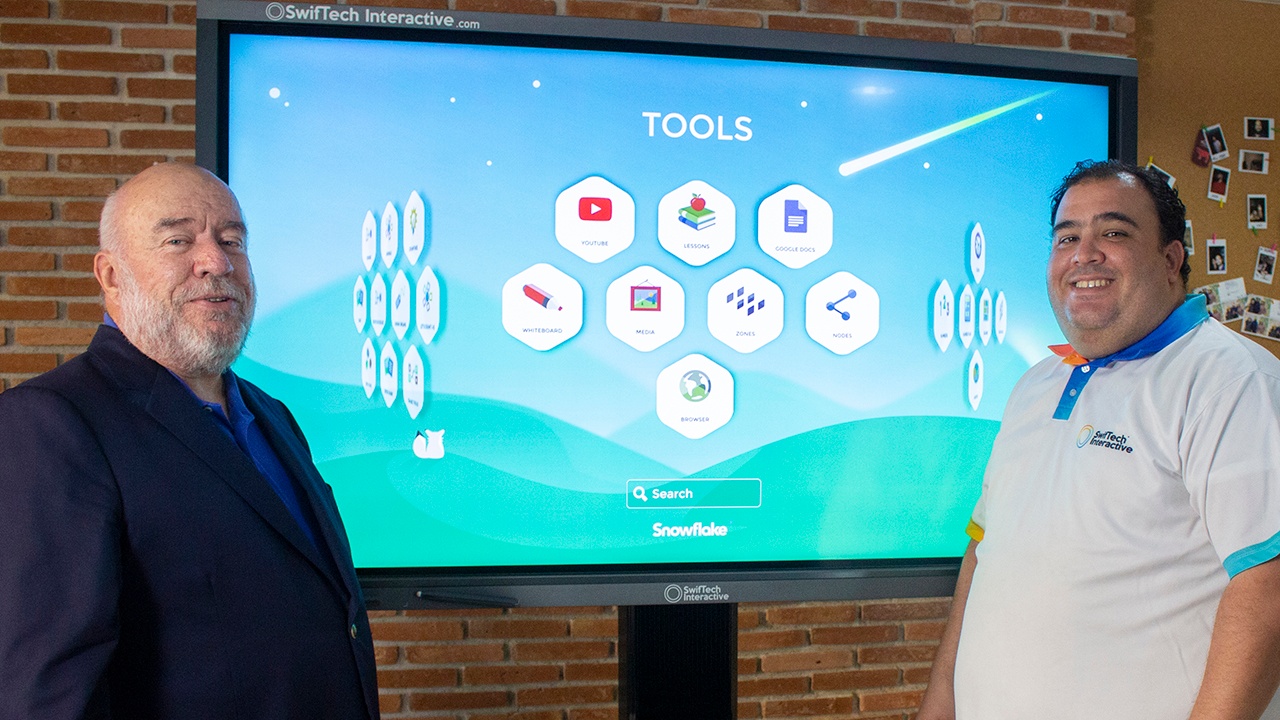 NUITEQ is excited to announce partnering with SwifTech, a Dominican Republic-based company who sets out to provide interactive and high-quality solutions to enable innovative learning and collaboration.
SwifTech and NUITEQ will collaborate closely to offer innovative interactive solutions to the classrooms of the Dominican Republic and other Latin American markets.
SwifTech's interactive displays are the most popular interactive displays with unrivaled collaborative features. Designed for any teaching or learning style, they are the perfect fit for the versatile Snowflake MultiTeach educational software.

"NUITEQ's Snowflake MultiTeach software is a versatile technology that allows us to provide creative content to students and empowers teaching in an engaging manner.", said Mr. Rafael Fernandez, president of SwifTech Interactive. "SwifTech Interactive panels and Snowflake MultiTeach is the perfect combination for the demands of the 21st-century classroom.", he adds.
The SwifTech interactive panel is an outstanding 4k resolution interactive panel with easy-to-use annotation and collaborative software, with the best international trusted quality and support in the market. Thanks to its versatility it will empower the user to collaborate efficiently with their audience whether it is in a classroom or corporate environment.

"As a leading supplier of interactive equipment for classrooms in the Caribbean & LATAM region and led by an experienced management team in the area of education technology, we look forward to a successful partnership with SwifTech Interactive. Their level of professionalism and market understanding will be a vital component ensuring the best solutions can be supplied to schools throughout the region.", says Brian Collins, Global Business Development Manager at NUITEQ.
About SwiftTech
With an accent on quality, professionalism, and commitment, SwifTech makes technology available to everyone. Its mission is to provide interactive and high-quality solutions to enable innovative learning and collaboration across the globe. SwifTech envisions to be the primary interactive technology provider that empowers innovative learning and collaboration among people.
For more information, please visit www.swiftechinteractive.com.
About NUITEQ
NUITEQ is the pioneer of multitouch software solutions for education, enterprise, and entertainment. NUITEQ maximizes the use of any multitouch touchscreen with fully independent zones that can be used simultaneously. Its educational software empowers expressive learning through memorable digital storytelling. NUITEQ provides a safe environment for providing authentic feedback in collaborative settings. Its award-winning Snowflake software is used in over 70 countries.
For more information, visit www.nuiteq.com.
NUITEQ®, MultiTeach®, and Natural User Interface® are registered trademarks of Natural User Interface Technologies AB in Sweden, EU, and the USA.