Skellefteå, Sweden / Mexico City, Mexico – 26 September 2018 – NUITEQ®, the award-winning pioneer in collaborative touchscreen software solutions, has signed a Snowflake MultiTeach distribution agreement with Mexico-based, Smart Touch.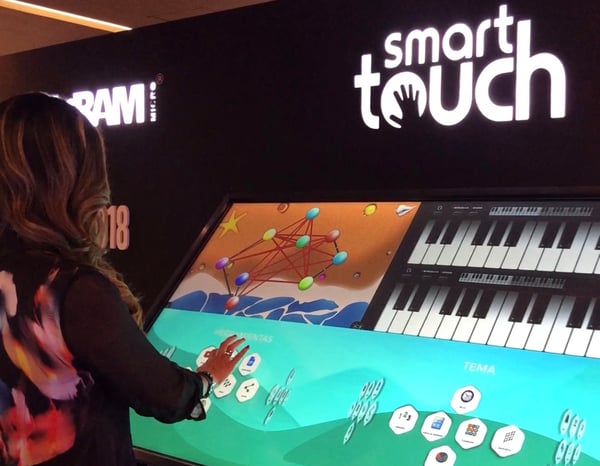 NUITEQ is excited to announce partnering with Smart Touch, a Mexican company that provides an ideal combination of best practices and innovation trends in multi-touch applications.
By creating true multi-touch experiences, Smart Touch is revolutionizing digital experiences in Mexico and their vision is to make multi-touch trends a reality in their country.
The collaborative NUITEQ Snowflake MultiTeach software suite will be distributed by Smart Touch in combination with its interactive multi-user touch-screens, to provide a complete interactive technology solution to the Mexican market.

"We are very excited to announce our new venture into the Educational Technology field and expect to have an outstanding impact on the traditional educational methods, be it at Schools or at Corporations. We are especially proud to do this via the partnership with NUITEQ, as their highly specialized and user friendly Multi-Teach 360º solution is fun, engaging, and matches beautifully with two of our core values:(1) Full dedication to the success of our customers and the rational use of their resources, and (2) Innovation and Efficiency in all of our solutions. We definitely look forward to playing an important role in what we believe will be a new era of educational culture in our region." says Ariadna Santiago, Commercial Director at Smart Touch.
Smart Touch has successfully implemented interactive and innovative communication solutions for diverse industries such as government, corporate, financial, transportation, retail, hospitality, events & exhibitions, education, the broadcast industry, and museography.

"We are excited to collaborate with Smart Touch in Mexico to help place their collaborative touchscreen technology with Snowflake MultiTeach in the hands of Spanish speaking teachers and students. Our software platform has support for 33 different languages and with our Spanish language support, there will be a frictionless alignment with the curriculum in Mexico." , says Harry van der Veen, NUITEQ CEO & co-founder. He continues "Our MultiTeach Lessons Community holds 10000's of lessons created by our content teams as well as teachers globally, so the schools that Smart Touch serves in Mexico, can quickly get started with ready-made Spanish content."
We believe this partnership is just the beginning of a fruitful long term collaboration between NUITEQ and Smart Touch.
About Smart Touch
Smart Touch is dedicated to helping companies in diverse industries to communicate and present themselves, their products, and/or their services in a more engaging, innovative, and attractive way through the efficient implementation of the most suitable interactive technology tools.
Smart touch delivers its solutions by integrating and customizing state of the art Hardware and Software products from around the globe, as well as developing custom solutions to fit specific communication needs.
About NUITEQ
NUITEQ is a pioneer in collaborative touchscreen software that enables natural interaction. The company is reimagining and redefining education, meeting room & entertainment technology. Its software suite of collaborative apps helps to attract audiences, engage them and leave memorable impressions. Over 70 countries use the Snowflake software. NUITEQ's vision is to empower educators, business professionals and companies in their day-to-day work through the use of touchscreen technology.
For more information, visit www.nuiteq.com.
NUITEQ®, MultiTeach® and Natural User Interface® are registered trademarks of Natural User Interface Technologies AB in Sweden, EU and USA.