Skellefteå / Kista, Sweden – 19 November 2020 – NUITEQ®, a collaborative software company that enables teams, organizations, educational institutions, and businesses to add value through smarter human interaction, announced today that it has signed a partnership agreement with technology and solutions provider BenQ Nordics for Sweden, Denmark, Norway, Finland and Iceland.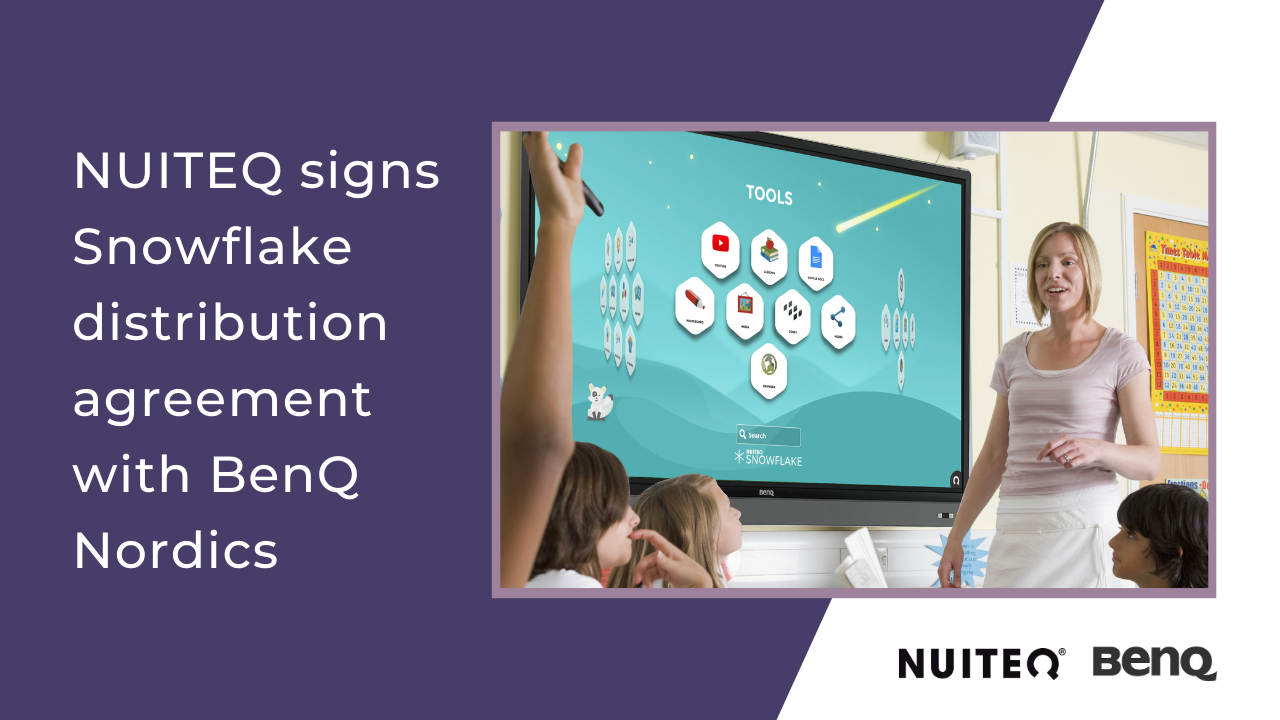 With this partnership in place, NUITEQ aims to place more focus on it's home market. Both companies will offer their combined solutions to schools in the Nordics and help educate teachers and students about the benefits of interactive technology for teaching and learning. BenQ will promote and distribute NUITEQ Snowflake, the company's educational software, bundled with their large format interactive displays for education.
The combination of BenQ's cutting-edge technology combined with NUITEQ's award-winning educational software that activates students for greater engagement will provide more efficient and better-adapted ways for teaching and learning, whether this happens in the classroom or on distance.

About the company's recent distribution agreement, Harry van der Veen, NUITEQ CEO & co-founder said: "We're excited to collaborate with a strong, established technology brand like BenQ in the Nordics. We're looking forward to working closely together on mutual opportunities in the market. Jointly we bring interactivity into schools and increase collaboration in their classrooms and remotely. Our award-winning touchscreen software NUITEQ Snowflake is now available with BenQ's large-format interactive displays here in the region."

"We have worked towards developing an end-to-end solution for classrooms with safety for students and teachers and interactive learning as our highest priority. Our goal is to give teachers and students the opportunity to collaborate and learn with fun and engaging learning functions in a healthy learning environment, and therefore we are pleased to announce that the NUITEQ Snowflake software is included on all touch screens for education and thus create added value for our customers and users.", says Bo Cramér, Managing Director at BenQ Nordic.
About NUITEQ
NUITEQ® is a collaborative software company that enables educational institutions to add value through smarter human interaction.
Designed to support distance learning, digitalization and productivity, Snowflake, NUITEQ's educational software solution enables educators to enhance interactive learning. It helps reduce lesson planning time, offers the tools needed for personalized learning, and provides a safe environment for authentic feedback in a collaborative setting.
Snowflake empowers digital natives' expressive learning through memorable digital storytelling.
Customers in over 70 countries have chosen the award-winning Snowflake software.
For more information, visit www.nuiteq.com.
NUITEQ® and Natural User Interface® are registered trademarks of Natural User Interface Technologies AB in Sweden, EU, and the USA.