Skellefteå, Sweden/Port Harcourt, Nigeria, June 1st, 2017 - NUITEQ®, the creator of award-winning multitouch collaborative software solutions, has signed a Snowflake distribution agreement with Africa's Pioneer Interactive Flat Panel Display Manufacturer, Equipment Hall Limited.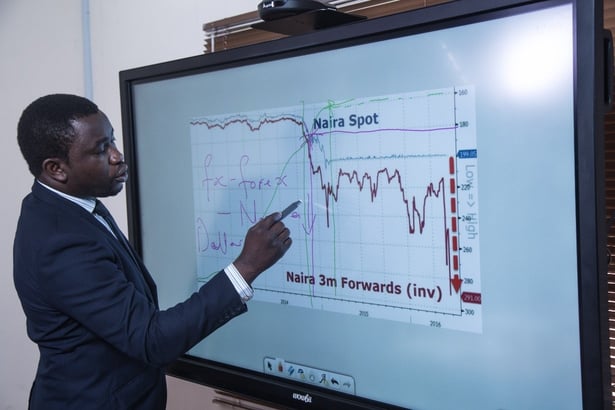 Following the recent agreement by both companies, Equipment Hall Ltd are now the authorised distributor of NUITEQ's Snowflake MultiTeach & Snowflake Business.
With this partnership in place, Equipment Hall Ltd will bundle NUITEQ's touchscreen software - Snowflake MultiTeach® and Snowflake Business - with its Wowbudd multi-user multitouch displays under its own in-house Wowbii brand. With the Snowflake software suite bundled, Equipment Hall Ltd will be able to offer an increased number of new and innovative interactive solutions to the entire African market.
Equipment Hall Ltd is a leading provider of IT Hardware, solutions and services out of Africa. Operating under the Wowbii brand name, its interactive meeting room and classroom solution, the WOWBudd, is a beautifully crafted interactive flat panel display which promises to transform businesses and classrooms across Africa.
"Offering NUITEQ's Snowflake multitouch software in combination with our WOWBudd Interactive Display is a step further to delivering to our customers a complete interactive user experience. Classrooms across Africa may now be better equipped to create and enjoy a learning Sphere that unleashes creativity, collaboration and productivity. Corporate organizations can also leverage similar benefits with additional marked improvement in workflow, collaboration and overall meeting output.", said Gbolahan Olayomi, Chief Executive Officer at Equipment Hall.
Snowflake MultiTeach is a suite of collaborative learning games that are used by teachers and pupils in elementary education and upwards (K-12). The innovative software engages students in multimodal learning activities, which gives them a deeper understanding of their subjects, encourages collaboration and results in greater enjoyment.
Snowflake MultiTeach includes more than 30 built-in apps with pre-set content, which helps busy teachers build memorable, curriculum-specific lessons quickly.
Teachers can join the MultiTeach Lessons Community where they can access and download free ready-made touchscreen lessons. The community's mission is to help teachers reduce lesson planning time through shared resources.
Equipment Hall Ltd will also include NUITEQ's Snowflake Business as part of its solutions portfolio. The collaborative touchscreen software includes business tools that drive information sharing and collaboration. Used in corporate meeting rooms, lobbies, and presentation and training environments, Snowflake Business comes preloaded with a variety of customisable apps, which improve workflow and time management.
"NUITEQ are honoured to announce our partnership with Equipment Hall Ltd. As a Total IT Solutions Company, Equipment Hall Ltd, is perfectly positioned to serve the ever-growing demand for collaborative interactive solutions in both the corporate and educational market verticals. We believe our combined experience will ensure that customers will have access to the highest quality hardware coupled with Snowflake software, offering unparalleled functionality, stability and performance.", said NUITEQ's co-owner and Business Development Manager Brian Collins.
About Equipment Hall Ltd
Equipment Hall Ltd is a privately owned Nigerian IT company, incorporated in 1997 and domiciled at the time in the crude Oil rich city of Port Harcourt. Set up to meet the huge demand for better service delivery of genuine, high quality IT hardware and software in Nigeria, and by virtue of its location in the Niger Delta area, she has built strong relationships & service records with major Oil & Gas companies in the same region and beyond.
In recent times, Equipment Hall Ltd has expanded the range of its Solutions to focus on Mobility Solutions in the Enterprise, Education and Healthcare spaces. Identifying the need to enhance the capability of organizations & communities to take full advantage of mobility benefits, through digital technology for better learning experiences and operational efficiency forms a central theme and catalyst for our current and future projects. This in part led to the creation of the in-house brand name – Wowbii in 2016. The flagship product The Wowbudd, is Africa's pioneer Interactive Flat Panel Display Brand and Wowbii is the vehicle to entrench the application of Interactive technology tools in Education and Corporate Enterprises across Africa.
For more information, visit www.equipmenthall.com.ng
About NUITEQ
NUITEQ is a multi-award winning world leader in collaborative touch screen software solutions for corporate meeting rooms. The company is re-imagining and redefining education, meeting room & entertainment technology. Its software suite of collaborative apps helps to attract audiences, engage them and leave memorable impressions. The Snowflake software is used in over 70 countries. NUITEQ's vision is to empower educators, business professionals and companies in their day-to-day work through the use of touchscreen technology.
For more information, visit www.nuiteq.com.
NUITEQ®, MultiTeach® and Natural User Interface® are registered trademarks of Natural User Interface Technologies AB in Sweden, EU and USA.
Media enquiries
Contact: Alina Chioran, Marketing Officer at NUITEQ® +46 73 087 7099, ac@nuiteq.com