Skellefteå Sweden – December 6th, 2016 – NUITEQ®, an award winning and world leading provider of collaborative multitouch software solutions, announced today that it has signed a new contract with its existing US partner Clear Touch Interactive. Clear Touch Interactive will bundle NUITEQ's touchscreen software with it's multi-user touch displays. With the strengthened relationship, Clear Touch Interactive and NUITEQ continue to work closely together to offer an increased number of new and innovative interactive solutions to the American and Canadian markets.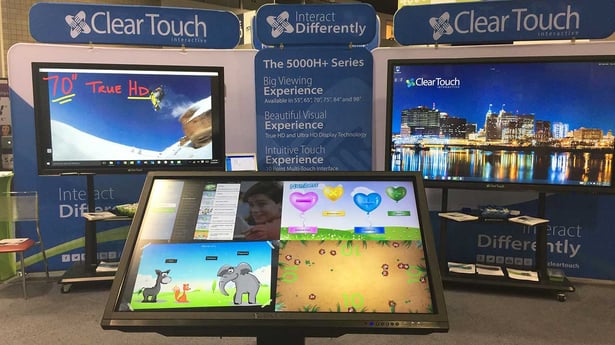 "Many of our customers have had tremendous success with the Snowflake software, and we are pleased to be able to continue providing a seamless experience by offering Snowflake to customers in the United States and now to those in Canada as well," said Keone Trask, president of Clear Touch Interactive. "Furthermore, this new distribution agreement not only builds upon our existing relationship with NUITEQ, but it also represents an ongoing collaborative effort to develop new and unique features that further transform the interactive experience for our mutual customers."
The Clear Touch Interactive displays are easy-to-use, simple to install, and promote truly collaborative participation with 10 simultaneous points of touch that let you get everyone involved. Their panels feature vivid, luminous displays for immersive interaction and offer more connection options than any of their competitors, including nine data ports and multiple custom connectivity apps, so that you're never in danger of losing access in the middle of a presentation.
Snowflake MultiTeach® is a software suite of collaborative learning games used by teachers and pupils in elementary education (K12) classrooms to create higher engagement, better collaboration and greater enjoyment. The software makes learning fun by engaging young minds and creating memorable interactive classroom experiences that increase student and teacher performance.
In addition to more than 30 built-in apps with preset content, busy teachers can also use the Lessons app to quickly and easily create curriculum-specific touchscreen lessons with their own custom content. Teachers can join the MultiTeach Lessons Community where they can access and download free ready-made touchscreen lessons. The community's mission is to help teachers reduce lesson planning time.
In addition to Snowflake MultiTeach for elementary education, Clear Touch Interactive also adds NUITEQ's Snowflake Business to its solutions portfolio. Snowflake Business is a collaborative multitouch software suite of business tools that drive information, sharing and collaboration. The software is used in corporate meeting rooms, lobbies, and presentation and training environments. It comes preloaded with a variety of easy to customize apps that help reduce decision making time and revolutionize the way you work.
"It has been a privilege to work closely with Clear Touch Interactive over the first twelve months of our partnership. To see, first hand, the enthusiasm, professionalism, and dedication that the team has in providing outstanding solutions and best advice to their customers. Our ongoing commitment to the partnership will allow us to continue to develop and push the boundaries of what is possible in the classrooms of today and tomorrow. It is a very exciting time for both companies and we look forward to sharing more about our coming developments in the near future.", said NUITEQ's co-owner and Business Development Manager Brian Collins.
With the resigned contract, Clear Touch Interactive is now also offering Snowflake Business and Entertainment editions to its customer and reseller network. Snowflake Entertainment is a software suite with a wide variety of fun and engaging games that is used in interactive kids corners in public spaces and even as a recess solution in schools.
NUITEQ's co-founder and CEO Harry van der Veen adds: "The market for interactive touchscreen solutions in North America has grown significantly in the last 12 months and we are delighted to be leading the way together with our partner Clear Touch Interactive. We are excited to make educating and learning fun with Snowflake MultiTeach and the multi-user collaborative displays from Clear Touch Interactive. We are looking forward to now also offer Snowflake Business and Snowflake Entertainment via them, to the US and Canadian markets, which is strengthening our commitment to each other and the end users even more."
About NUITEQ®
NUITEQ® is a world leader in collaborative touchscreen software that enables natural interaction. The company is re-imagining and redefining education, meeting room & entertainment technology. Its software suite of collaborative apps helps to attract audiences, engage them and leave memorable impressions. The Snowflake software is used in over 70 countries. NUITEQ's vision is to empower educators, business professionals and companies in their day-to-day work through the use of touchscreen technology.
For more information, visit www.nuiteq.com.
NUITEQ®, MultiTeach® and Natural User Interface® are registered trademarks of Natural User Interface Technologies AB in Sweden, EU and USA.
About Clear Touch Interactive
Clear Touch Interactive, Inc. is transforming the interactive experience by enabling educational institutions, government agencies and commercial enterprises to interact differently. Clear Touch Interactive panels, and related accessories and software, are designed to not only meet the demands of today's highly collaborative business and educational environments, but also to provide a truly immersive experience. Clear Touch Interactive was founded in 2012.
Learn more at www.getcleartouch.com.