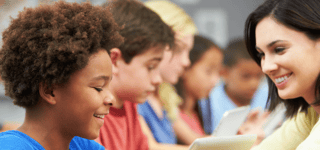 Sydney, Australia / Skellefteå, Sweden – November 12, 2015 – NUITEQ®, the award-winning edtech software developer, announced today that it has signed an exclusive agreement with A Brighter Image (ABI). The agreement gives ABI the exclusive distribution rights for NUITEQ's MultiTeach software, for the Australian market.
The agreement constitutes that all ABI's multi-user touch displays for K - 6 education are distributed with fully functional licenses of MultiTeach.
"We wanted a partner in application software to bring together the full advantages of our interactive touch technology hardware in a way that could both add value to the proposition and enhance the total experience for our customers. With their focus on natural user interfaces through their innovative Snowflake interactive software, NUITEQ® is the perfect fit to move forward with us in the combined sphere of presentation technology and user engagement. Touchscreens are the next generation solution for the education market and are replacing interactive whiteboards as the new standard in classroom presentation and student engagement.", says Simon Webber, Marketing and Finance Manager at A Brighter Image.
"ABI is focused on delivering the best value touchscreen technology available today. Their aim is to make the classroom experience easier and more exciting for both teachers and students in the education sector, as well as bringing the benefits of fingertip presentation and group collaboration to institutions and the business sector. We at NUITEQ® are delighted to have agreed this partnership.", says NUITEQ's Business Development Manager Brian Collins.
MultiTeach is a software suite of collaborative learning games for touchscreens in classrooms that is used by teachers and students in primary education. It is used to create higher engagement, greater enjoyment and better collaboration, while learning. MultiTeach results in improved educational outcomes for teachers, students and schools.
MultiTeach comes with over 25 ready to go apps with preset content. In addition to the apps, the software comes included with the Lessons app. Lessons is a tool for teachers to easily create their own interactive touchscreen lessons for usage in the classroom. With Lessons, teachers can always make sure that they have relevant, fresh and up to date learning material available for their students.
Schools that use touch screens from ABI, can now also download free lessons for MultiTeach from the MultiTeach Lessons Community.
About A Brighter Image Pty Ltd
A Brighter Image Pty Ltd (ABI) is a manufacturer, importer and distributor of audiovisual products, having distributed to re-sellers and supplying government institutions Australia wide for over 15 years. Through joint venture partnerships overseas, ABI has an ongoing commitment to the development and improvement of audiovisual products for distribution in Australia. They have a full range of large format touchscreens available with a host of the latest innovative features and optional extras. For more information, visit www.abimage.com.au.
About NUITEQ®
NUITEQ® is an award-winning developer of touchscreen software for primary/elementary schools, that is re-imagining and redefining education technology. It's software suite of collaborative learning games, Snowflake MultiTeach, helps to improve education outcomes for teachers, students and schools. The software creates higher engagement, greater enjoyment and better collaboration while learning. MultiTeach is used by schools in over 70 countries. NUITEQ's vision is to empower educators to help kids learn by playing. For more information, visit www.nuiteq.com.
Interested to stay up to date on any NUITEQ® or MultiTeach news?