Skellefteå, Sweden, 27 August 2020 - NUITEQ®, a collaborative software company that enables teams, educational institutions and businesses to add value through smarter human interaction, announced today that it has appointed Tomas Marklund as Sales Manager, Jonas Mårtensson as Senior Sales Executive and Alexander Tannerdal as Sales Executive.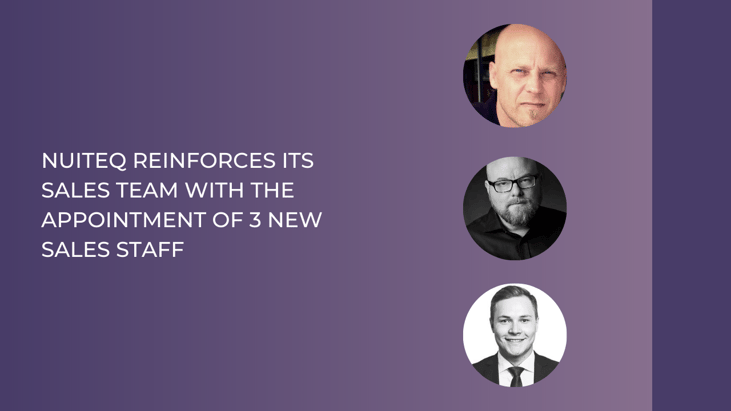 With the appointment of the three new Sales staff, the company aims to better serve current and potential partners, customers and users, as well as continue its growth.
In their roles, Tomas, Jonas and Alexander will deliver NUITEQ's software solutions to the corporate and education markets. NUITEQ provides hassle-free solutions for both on-site and distributed teams for the corporate market, helping its users have effective meetings anytime, anywhere. In the education sector, the company offers award-winning solutions that help activate students for greater engagement and save teacher time by making available a vast library of content ready to use in the classroom or a remote learning setting.
The new Sales staff will be responsible for account management of existing customers and partners as well establishing relationships with new customers and partners. They will also explore new markets to increase the customer and user base. Further duties include: observing the market and actively responding to market demand, by funnelling feedback to the Product Manager. The team will actively engage in visiting existing and potential customers to see where NUITEQ can add value to those operations.
Tomas Marklund is joining the company as a Sales Manager. He comes with over 30 years of experience in International Sales and a demonstrated history of working in the construction sector and the computer software industry.

"When I was offered the opportunity to join NUITEQ, it didn't take long to make up my mind. A solid company based on new technologies, created by brilliant persons with outstanding enthusiasm and energy was very attractive. Add the fact that the spirit of NUITEQ is caring, curious, inclusive and the answer is a no brainer – of course, I will join this great team! I am bringing my experience from team building, teamwork and doing the homework based on sports like ice hockey, baseball and my 30-year background from sales and project management. Working together with eyes on the prize and the client in focus will take us to new heights.", says Tomas Marklund, NUITEQ Sales Manager.
Jonas Mårtenson has almost two decades of experience in the multinational corporate world, practicing International Sales and Marketing Management within the Consumer Electronics (CE) sector. Today, he changed the path to the Educational Technology & IT industry, becoming NUITEQ's Senior Sales Executive.

"I moved to Skellefteå from Stockholm four years ago and I quite quickly came across NUITEQ after scanning the business landscape for cool companies. NUITEQ and CEO Harry stood out from the crowd with their inclusive and futuristic mindset. I have now left the home electronic business to join their team. With my background from international corporations, business development, marketing management and sales, I will take on the task of expanding the business for NUITEQ, The time off work I spend with my family, fine-tuning our house and garden. I'm a music and audiophile loving the most tech in that field, and my home cinema is a never-ending project. I'm a volunteer for the Home Guards and also like to join the yearly moose hunt with my father in law.", says Jonas Mårtensson, NUITEQ Senior Sales Executive.
Driven, structured and analytical, with experience in sales, leadership and customer service, Alexander Tannerdal is entering NUITEQ as its Sales Executive. In his previous roles, Alexander managed and coached large sales teams who achieved increased results.
"I am very excited and proud to be part of NUITEQ, joining the journey of a company striving to be in front of the development of the online collaborative business, making it easier and more interactive for students and teachers, as well as companies, to interact online and on-premise. With my background in service, as well as software sales, I am bringing a pair of fresh eyes and ideas into the company's sales strategy and process. For me, the customer is always in the center. When the customer is pleased, I have reached half the way. On a personal level, I am a huge foodie and you will likely find me in the kitchen, preparing good food and beverages to later enjoy with friends and family. Please do not hesitate to reach out, either for some expertise advising in online collaboration or if you just need a nice recipe for the weekend!", says Alexander Tannerdal, NUITEQ Sales Executive.

"We're delighted to expand our sales team at NUITEQ with three additional staff, in order to make our solutions even more widely available. The team has a tremendous amount of experience that our customers and partners can benefit from, so they can become even more successful. Scandinavia and in particular Sweden is one of our geographical focus areas, so we're excited to deploy this new team in this region.", says Harry van der Veen, NUITEQ CEO & co-founder.
About NUITEQ
NUITEQ® is a collaborative software company that enables teams, educational institutions, and businesses to add value through smarter human interaction.
As a pioneer in the collaborative software world, NUITEQ believes anyone can participate, exchange, learn, and get inspired by smarter human interaction with no digital boundaries.
The company offers its customers collaborative software and adapted content in order to improve and increase the value in human interactions.
Its award-winning software solutions maximize the use of any multi-touch touchscreen with fully independent zones that can be used simultaneously. Customers in over 70 countries have chosen NUITEQ.
For more information, visit www.nuiteq.com.
NUITEQ® and Natural User Interface® are registered trademarks of Natural User Interface Technologies AB in Sweden, EU, and the USA.