Skellefteå, Sweden / Quito, Ecuador – 3 December 2020 – NUITEQ®, a collaborative software company that enables teams, organizations, educational institutions, and businesses to add value through smarter human interaction, announced today that it has re-signed a distribution agreement with longtime partner Skyluft.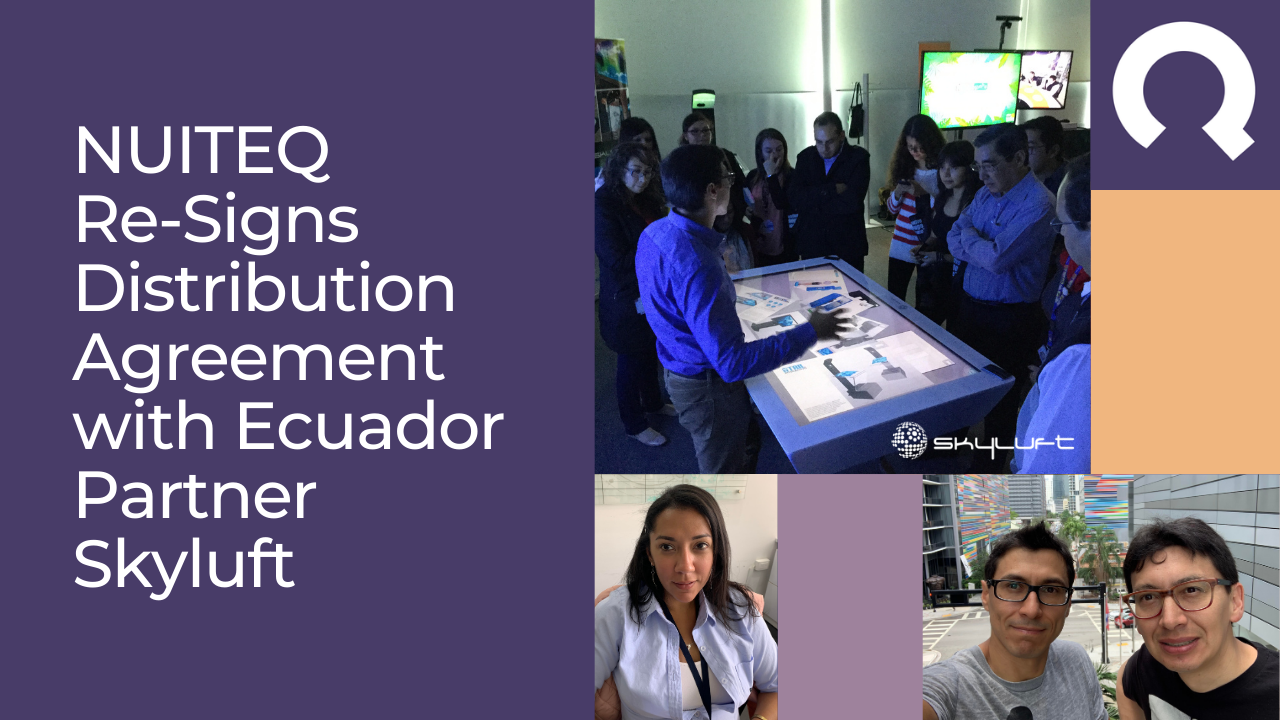 NUITEQ's solutions for Education - NUITEQ Snowflake, Business - NUITEQ Stage and Entertainment - NUITEQ Campfire have been used by the Quinto-based company in combination with its interactive multitouch technology for a decade. Together, the two companies have provided complete interactive technology solutions to the Latin American market..
"We have been developing interactive digital solutions for different verticals for more than 15 years. We partnered with NUITEQ in 2010 to offer versatile and robust interactive solutions using touchscreen software within projects. It allowed us to deliver the best results in terms of experience, collaboration and user connection with the brands and businesses.
Our purpose is to help businesses & professionals to succeed in the markets they compete in, with the correct implementation of our collaborative digital solutions.
We are delivering the best digital solutions to the medical market, using NUITEQ Stage as a part of our system to enhance the experience of doctors and patients, giving them a great tool to collaborate better on-site and remotely.", says Roberto Mendizábal, Skyluft CEO.

"We're delighted to have signed a new partnership agreement with Skyluft, as we have been collaborating for over 10 years. The Latin American market is an important one for NUITEQ and we are proud that we are able to support that region with our Spanish speaking staff. Skyluft and NUITEQ jointly have seen significant potential for both NUITEQ Stage and NUITEQ Snowflake in combination with Skyluft's touch screens in Ecuador, so we're excited to continue to offer our combined interactive touchscreen solutions to schools and businesses in that region.", says Harry van der Veen, co-founder and CEO of NUITEQ.
About NUITEQ
NUITEQ® is a collaborative software company that enables teams, educational institutions, and businesses to add value through smarter human interaction.
As a pioneer in the collaborative software world, NUITEQ believes anyone can participate, exchange, learn, and get inspired by smarter human interaction with no digital boundaries.
The company offers its customers collaborative software and adapted content in order to improve and increase the value in human interactions.
Its award-winning software solutions maximize the use of any multi-touch touchscreen with fully independent zones that can be used simultaneously. Customers in over 70 countries have chosen NUITEQ.
For more information, visit www.nuiteq.com.
NUITEQ® and Natural User Interface® are registered trademarks of Natural User Interface Technologies AB in Sweden, EU, and the USA.
About Skyluft Inc
Skyluft Inc has a professional team that creates innovative experiences, emotionally connecting people with their interests, values, and needs through interactive solutions. Skyluft is a trendsetter when it comes to transforming environments through the integration of technology, design, and purpose.
For more information, visit www.skyluft.com.