Skellefteå, Sweden/Calgary, Canada 30 January 2018 – NUITEQ®, the creator of the award-winning collaborative software Snowflake, announced today that Dr. Edward Tse has been promoted to Director of Strategy.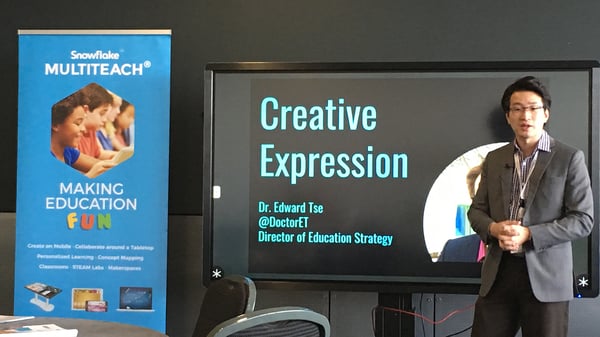 In his role, working from NUITEQ's office in Calgary, Canada, Dr. Tse will be responsible for expanding the strategy, positioning, and key partner collaborations in Educational Content and Enterprise Applications.
Dr. Tse's involvement will ensure that NUITEQ is able to expand the reach of it's multitouch software by providing comprehensive resources for learning and the best-in-class usability for Enterprises.
"We imagine a classroom experience that tells an interactive story through videos and activities that is just not possible today. We see the natural user interface as the key to removing the barriers to collaboration at school and at work.", said Dr. Edward Tse, NUITEQ's newly appointed Director of Strategy.
"I've known Dr Tse for over a decade and I've always been a fan of his work, as he is a true multitouch pioneer. In the last year at NUITEQ he has played a pivotal role and we are excited to further expand his responsibilities.", said NUITEQ's CEO and Co-founder Harry van der Veen. He continues: "Dr. Tse has been working with multitouch technology, touchscreen collaboration and Education Technology for a significant number of years and his role will expand as NUITEQ grows it's Content and Enterprise business due to the high demand for our renowned touchscreen software Snowflake MultiTeach® and Business."
Dr. Tse holds a Doctor of Philosophy (Ph.D.) in Computer Science and a Master of Science in Computer Science from the University of Calgary.
About NUITEQ®
NUITEQ® is a pioneer in collaborative touchscreen software that enables natural interaction. The company is re-imagining and redefining education, meeting room & entertainment technology. Its software suite of collaborative apps helps to attract audiences, engage them and leave memorable impressions. The Snowflake software is used in over 70 countries. NUITEQ's vision is to empower educators, business professionals, and companies in their day-to-day work through the use of touchscreen technology.
For more information, visit www.nuiteq.com.
NUITEQ®, MultiTeach®, and Natural User Interface® are registered trademarks of Natural User Interface Technologies AB in Sweden, EU, and the USA.
Media enquiries
Contact: Alina Chioran, Marketing Officer at NUITEQ +46 73 087 7099, ac@nuiteq.com.