Friday evening the 25th of September, the Audio Visual (AV) industry's version of the Oscars, the AV Awards, was going to take place in London.
Unfortunately we at touchscreen software developer NUITEQ couldn't attend, so the next best thing for me was to cozy up on the couch with a warm tea, pillows, duvet and start watching the live stream of the #AVAwards hashtag live on Twitter.
Sahara Presentation Systems, Clevertouch & CDEC Limited, companies that we hold dear to our heart, were nominated for several awards, so we were excited to see how well they would do.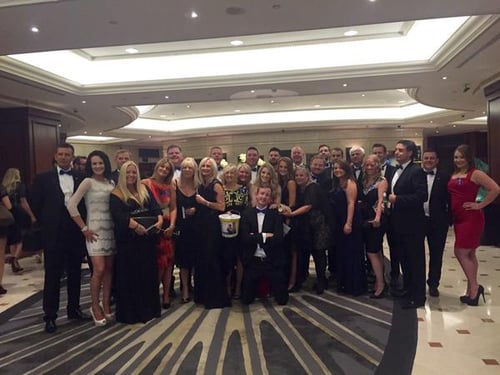 The CDEC team looking sharp.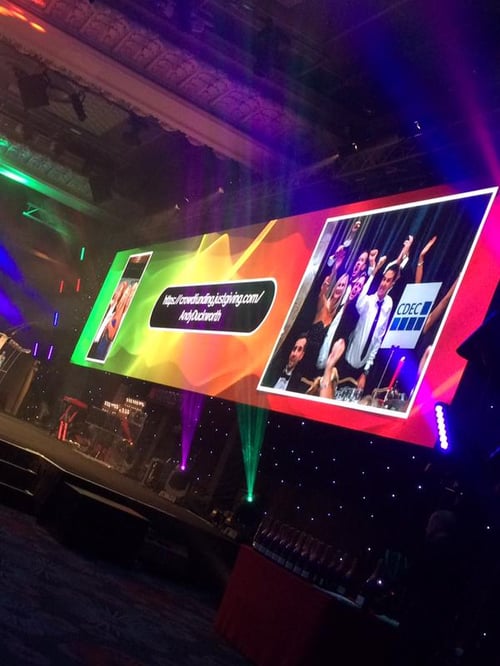 At the start of the show, there was an emotional tribute to CDEC founder Andy Duckworth, a man that we consider to be a friend of our company and a man that will be missed by many. Andy recently sadly passed away after a short illness. A standing ovation is what he deserved and a standing ovation is what he got. Donations in Andy's name can be made here: https://crowdfunding.justgiving.com/AndyDuckworth Thank you for your support.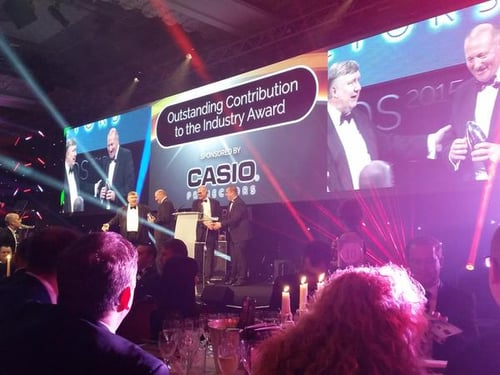 During an amazing laser show, Kevin Batley from Sahara Presentation Systems, picked up the award for Outstanding Contribution to the Industry.
From AV Magazine:
Sahara has been established in its current identity for over 35 years, but the company's foundations date back to 1924. The company continues to grow yearly and has been influential in shaping the AV industry.
2016 is Sahara Presentation Systems' 40th anniversary, or 90th if you go back to its origins as The Express Typewriter Company. 2014 was Sahara's most successful year and subsequently managing director Kevin Batley (pictured) found himself at the helm of a company listed in the London Stock Exchange's 1000 Companies to Inspire Britain report, joining household names such as Jack Wills and Cath Kidston.
Over two million UK companies were considered for criteria such as revenue, speed, growth and outperformance within sector. Mr Batley has managed year-on-year revenue growth of 30 per cent over the past three years, doubling the company's turnover.
Many of the personnel that work for Sahara have done so for many years with three new recent members of the lifer's club, having served 25 years with the company. Batley has managed the day-to-day running of the company since its inception in 1976 and is therefore directly responsible for helping to create the company's positive and motivating employee culture.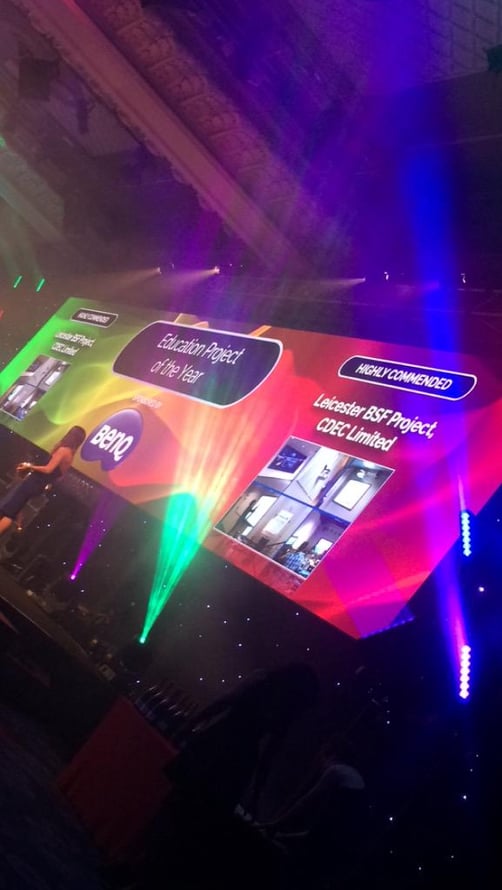 CDEC was highly commended for Education Project of the Year, with the Leicester BSF project.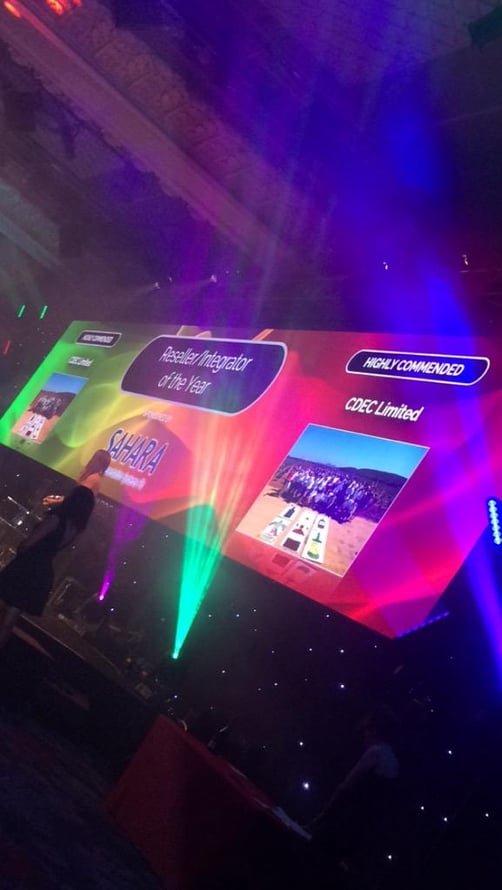 CDEC Limited was also highly commended as Reseller/Integrator of the Year, the award that was sponsored by Sahara Presentation Systems.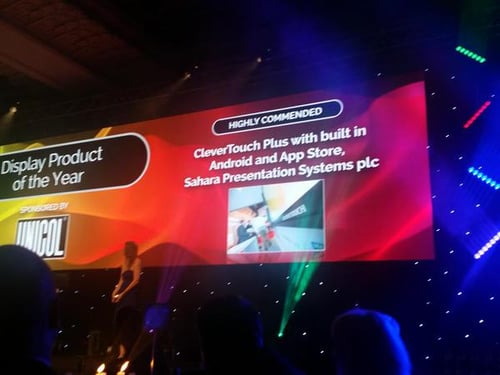 CleverTouch Plus with built in Android and App Store, by Sahara Presentation Systems, was in a shortlist of heavy competition, highly commended in the category Display Product of the Year.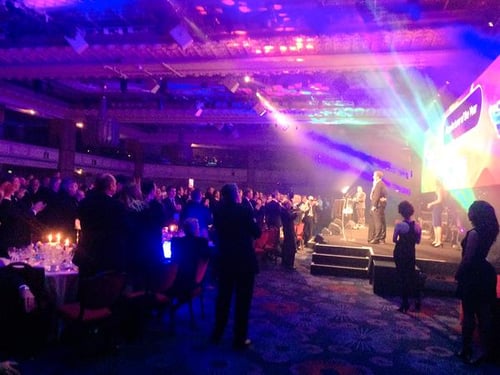 At the end of the evening CDEC Managing Director Toni Barnett and Andy's son Jack received a standing ovation, when they presented Manufacturer of the Year.
Clevertouch was nominated together with fierce competition from amongst others Crestron, NEC, Samsung and several other outstanding companies.
Manufacturer of the Year, was the last award that would be handed out during the evening. And the winner is....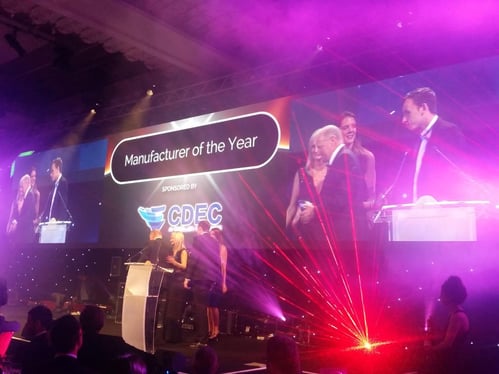 Clevertouch! Amazing. Kevin picked up yet another award.
We are extremely proud of what our friends and partners have achieved. Even being shortlisted for these awards is already a great achievement, let alone being highly commended and winning them.
We feel priviledged to work with these companies, that have such hard working and passionate staff on their teams. We are looking forward to continue working with them and see them pick up more awards and recognitions for their work, in the future.
Harry, CEO NUITEQ