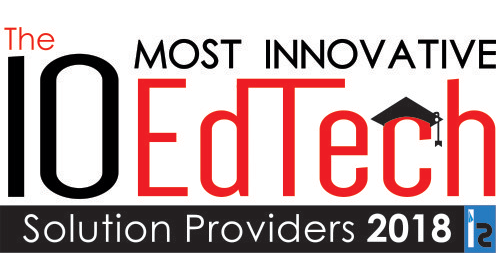 Skellefteå, Sweden / Dublin, OH, USA - 20 March 2018 - NUITEQ®, a multi-award winning world leader in collaborative touchscreen software solutions for education, enterprise, and entertainment, today announced that it was named in Insights Success' Top 10 Most Innovative EdTech Solution Providers 2018.
The top is composed of developers of educational software, digital content, online learning services, and related technologies.
In the recent years, the fast evolution of technology has transformed the way students used to learn and educators used to teach. Due to this rapid growth, the EdTech sector keeps on growing, and many innovative companies along with people possessing great ideas came into the scenario to answer the needs of the 21st-century education system.
NUITEQ is one such organization, which is a pioneer in collaborative touchscreen software that enables natural interaction. The company is reimagining and redefining education, meeting room, and entertainment technology. Its software suite of collaborative apps and games helps to attract audiences, engage them, and leave them with memorable impressions. Over 70 countries use the company's Snowflake software.
NUITEQ's vision is to empower educators, business professionals, and companies in their day-to-day work through the use of touchscreen technology.
Snowflake MultiTeach® is the only educational software suite in the world, that allows for a touchscreen to be divided into independent interactive personalized Zones. The software enables teachers and students to tell engaging interactive stories that are closely aligned with the curriculum, it provides a safe community for online and small group collaboration, and it provides simultaneous personalized instruction making curriculum relevant to students' lives.
The absolutely unique capability of the software, which no other company in the world offers as far as known, is that it allows users to interact with content simultaneously in different Zones on the touchscreen.
The software is also ahead when it comes to content creation on mobile devices combined with large format interactive displays and YouTube videos.
Nowadays online videos have a massive impact on education. Each day YouTube gets more than 500M views when it comes to educational content and it's the third most popular reason why people visit the site. The only challenge is that the psychological research shows that retention is low when viewers just watch a video.
Insights Success Magazine aims to be a thorough guide to all the diverse challenges of businesses. The Magazine is one of the best mediums, which molds itself according to the reader's choice every single month! With the Magazine, they want to share with the readers the information of their particular industry, as well the critical information they require and demand to grow their businesses. Let it be their regular issue or the special ones, all of them are a vital source of inspiration.
The Magazine aims to create a best platform for top leaders and executives to talk and share their experiences, views, and mantra of success which will help the young and dynamic bloodline of professionals to learn, cater and deliver business needs for customers in order to become futuristic market leaders.
"We're excited that NUITEQ is listed as one the 10 Most Innovative EdTech Solution Providers of 2018. With Snowflake MultiTeach, our software suite of collaborative learning games for education, we are making learning and teaching more fun for students and teachers. We appreciate that we are recognised for our work. It feels great to be featured on this list with other well established EdTech innovators.", said NUITEQ's CEO and co-founder Harry van der Veen.
Read the Insights Success article about NUITEQ in the magazine and on the web.
See who else is in the top 10 Innovative EdTech Solution Providers 2018.
About Insights Success
Insights Success is The Best Business Magazine in the world for enterprises. Being a platform, it focuses distinctively on emerging as well as leading fastest growing companies, their confrontational style of doing businesses and the way of delivering effective and collaborative solutions to strengthen market share. Here, we talk about the leader's viewpoints & ideas, latest products/services, etc. Insights Success magazine reaches out to all the 'C' Level Professionals, VPs, Consultants, VCs, Managers, and HRs of various industries.
For more information, visit www.insightssuccess.com
About NUITEQ®
NUITEQ® is the pioneer of multitouch software solutions for education, enterprise, and entertainment. NUITEQ maximizes the use of any multitouch touchscreen with fully independent Zones that can be used simultaneously. Its educational software empowers expressive learning through memorable digital storytelling. NUITEQ provides a safe environment for providing authentic feedback in collaborative settings. Its award-winning Snowflake software is used in over 70 countries.
For more information, visit www.nuiteq.com
NUITEQ®, MultiTeach® and Natural User Interface® are registered trademarks of Natural User Interface Technologies AB in Sweden, EU and USA.
Media inquiries
NUITEQ Contact: Alina Chioran, Marketing Officer at NUITEQ +46 73 087 7099, ac@nuiteq.com