As a followup to the strategic change NUITEQ made in 2019 (https://www.nuiteq.com/company/blog/nuiteq-announces-strategy-change), which included our rebranding, we set off on a journey to create an experience at NUITEQ's headquarters in Skellefteå, North Sweden, that would also be in line with our brand, vision and mission.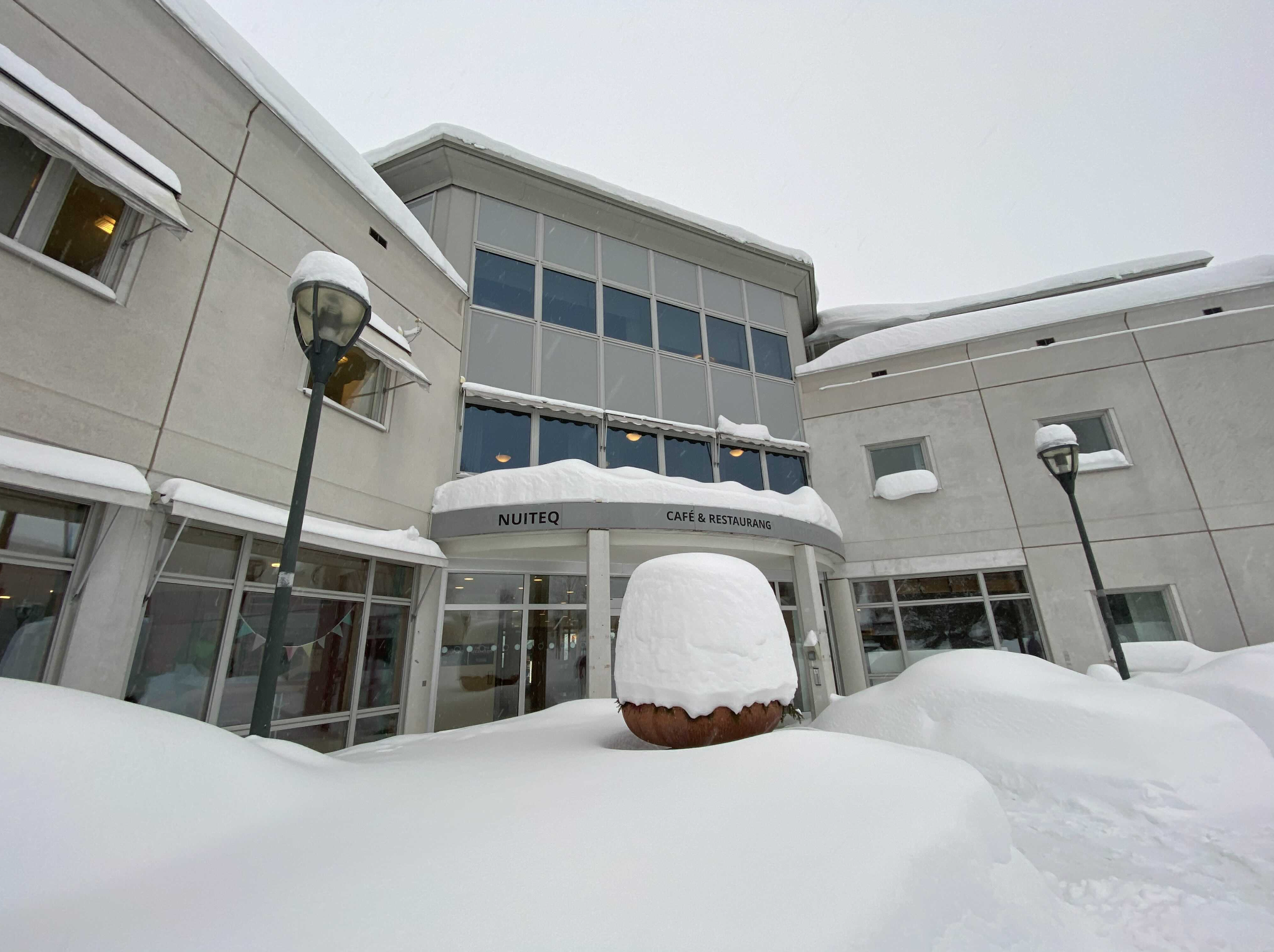 As we were extending the office space, we wanted to make renovations for two main reasons.
The first reason was that we wanted to create an attractive office environment for our staff, where they can relax, work hard and flourish, sort of like a home away from home, where they can be themselves and have a good time in addition to delivering world class results.
The second reason for the office overhaul was that we wanted to build a space where customers, partners and NUITEQ friends can come and give them a feeling that NUITEQ is a company that is at the forefront of technology and is great to work with.
We contracted Linda Rönnlund from Nyans Design, a fantastic interior designer with a great eye, to work with us on a concept.

In my first meeting with Linda, I explained that my vision was, that when people visit our office, they should have a NUITEQ feeling and that they experience what we are all about.

I wanted the concept to be aligned with our principles around being innovative with new technology and having fun while doing so, with a clear connection to the pride of our Swedish and Norrland heritage as well as nature.
The concept we came up with was one of radiating fun, playfulness and relaxation combined with technology that would flow as a red thread throughout the entire office, supported by our corporate identity and colors, namely our primary color purple, secondary color orange and third color light purple.
Entrance lobby
As more and more people start to visit our office at the same time (pre-corona), it happened regularly that our main conference room was occupied. Therefore we wanted to create a laid back version of a meeting space where meetings can be held in an informal fashion with either staff internally or with visitors.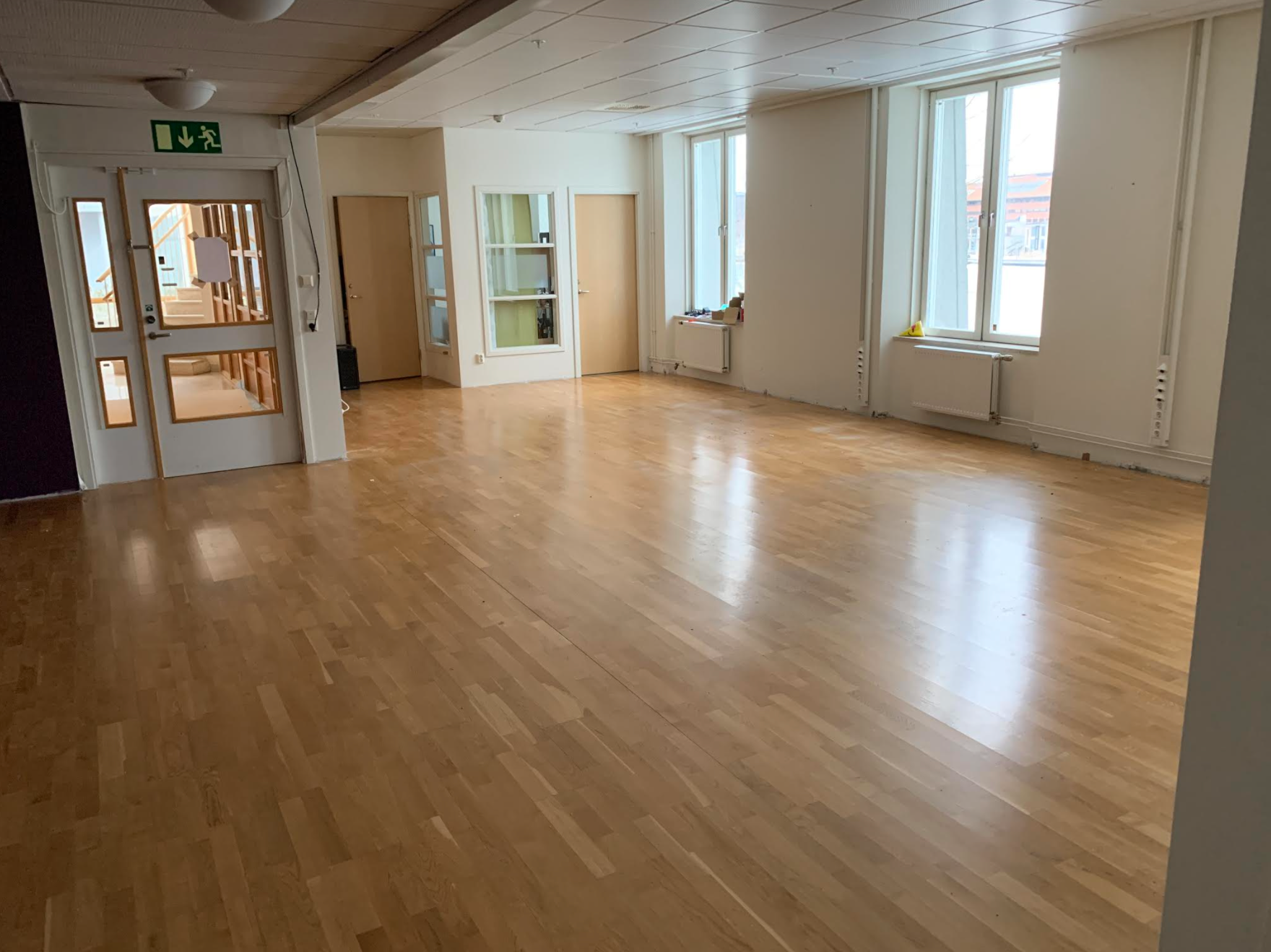 Image: Before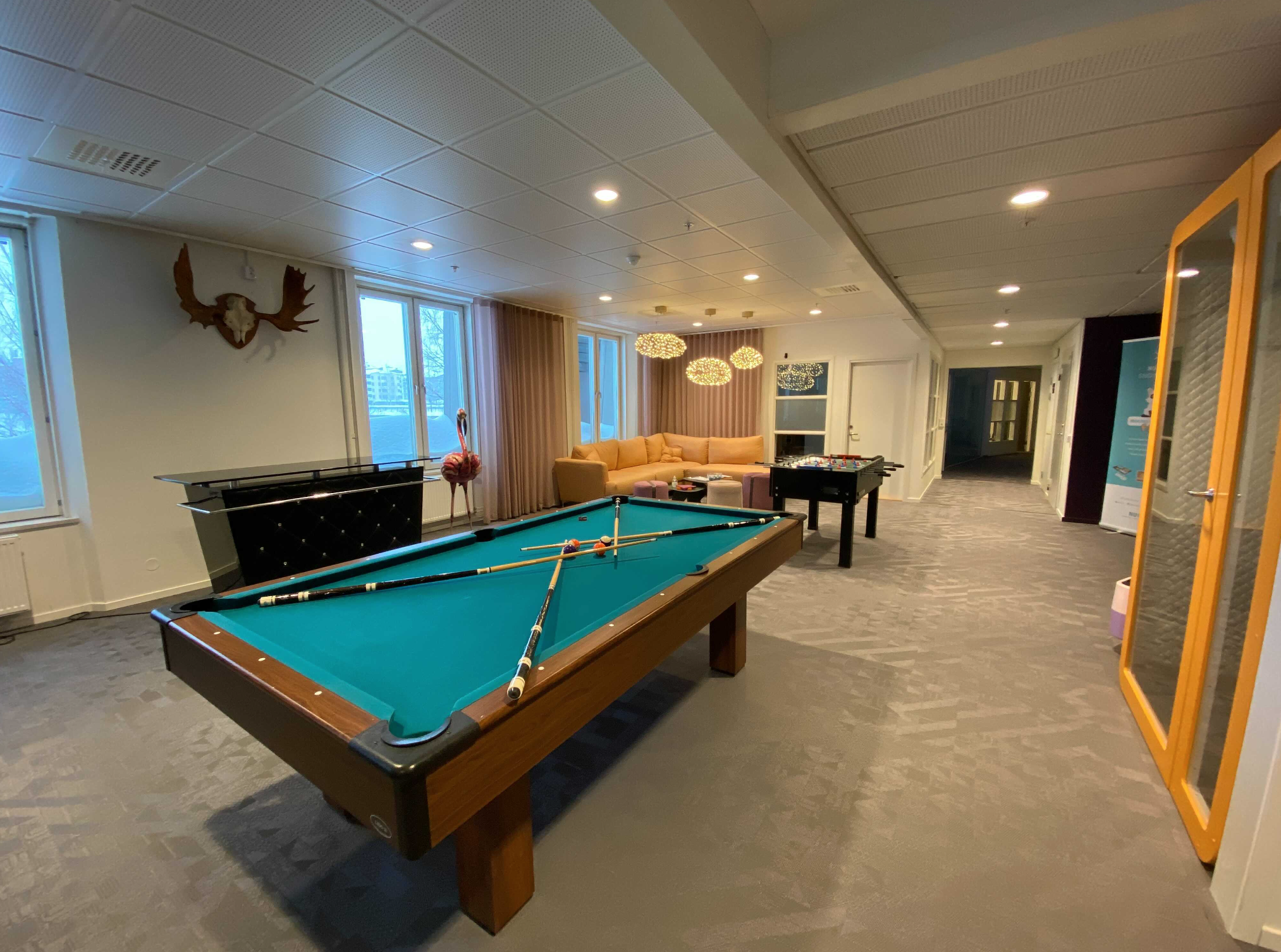 Image: After

We expanded the entrance with additional space and replaced the old structure with a gorgeous wooden oak construction with glass with high tech pattern in purple, creating more transparency, openness and space.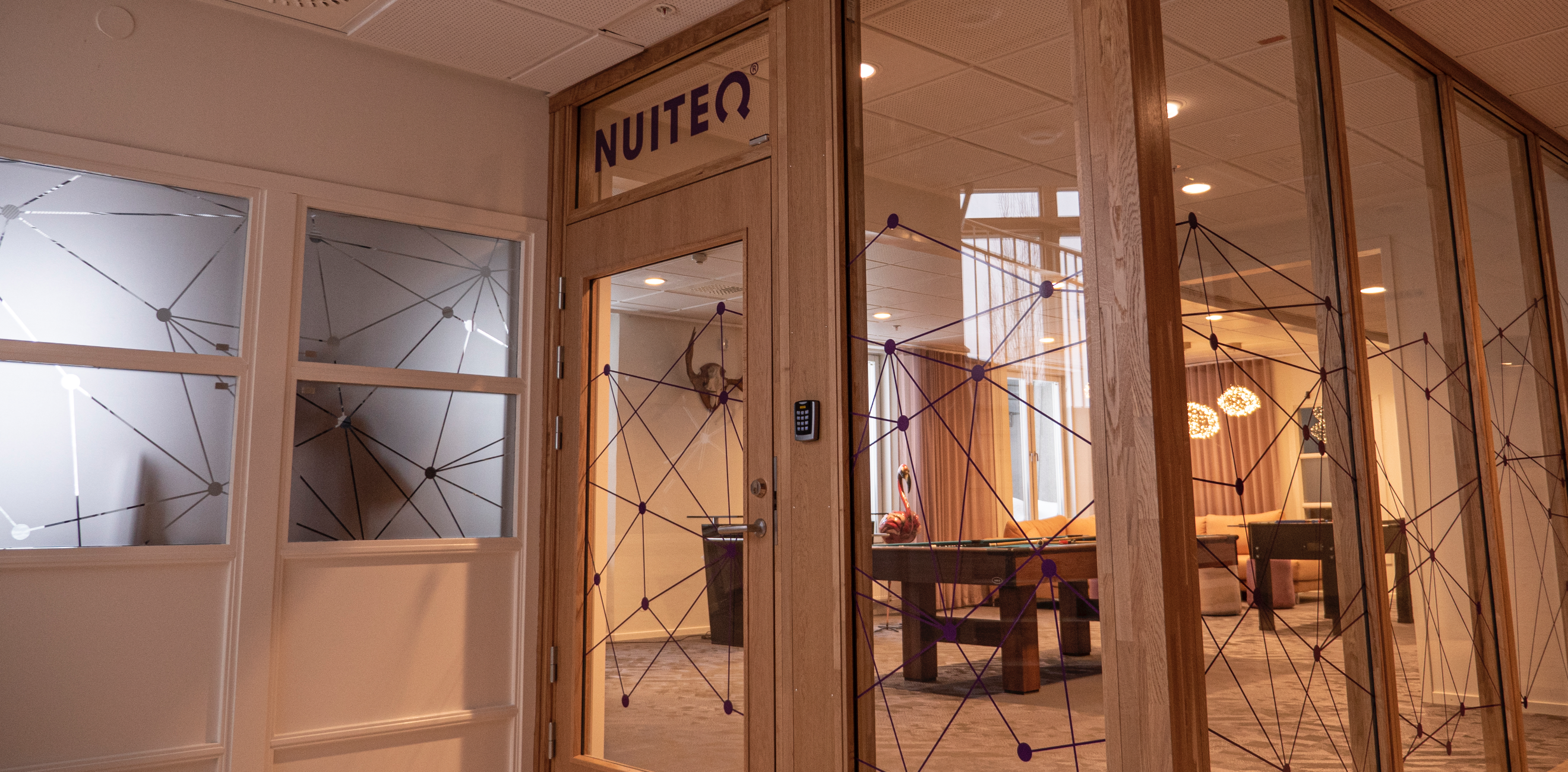 We placed an orange booth in the space, so that staff can have private conversations in silence.

The space also holds a pool table, pinball machine and fussball table to emphasise the fun and playful character of the company as well as a bar, canvassed by a stunning moose-head.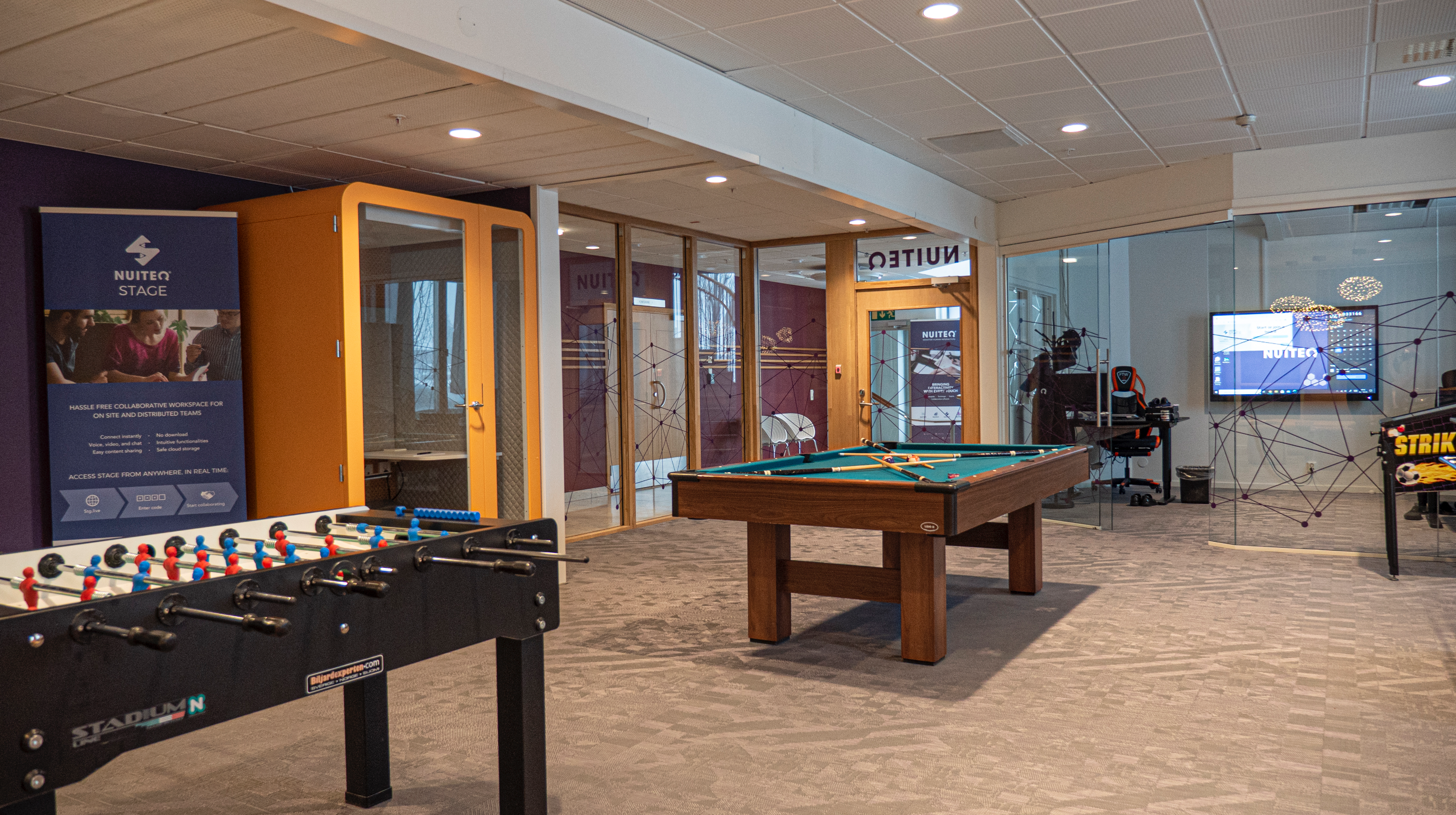 In the comfort zone in the corner, we placed a big orange sofa as well as 3 easy to move purple footstools, emphasising our company's flexibility. Above the 2 Play tables, we placed 3 amazing designer lamps that represent cloud computing.
A large interactive touch display was placed on the purple painted wall, great for demonstrating our products.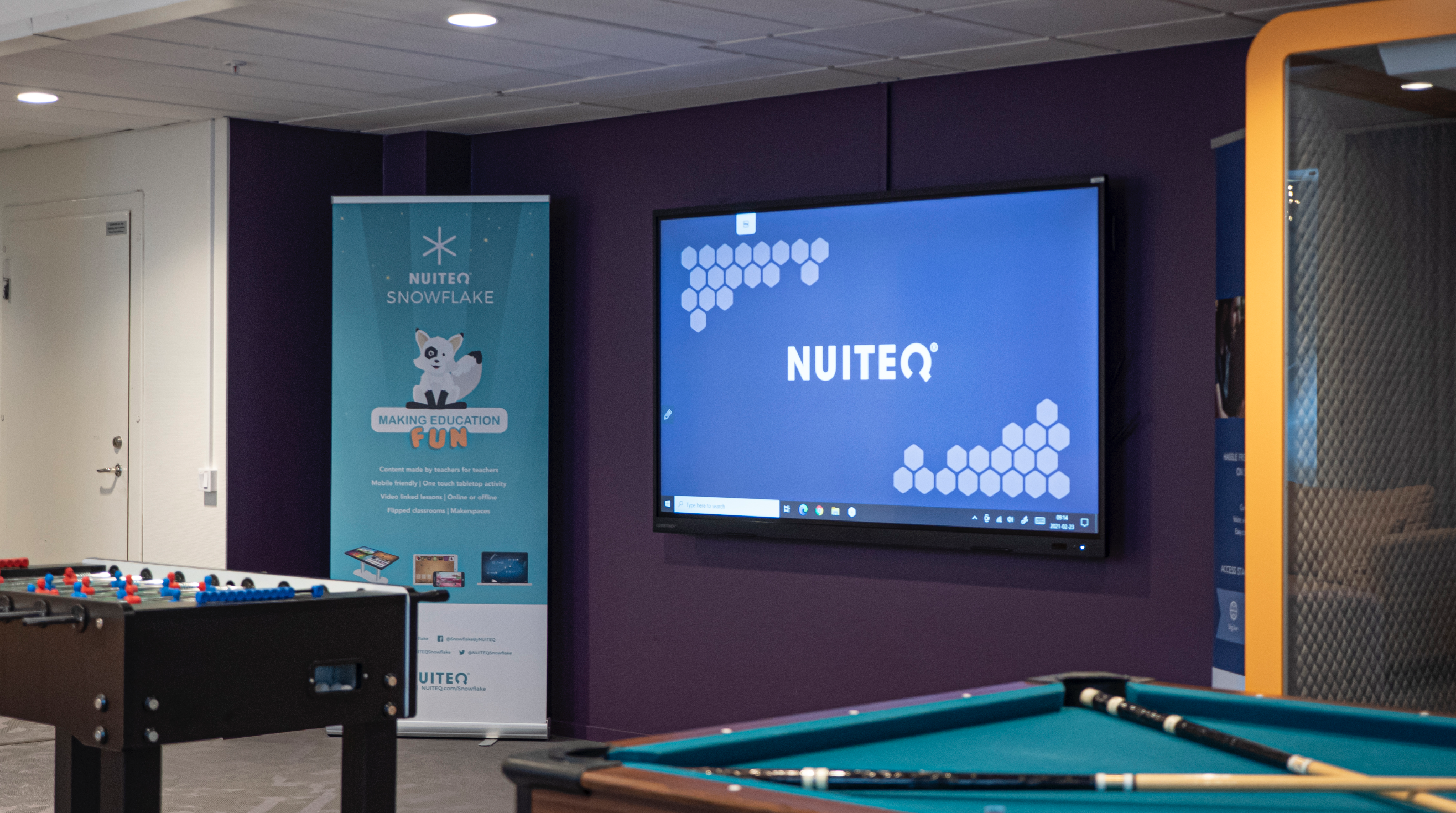 In the lobby and throughout the office we hung new purple and light purple curtains and we also placed a high tech looking new corporate grey purple floor throughout the office with different tints of purple that change tint, depending on the angle of the light.
Furthermore we replaced all the 1980 submarine looking ceiling lights throughout the office with beautiful modern in ceiling lights.

To top off the area, we installed motion sensors for smarter human interaction to control the lights.
Office space
Connected to the entrance lobby, previously we had two smaller offices of which one had limited light, due to the placement in the back.

We knocked the walls out and merged the two spaces into one bigger space with a glass wall and sliding glass door, to improve collaboration, communication and lighting.
Conference room
We wanted the conference room to breathe relaxation, nature and high tech. We knocked the old wooden glass wall and door out and replaced it with a high tech full glass wall and door, that can be switched between full transparent and frosted glass with the flip of a switch of the remote control or mobile app. This is ideal for when holding confidential meetings.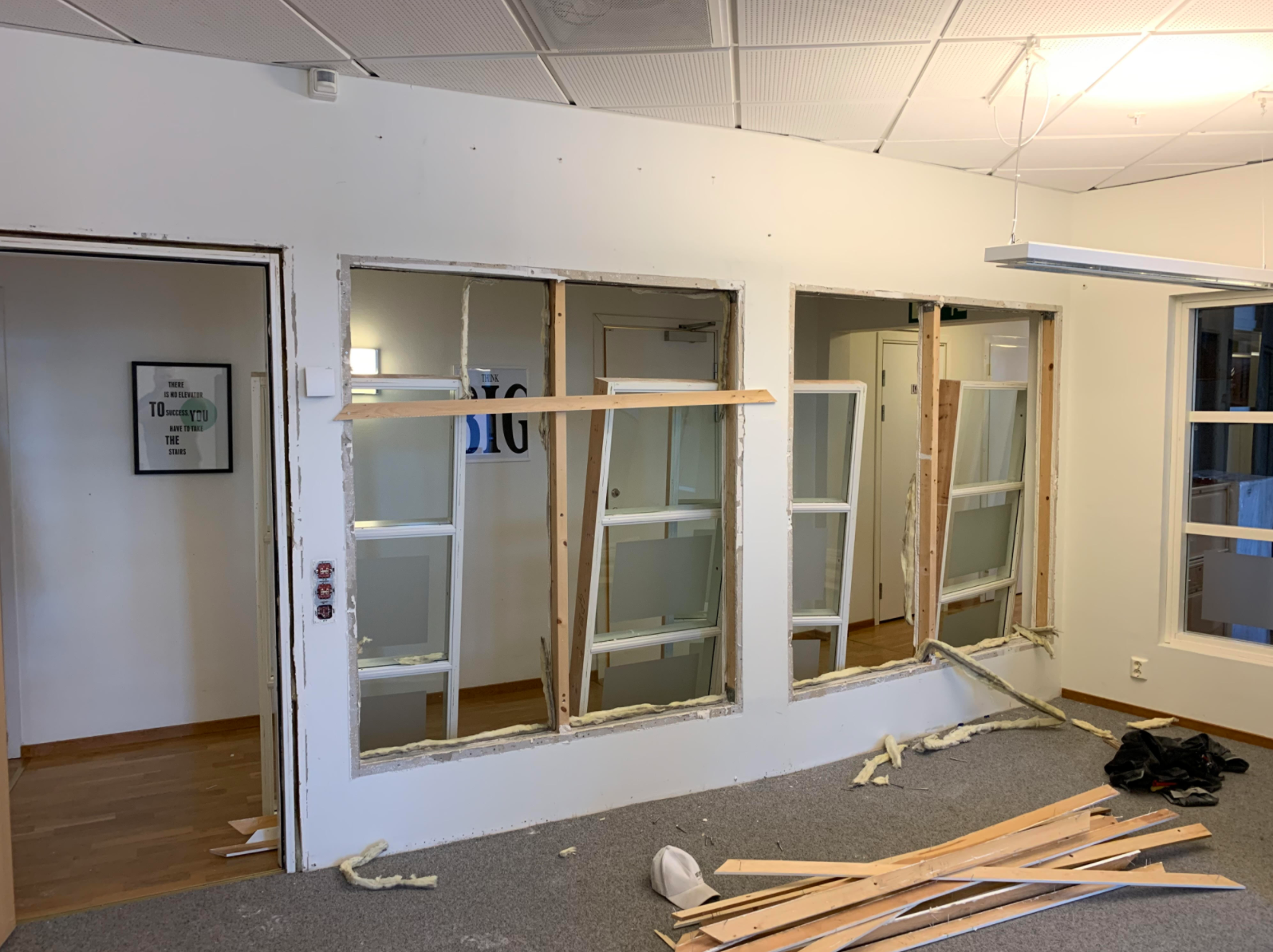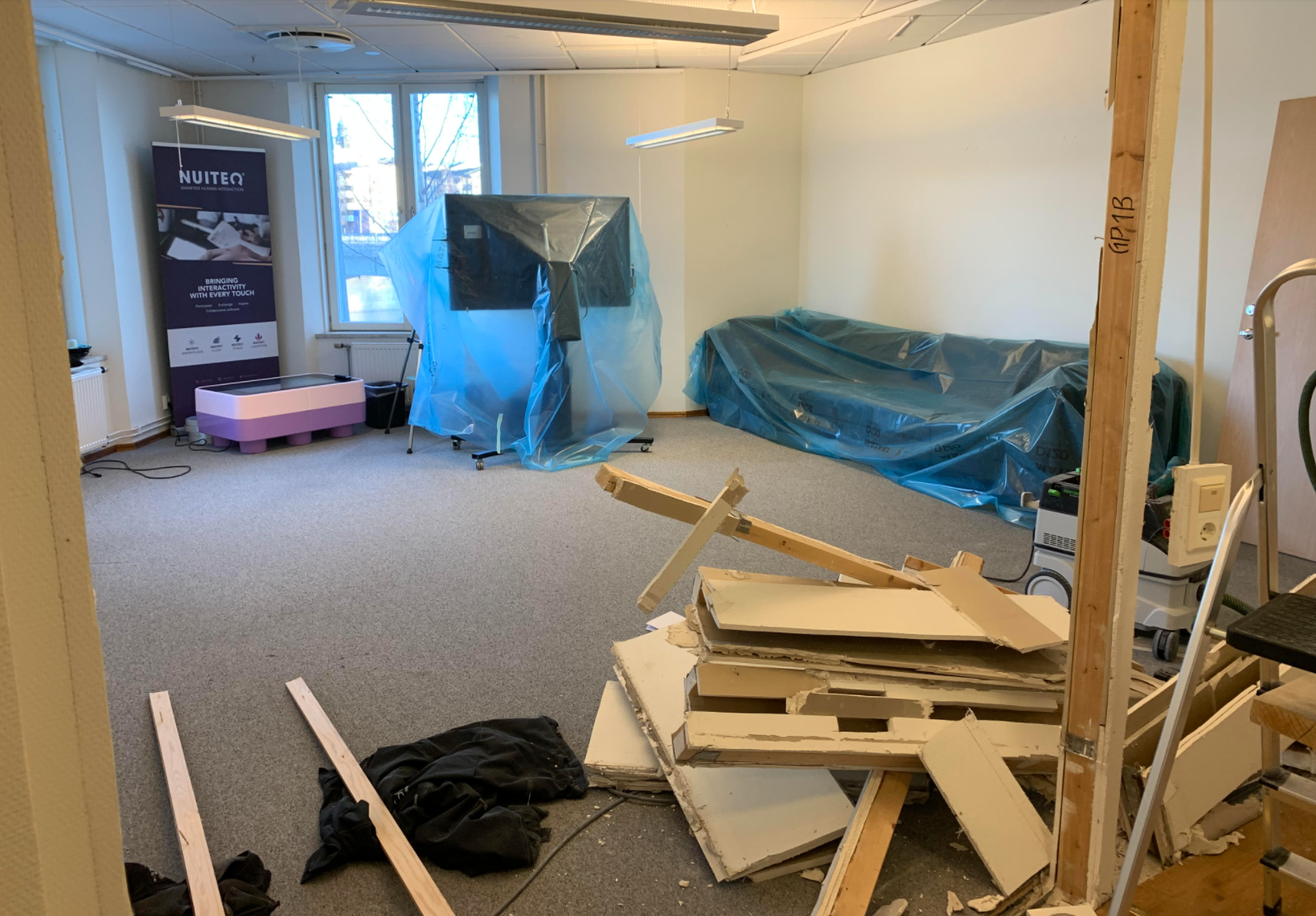 We placed a forest wallpaper as the backdrop on the big wall behind the new green couch, with a designer moose-head lamp on the wall, as if it is sticking its head out of the forest.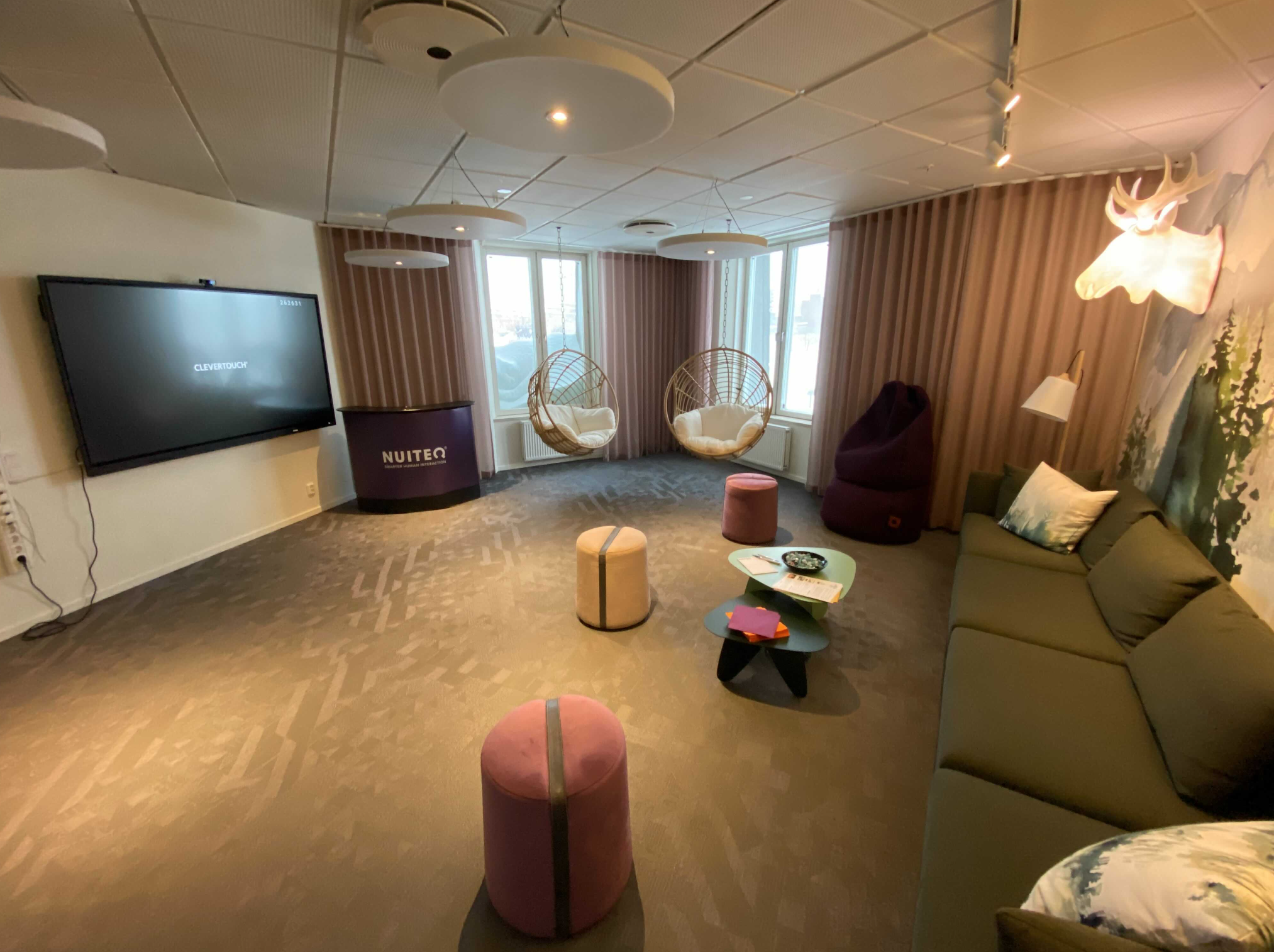 We bought 2 new green Play tables and 3 purple footstools, a wooden designer lamp, purple bean bags and we installed new future looking ceiling lamps as well as two comfortable hanging chairs in rotary nature material.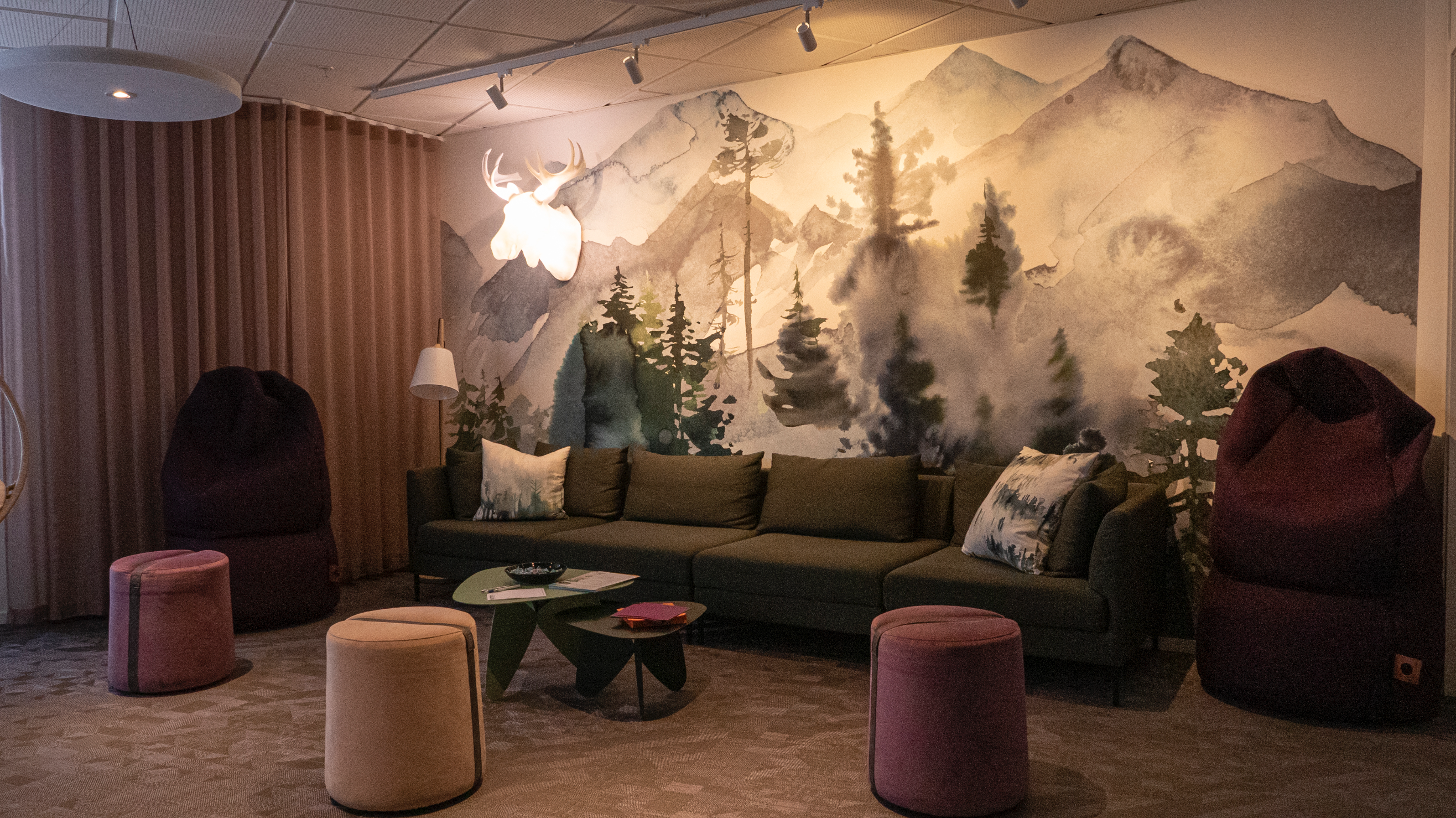 In the hallway, outside of the conference room we installed a purple Smarter Human Interaction display in purple acrylic with LED lighting on the wall, that can be controlled via remote control and mobile phone.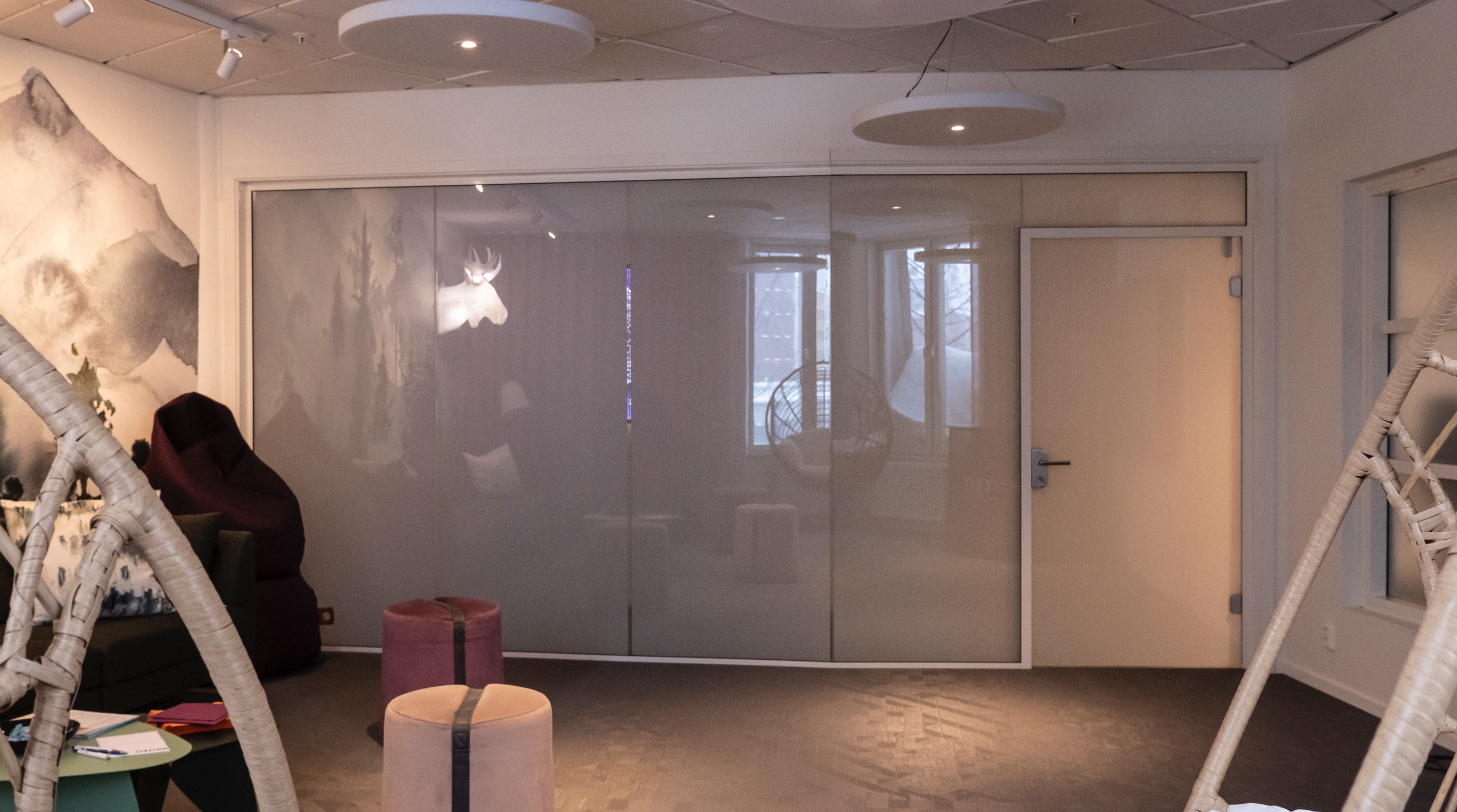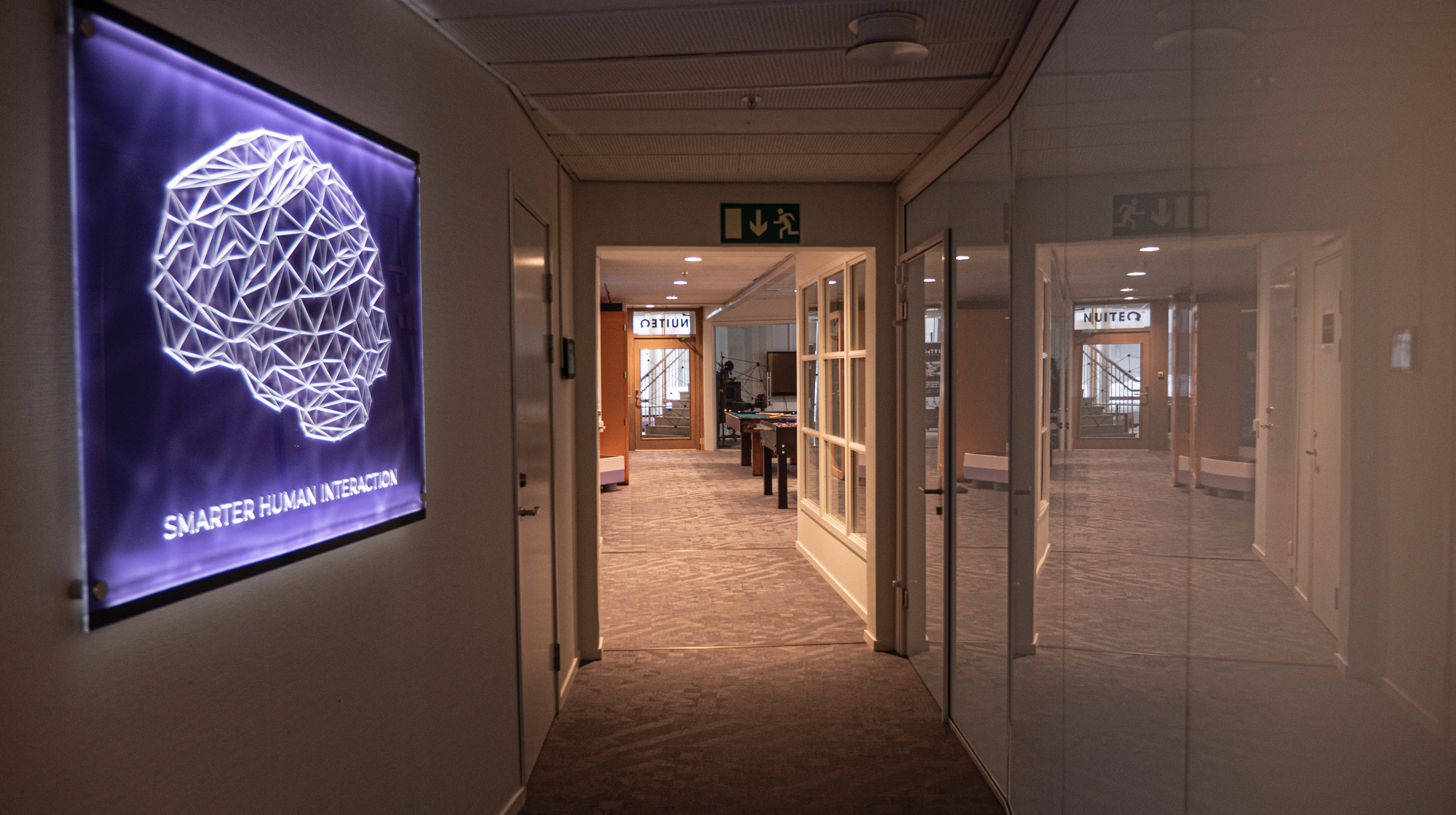 Kitchen
Previously we had a small kitchen and we knocked the walls out, making a cool big open space. We ripped the entire kitchen out, and built a new kitchen from scratch in forest green, with a kitchen island, wooden designer lamps, 3 microwaves and a touch screen fridge/freezer and all new appliances.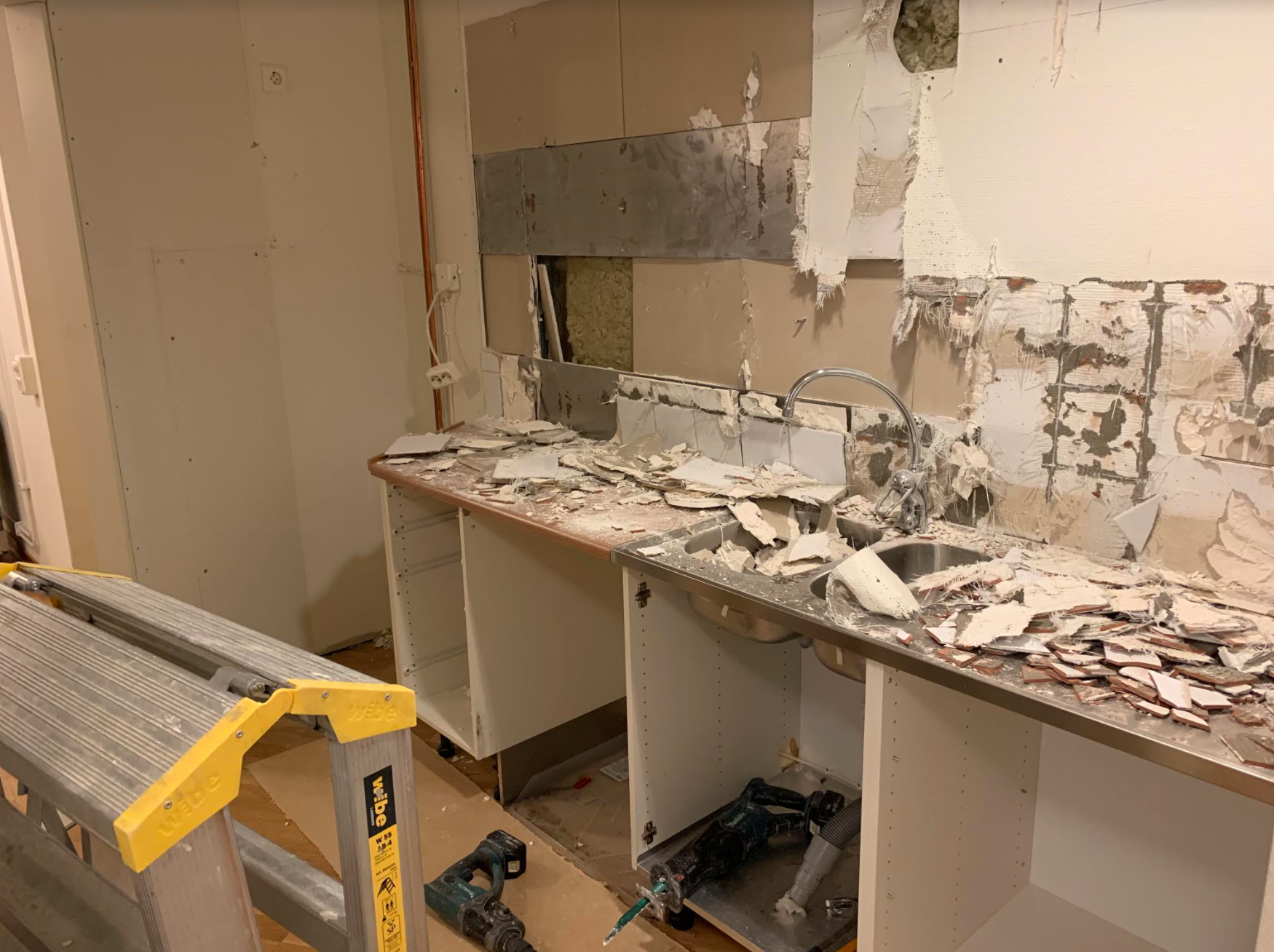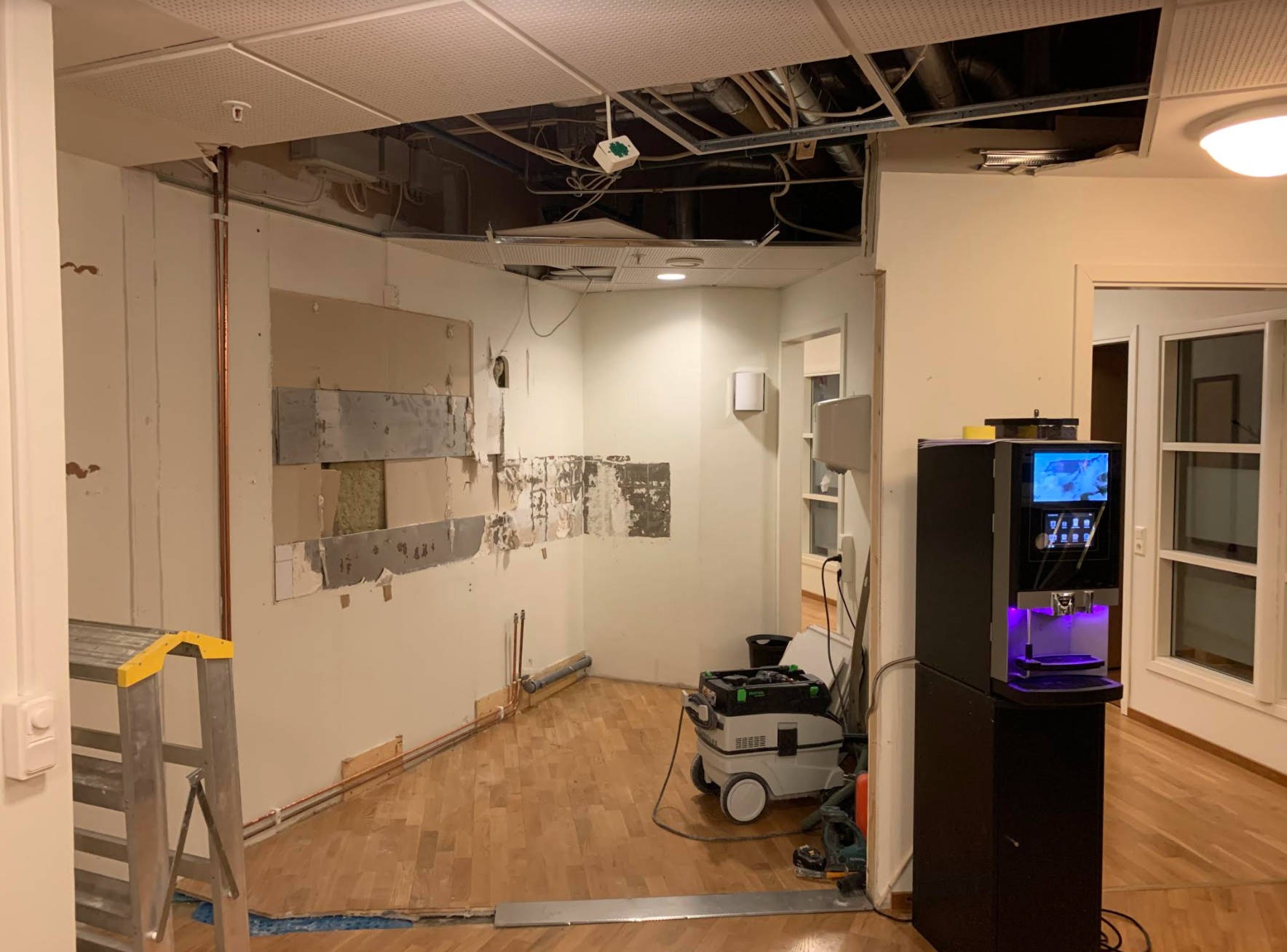 We ordered a big new oak table and Swedish design style chairs in custom NUITEQ and nature colors, which are placed on a custom made square purple carpet, that canvasses the eating area.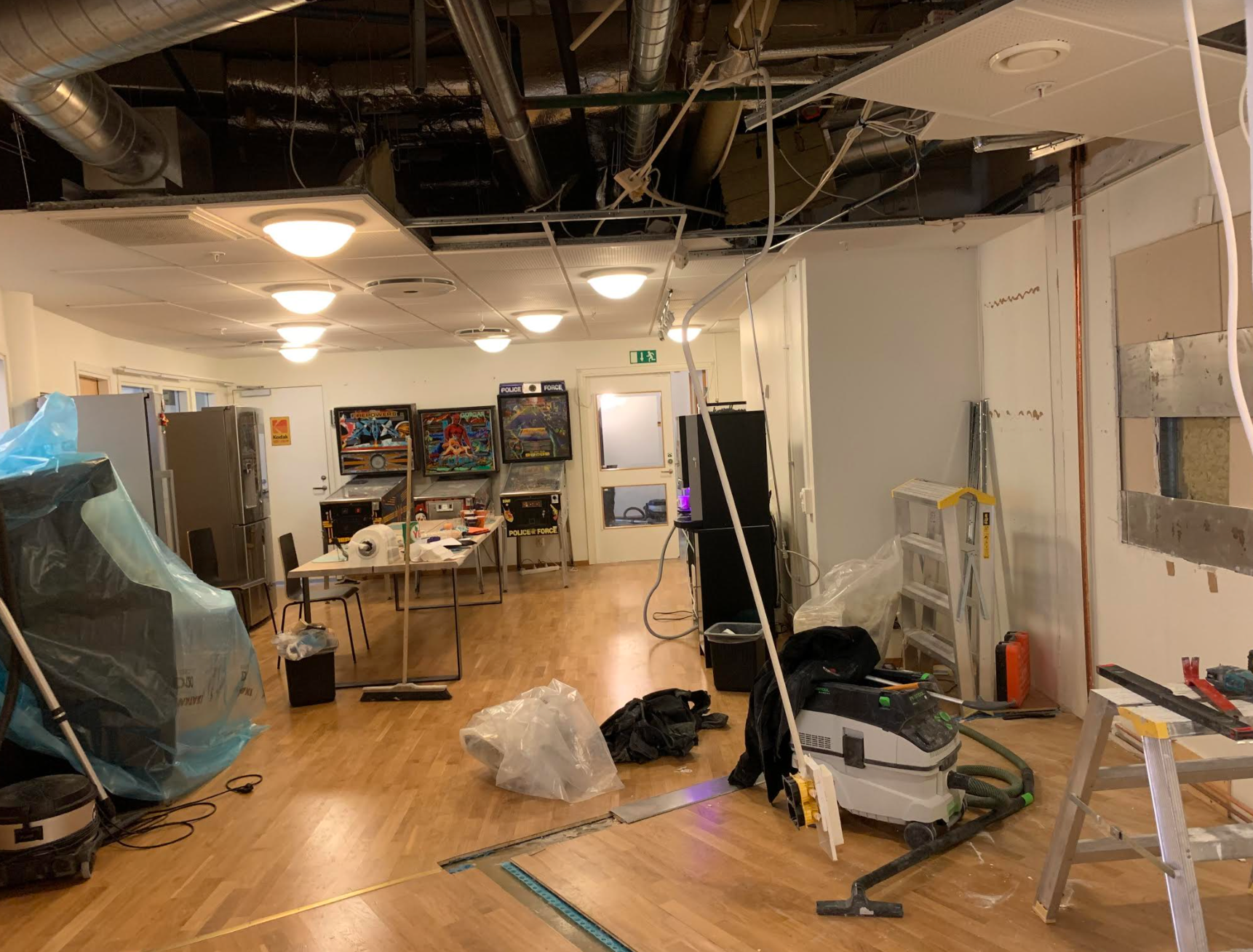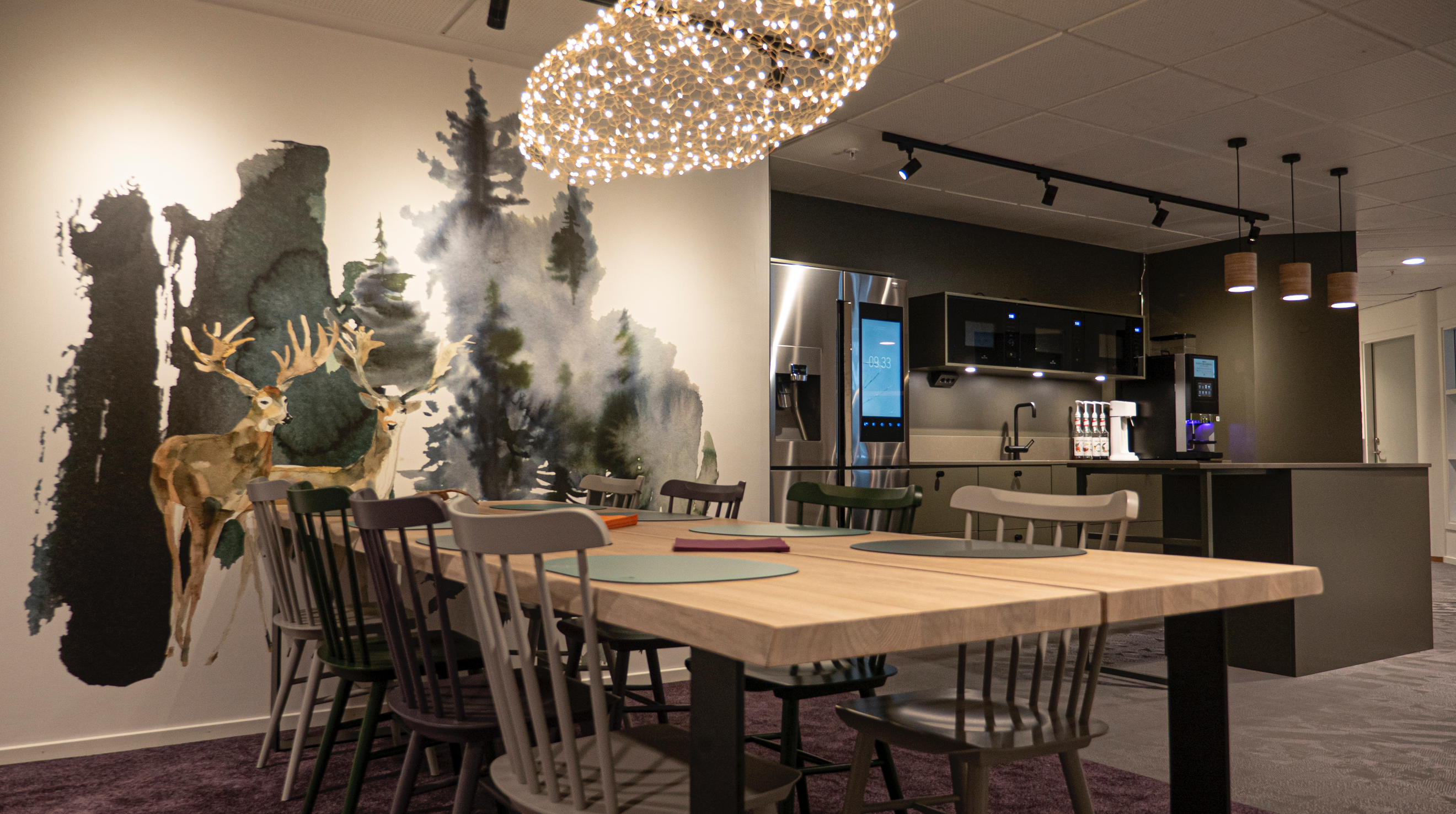 Above the dining table we placed a cloud computing lamp, representing the business area NUITEQ is working within.

On the wall behind the table we placed another wallpaper of a forest setting.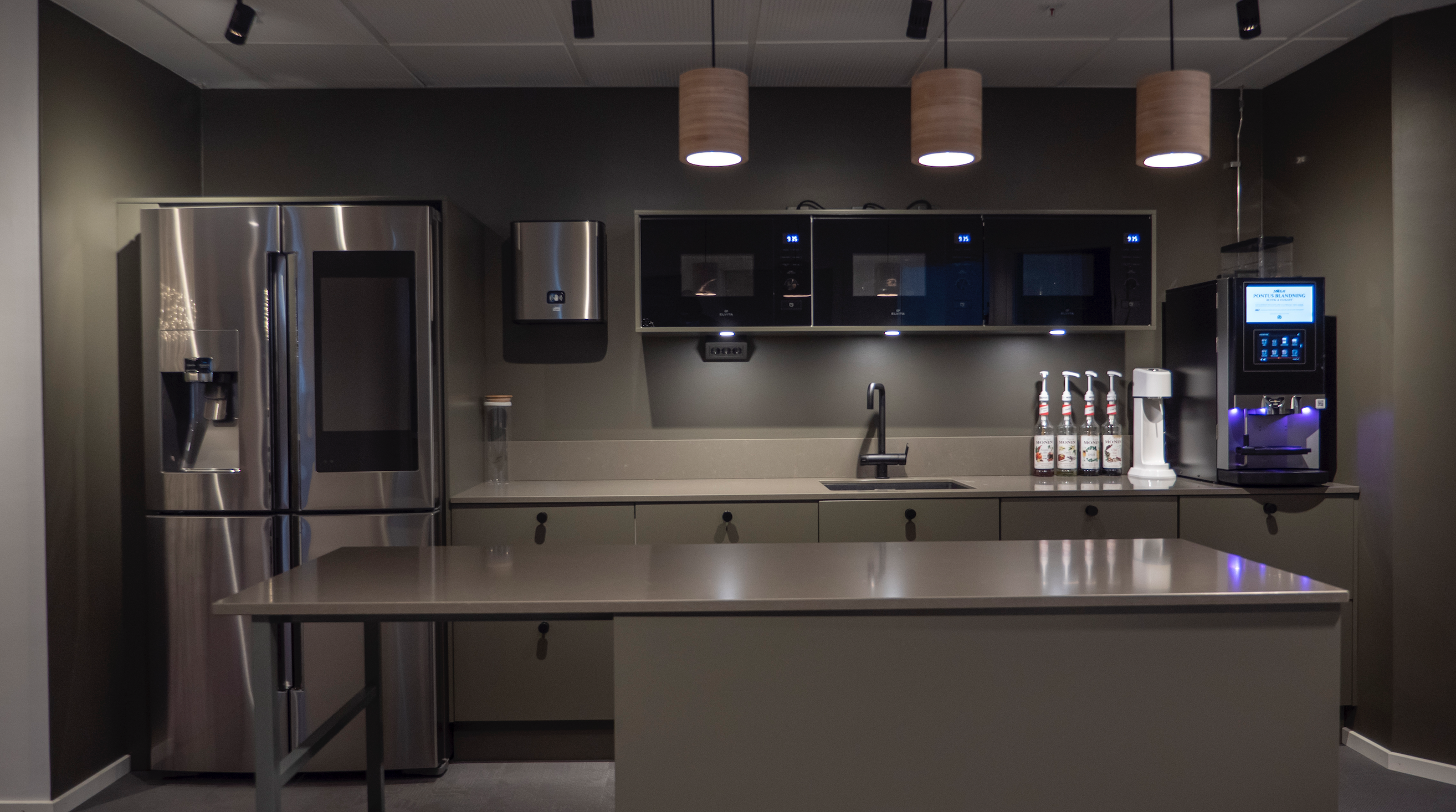 To offer additional eating spaces, we also ordered a custom made wooden oak bar version of the dining table as well as bar chairs in NUITEQ and nature colors.
Furthermore all the doors in the kitchen and hallway were painted the same color of the chairs in the kitchen.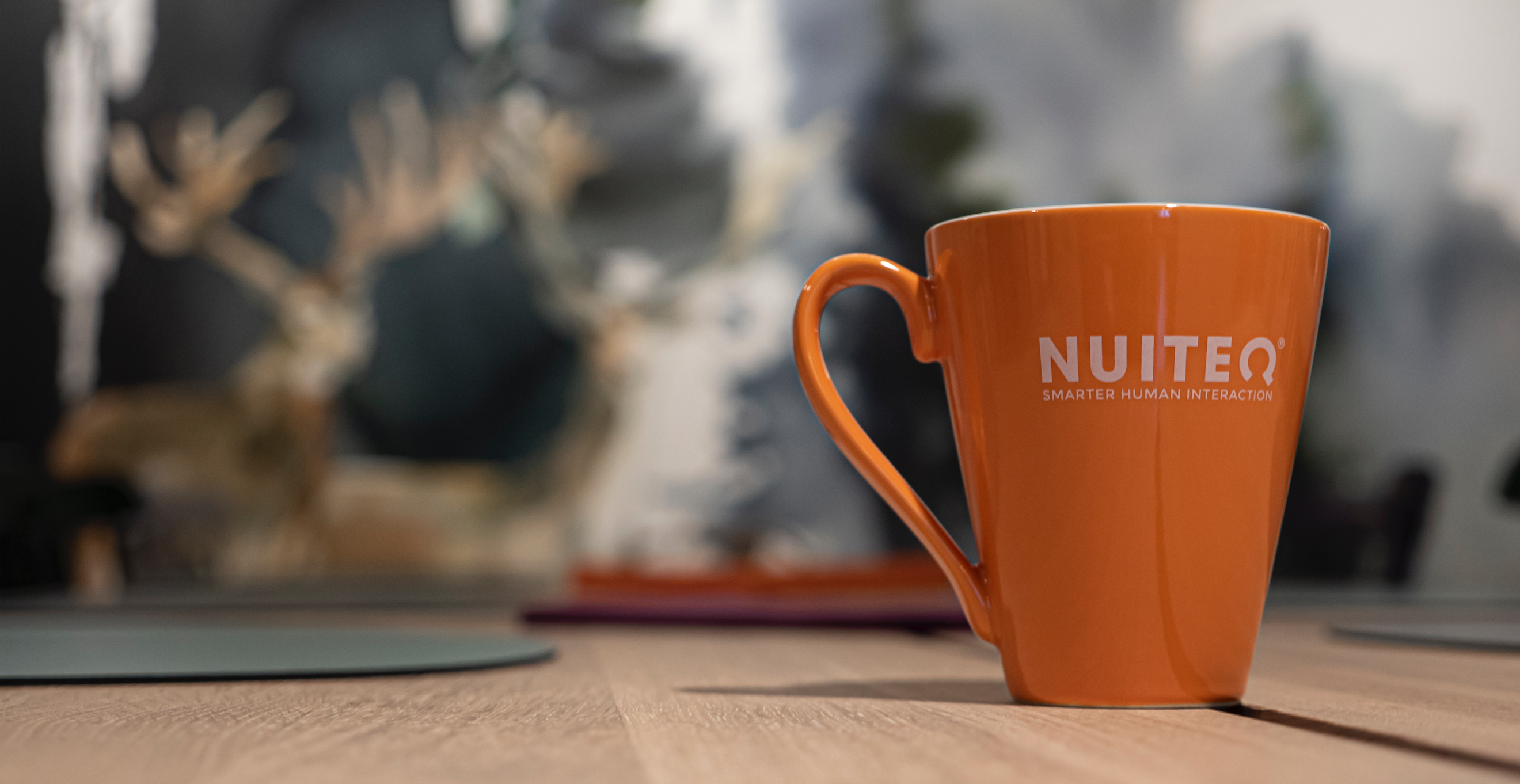 Office space
Connected to the kitchen, we created a completely new sizeable office space by having torn down the walls between 4 storage spaces. The walls were painted with the same tint of grey/green from the wallpaper in the kitchen. Motion sensor controlled lighting was installed as well as a glass wall and door with a purple high tech pattern, visually connecting the entire office space from entrance to the back.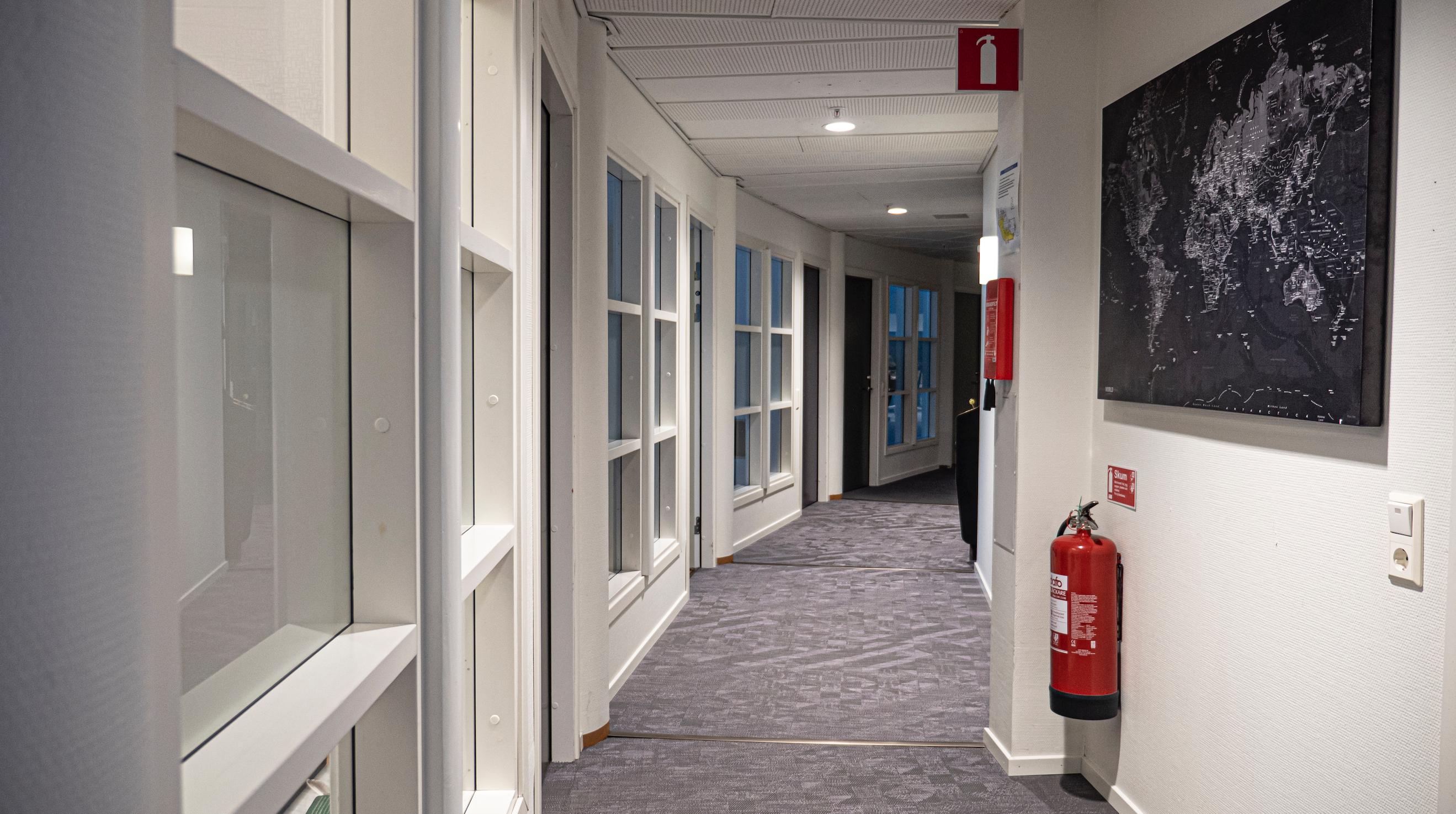 Also in the developer room, that is adjacent to the kitchen, new furniture was placed, including a green beanbag, a purple couch and a designer lamp
Special thanks
We want to extend a special thanks to:

- Robert Lundström from Skebo Industrihus
- Ida Lindh from Campus Development
- Interior designer Linda Rönnlund from Nyans Design
- My friends over at Rum1 Skellefteå's best interior design store, for providing all the amazing furniture such as the tables, chairs, couches etc
- My friends over at ELON Bogården for a fantastic kitchen
- Input Interior for the lamps, curtains and other office furniture
- Nymålat for a great paint job throughout the entire office
- Noak in Piteå for a stunning new floor
- Glamitec for all the glasswork as well as wood work, supported by SSC
- ETB Bygg for all the building work
- Caverion for all the electric work.

And lastly, thanks to several of our office neighbours, for giving up their office space allowing us to grow, we really appreciate it.