The Alvar Gala, Skellefteå's annual business gala, recognizes companies in the region that have made an impact. The gala is organized yearly since 2010 by Alvargalan's friends, which consists of a broad representation of the region's business organizations.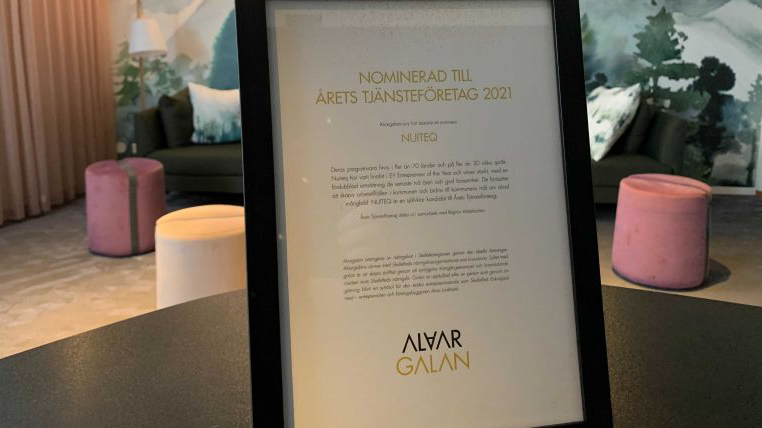 This year, NUITEQ® is nominated in the categories Service Company of the Year, which is presented by Region Västerbotten and Growth Company of the Year, which is presented by PwC.
Region Västerbottens motivation to select NUITEQ as a nominee in the category Service Company of the Year: "Their software is available in more than 70 countries and supports more than 30 different languages. NUITEQ has been a finalist in EY Entrepreneur of the Year and is growing strongly, with a doubled turnover in the last two years and good profitability. They continue to create jobs in the municipality and contribute to the municipality's goal of increased diversity. NUITEQ is an obvious candidate for the Service Company of the Year award."
PwC's motivation to select NUITEQ as a nominee in the category Growth Company of the Year: "The software company NUITEQ creates solutions with intuitive interfaces that make it easier for groups, schools, and companies to collaborate digitally in a smarter and more humane way. Not least, their solutions to support remote work are particularly relevant in current times. A modern company whose turnover and profitability have resulted in a significant surge in growth."

"We are humbled and honored that we have been nominated for two awards. We appreciate the recognition of our hard work by Region Västerbotten and PwC, as this further fuels our passion for doing the best possible job, day in, day out for our products users, customers, and partners. Hereby I'd also like to wish all other nominees good luck.", says Harry van der Veen, NUITEQ CEO & Co-founder.
The Alvar Gala is usually held during the month of January when entrepreneurs and leaders meet for a party night and award ceremony. This year, the gala has been moved to March 26 due to Corona.
About NUITEQ
NUITEQ® is a collaborative software company that enables people, teams, educational institutions, and businesses to add value through smarter human interaction. We believe anyone can participate, exchange, learn, and get inspired by smarter human interaction with no digital boundaries.
With easy to use collaboration tools customers and users benefit from improved creativity, engagement and results. Our award-winning software solution is used by customers in over 70 countries.
For more information, visit www.nuiteq.com.
NUITEQ® and Natural User Interface® are registered trademarks of Natural User Interface Technologies AB in Sweden, EU, and the USA.