Skellefteå, Sweden / Greece – December 27th, 2017 – NUITEQ®, the award winning pioneer in collaborative touchscreen software solutions, announced today the extension of its partnership with its existing Greek partner, iDiA. By signing a new distribution agreement, iDiA and NUITEQ continue to collaborate closely to offer new and innovative interactive solutions to the Greek market.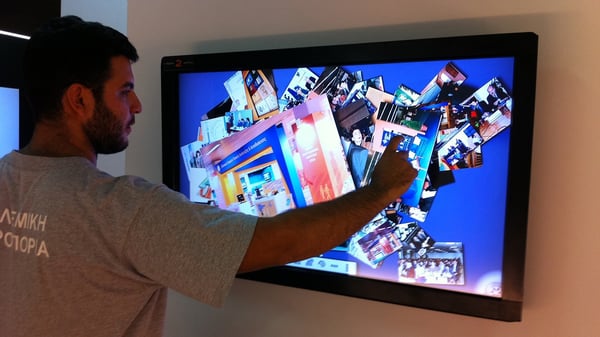 With the extended partnership in place, iDiA continues to offer NUITEQ's collaborative software suite, Snowflake with their interactive multi-touch displays.
"Snowflake is a powerful software suite with the added value of Nuiteq's great support. NUITEQ's innovative solution has helped us increase our revenue and clientele.", says Nikos Kontos, CEO iDiA.
IDiA's product lines include hardware such as interactive windows, iTables, infoPoints, and transparent LCD's and custom made software design that accommodates the needs of each customer.
With more than 10 years experience, iDiA has built an impressive portfolio including clients in different areas such as: exhibitions and tradeshows, promotional events, pharmacy, retail stores, telecommunications, aerospace, and other areas.
"We are proud to continue to work with iDiA. It is no secret that Greece has had a tough economy the last few years and despite this, iDiA continues to be a strong player in the interactive multitouch space in their home market." says NUITEQ's CEO, Harry van der Veen. He continues: "I'm excited to visit their headquarters in Athens in the upcoming months to further strengthen our relationship."
NUITEQ and iDiA have been working together for 8 years to deliver diverse innovative multi-touch projects to the Greek market.
About iDiA
Whether it's brand-level messaging, a digital strategy, a sales promotion or a new marketing initiative, the story your business is telling needs to connect with your customers, while remaining compelling and consistent.
IDiA is a highly professional team of designers, developers and visionaries, specializing in advanced digital marketing solution in order to impress and connect, in an innovative way, with your customers. IDiA's purpose is to create innovative applications.
For more information, visit www.idia.com.
About NUITEQ®
NUITEQ® is a pioneer in collaborative touchscreen software that enables natural interaction. The company is re-imagining and redefining education, meeting room & entertainment technology. Its software suite of collaborative apps helps to attract audiences, engage them and leave memorable impressions. The Snowflake software is used in over 70 countries. NUITEQ's vision is to empower educators, business professionals and companies in their day-to-day work through the use of touchscreen technology.
For more information, visit www.nuiteq.com.
NUITEQ®, MultiTeach®, and Natural User Interface® are registered trademarks of Natural User Interface Technologies AB in Sweden, EU, and USA.
Media enquiries
Contact: Alina Chioran, Marketing Officer at NUITEQ® +46 73 087 7099, ac@nuiteq.com