Skellefteå/Norrköping, Sweden – May 11th, 2016 – NUITEQ®, the award winning and world leading provider of collaborative multitouch software solutions, has inked a Snowflake distribution agreement with Manicotouch from Sweden. With this partnership in place, Manicotouch is authorized to offer Snowflake bundled with their interactive display products.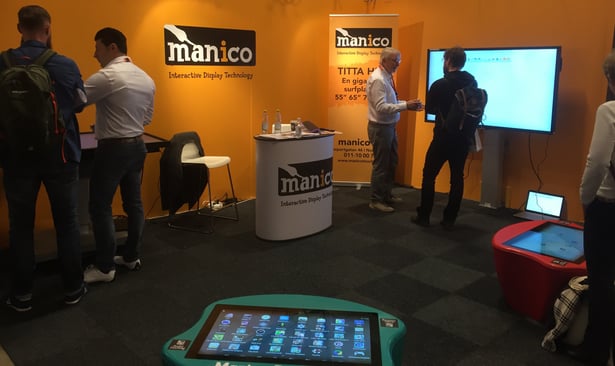 NUITEQ and Manico at SETT, April 2016.
Manicotouch develops, manufactures and markets large scale interactive flat panel displays (IFPD), touch tables and interactive whiteboards (IWB). They offer NUITEQ's Snowflake multi-touch software in combination with its engaging and immersive multi-user touch screens, giving their customers that complete interactive experience.
"Manicotouch will now deliver their impressive range of Interactive Flat Panels bundled with our interactive Snowflake software, offering customers a complete solution for either classrooms or corporate meeting rooms. After a successful SETT exhibition in Stockholm, in April 2016, which was focussed on classroom solutions, it is clear that the education market in Sweden is now looking to update existing Interactive Whiteboards to Interactive Panels that include software specifically tailored for the classroom of today. NUITEQ® is looking forward to a very successful partnership with Manicotouch.", says NUITEQ's Business Development Manager, Brian Collins.
Manico's interactive products are used by schools and companies that need creative and effective tools to support them in their day to day activities.
"At Manicotouch, we have seen first hand the level of interaction possible when interactive hardware and purpose built software are combined to allow users to fully utilize the Interactive Panel technology in schools and corporate meeting spaces. The Snowflake software offers teachers, students and corporate professionals a set of tools that will enhance their daily use of Interactive technology. Our customers will now be able to quickly and easily improve their effectiveness through the combined use of Interactive Panels and Snowflake.", says Carl Lindgren CEO at Manicotouch.
About Manicotouch
Manico AB was founded in 2012 by a teacher, a salesman and an entrepreneur. The company believes in the power of interactive communication, which we want to make affordable and accessible to a wider market.
Manico designs, develops, manufactures and markets products with built in interactive touch technology. Our product range covers interactive boards, screens and tables. Enhanced presentation software is included with every Manico Touchscreen.
Manico products are used by schools and companies that want to work in a unique and creative way.
About NUITEQ®
NUITEQ® is a world leader in collaborative touchscreen software that enable natural interaction. The company is re-imagining and redefining education technology. It's software suite of collaborative learning games, Snowflake MultiTeach®, helps to improve education outcomes for teachers, students and schools. The software creates higher engagement, greater enjoyment and better collaboration while learning. MultiTeach® is used by schools in over 70 countries. NUITEQ's vision is to empower educators to help kids learn by playing. For more information, visit www.nuiteq.com.
NUITEQ® and Natural User Interface® are registered trademarks of Natural User Interface Technologies AB in Sweden, EU and USA.
Media enquiries
Contact: Alina Chioran, Marketing Officer at NUITEQ® +46 73 087 7099, ac@nuiteq.com