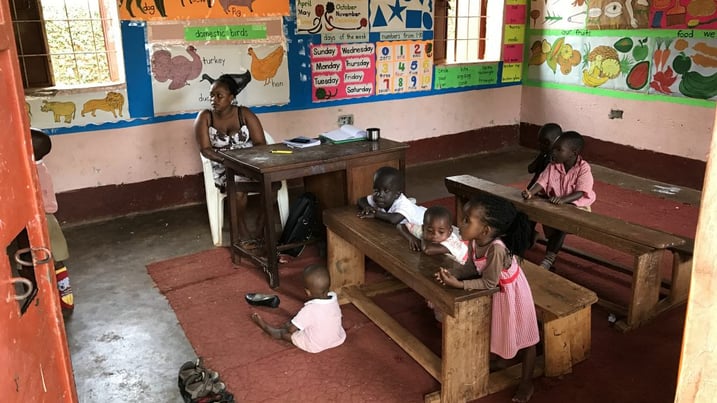 Compassion is one of the NUITEQ® values: "We give back to the less fortunate through charity and volunteering, and we share our success with our community through sponsoring."

We recently attended Creative Summit, where, while networking, we learned that Bengt Ivansson, the Director of Trade and Business Development at the Skellefteå municipality, is currently leading a reconstruction project for the St Annes Preparatory School in Kampara, Uganda.



The project is currently trying to raise a total of 500 000 SEK (56 000 USD) via donations.

The money will be used to renovate the school's classrooms, restrooms, garden, roofing etc. You can learn more about the rebuilding plans here.


St Annes school facilities now and in the future.
At NUITEQ, our goal is to "make education fun", but in the St Annes Preparatory School case it goes further than that. It's about building a safe place where children can learn, grow,and flourish.

Having heard about this project, we knew that we must act. So we decided to donate a sum of money to help cover a large portion of the expenses of the roof replacement.

"I'm proud that NUITEQ will sponsor a portion of the cost of the roof of the school building, because we are passionate about education and helping the less fortunate. I'm feeling blessed that we are able to give back to kids in Uganda and not only change the lives of 50 children, their parents and teachers, but hopefully also future generations.", says NUITEQ CEO and co-founder, Harry van der Veen.

The 36-year old school has a capacity of 50 students, with different religious beliefs, backgrounds, cultures, and nationalities.

The renovation project is ongoing and you can follow its evolution on St Annes School Facebook page.

If you want to get involved and help to rebuild this school for children in Uganda, please visit St Annes school website.

Any donation matters and is highly appreciated!
About NUITEQ
NUITEQ is a pioneer in collaborative touchscreen software that enables natural interaction. The company is reimagining and redefining education, meeting room & entertainment technology. Its software suite of collaborative apps helps to attract audiences, engage them and leave memorable impressions. Over 70 countries use the Snowflake software. NUITEQ's vision is to empower educators, business professionals and companies in their day-to-day work through the use of touchscreen technology.
For more information, visit www.nuiteq.com.
NUITEQ®, MultiTeach®, and Natural User Interface® are registered trademarks of Natural User Interface Technologies AB in Sweden, EU and USA.