Skellefteå, Sweden / Saint Petersburg, Russia – December 12th, 2017 – NUITEQ®, the award-winning pioneer in collaborative touchscreen software solutions, has signed a new Snowflake distribution agreement with its existing Russian partner TouchWorld. With the ongoing relationship that dates back 7 years, TouchWorld and NUITEQ continue to collaborate closely to offer new and innovative interactive solutions to the Russian market.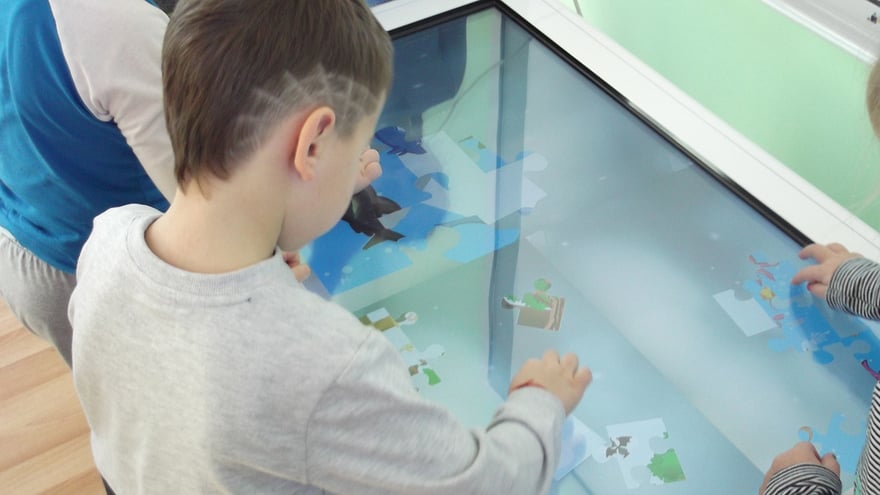 The extended agreement entails the offering of NUITEQ's collaborative software suite, Snowflake - MultiTeach, Business, and Entertainment - with TouchWorld's multi-touch displays.
"Snowflake is a great multi-user and multitouch software that we offer to our customers and partners together with our hardware as a complete solution. Diversified for business, entertainment, and education it can cover a big chunk of demands. The many prizes Snowflake has been awarded with during the last few years are proof that our choice was strategically correct.
Throughout these years of cooperation, NUITEQ has consistently proven their dedication to their partner-centric policy. Whenever we have received questions from our clients regarding the Snowflake software, the team at NUITEQ has always been there to help. The friendly people with a positive attitude are the most valuable asset of NUITEQ. We appreciate our partnership and strongly believe in our successful cooperation in the future", says Alexander Tagaev, Business Development Director at TouchWorld.
TouchWorld's product lines include touch kiosks, touch tables, touch monitors, chassis and software design for touch screens.
Having more than 15 years of experience in the touch industry, TouchWorld serves a great number of clients in different areas such as banking, museums, car dealers, exhibitions, trade shows, education, retail stores, telecommunication, hotels, and other areas.
"We are excited to continue our partnership with the team at TouchWorld. They are a strong player in the touchscreen technology field in Russia and they have built up a tremendous amount of experience, especially in the multi-touch area.", says NUITEQ's CEO, Harry van der Veen.
NUITEQ and TouchWorld have been collaborating for over 7 years to deliver all the available multi-touch software editions of Snowflake combined with the multi-user touch displays from TouchWorld to the Russian market.
About TouchWorld
TouchWorld is a company based in Russia, with more than 15 years experience in the touch industry.
TouchWorld provides their customers with competent consulting, advanced products, modern software, and services that have a high level of quality and efficiency.
Professionalism, devotion to corporate standards, and individual attention to every client are the company's distinguishing principles.
TouchWorld is constantly expanding its cooperation with other companies based on business ethics and partnership. Today they are one of the leaders in the Russian market, that provides customers with cutting-edge technology touch solutions.
Under its own trademark "DialTouch", the company supplies touch kiosks, touch tables, touch monitors, software design and turnkey touch software solutions.
For more information, visit www.touchmonitors.ru
About NUITEQ®
NUITEQ® is a pioneer in collaborative touchscreen software that enables natural interaction. The company is re-imagining and redefining education, meeting room & entertainment technology. Its software suite of collaborative apps helps to attract audiences, engage them and leave memorable impressions. The Snowflake software is used in over 70 countries. NUITEQ's vision is to empower educators, business professionals and companies in their day-to-day work through the use of touchscreen technology.
For more information, visit www.nuiteq.com.
NUITEQ® and Natural User Interface® are registered trademarks of Natural User Interface Technologies AB in Sweden, EU, and USA.
Media enquiries
Contact: Alina Chioran, Marketing Officer at NUITEQ® +46 73 087 7099, ac@nuiteq.com