Skellefteå, Sweden, June 10, 2021 - NUITEQ®, a collaborative software company that enables teams, educational institutions and businesses to add value through smarter human interaction, announced today the extension of their partnership into 2022 with touchscreen provider Clevertouch Technologies.

After a successful long-term collaboration spanning a decade, NUITEQ and Clevertouch Technologies continue to work closely together in offering an increased number of new and innovative interactive solutions to the Education and Enterprise markets.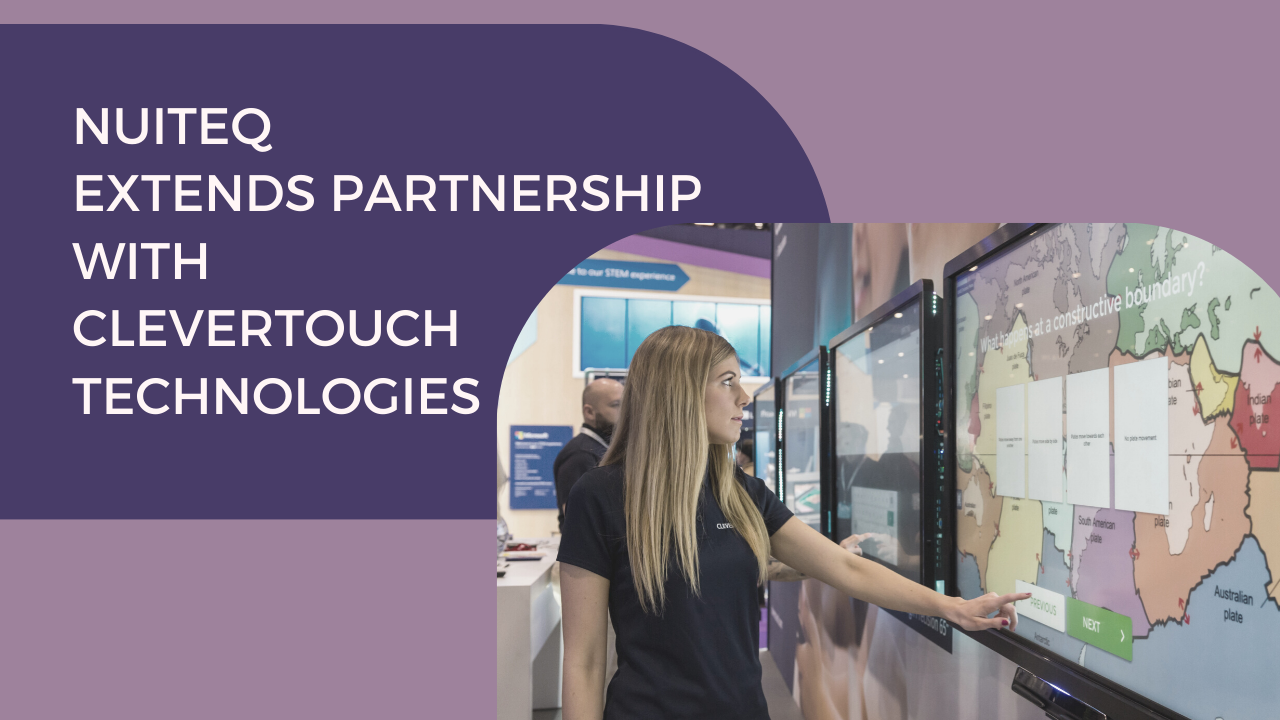 The renewed partnership offers all new Clevertouch customers in designated regions a free 12 month edition of NUITEQ Stage for Education and Enterprise.

At the same time, the collaboration between the two companies continues the availability of NUITEQ Snowflake for all education users. Designed especially for hybrid education, NUITEQ Snowflake provides over 100,000 pre-created lesson options, as well as full lesson packs with audio, video, worksheet and activities.



"Clevertouch are the innovators in touch display solutions and we're proud to continue our partnership. Teachers can continue to search and download lesson activities, deploy homework and access complete lesson packs with curated content. The aim to save teachers time and engage the students is key for us.", comments Dennis Mohi, Sales Director at NUITEQ.




Shaun Marklew comments: "Our touchscreen technology is all centered around the end-user experience and NUITEQ have always helped to enhance that experience with curriculum-based lesson content and NUITEQ Stage for Hybrid Learning and remote collaborative meetings. We're proud to continue our partnership into 2022 with the team at NUITEQ."

NUITEQ partnered with touch display provider Clevertouch since 2011 as one of their top premium hardware providers for their Education software, NUITEQ Snowflake. In 2017 they expanded their collaboration with NUITEQ Stage, a browser-based online meeting software.

About Clevertouch Technologies

Clevertouch is part of the Boxlight Corporation. First to market in 2009, Clevertouch celebrates 12 years of innovation and being a leader with the best in front of class and meeting room collaboration technology.
Clevertouch is a multi-award-winning manufacturer of touchscreen and digital signage technology solutions for Education and Enterprise. Operating within 74 countries, Clevertouch rapid expansion plans are continuing around the world.
Clevertouch continues to be driven by our customer feedback. All our range has been designed to the highest standard by an award-winning team with a passion for technology.
You can find out more about Clevertouch at www.clevertouch.com.

About NUITEQ®

NUITEQ is a collaborative software company that enables people, teams, educational institutions, and businesses to add value through smarter human interaction. We believe anyone can participate, exchange, learn, and get inspired by smarter human interaction with no digital boundaries.

With easy to use collaboration tools customers and users benefit from improved creativity, engagement and results. Our award-winning software solution is used by customers in over 70 countries.

For more information, visit www.nuiteq.com.

NUITEQ and Natural User Interface® are registered trademarks of Natural User Interface Technologies AB in Sweden, EU, and the USA.