Skellefteå, Sweden, June 6, 2022 – NUITEQ® has been an active member of the Swedish EdTech Industry and is committed to delivering the next generation of EdTech experiences. We are proud to be listed on the European EdTech Map and be listed among companies that are delivering next-generation learning experiences.
As we move towards the metaverse for learning, educational experiences will become more immersive and hands-on. And that's why we're proud to be listed among the learning experience providers on the recently launched European EdTech Map. This map is inspired by the work of the Swedish EdTech Industry where NUITEQ has participated in projects that involve connecting schools with technology.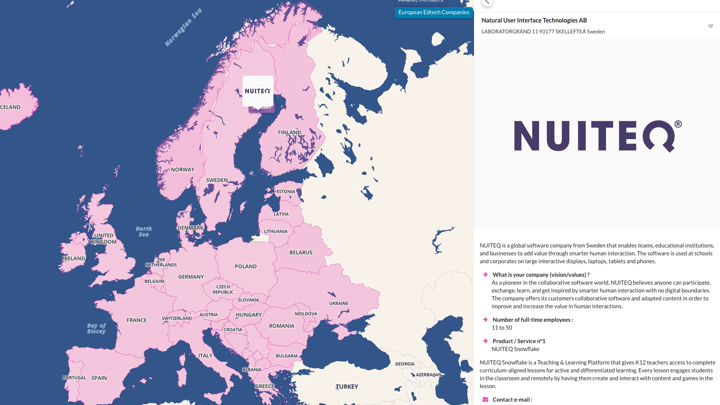 NUITEQ is listed on the European EdTech Alliance Map
The NUI in NUITEQ stands for Natural User Interface such as the direct touch interactive flat panel displays, tablets, and mobile phones seen in schools and businesses. NUITEQ has been committed to providing hands-on learning experiences for 15 years. The European EdTech map makes it easier for buyers, decision-makers, and media to navigate among EdTech companies in the European Union. It also makes it easier for start-ups, established companies, and investors to identify and find ways to work with each other.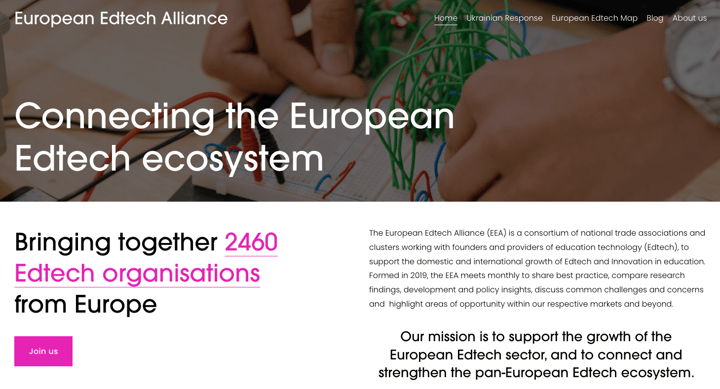 Photo: European EdTech Alliance
Collaborating and learning is a deeply personal activity that is connected to the interests of those involved. Computing is no longer locked in large computer labs, it is in our pockets, and even on our wrists.

Everyone benefits when participation is active and connected to the interests of those present. Making learning fun is about connecting to creative interests. Creativity is how we express ourselves in our work and when we see work as creative expression then we are intrinsically motivated.

A clean and intuitive natural user interface gives learners and workers a win when they first start. A focus on creativity uses their existing competence to build the confidence needed to keep trying.

As an active member in the network "Swedish EdTech Industry" we are happy to see its EdTech Map being adopted on a European level. We believe that networks that connect Educators and decision-makers with suppliers of technology play an important role in helping schools adapting to a changing world and ultimately prepare students for future jobs.
You can learn more about NUITEQ's approach to creativity and personalization by subscribing to our email newsletter where we share the latest tips to thrive in our ever-changing work of working and learning.