Skellefteå, Sweden / Seoul, South Korea, 22 February 2023 - Operated by Clear Touch, NUITEQ®, a collaborative software company that enables teams, educational institutions, businesses and government organizations to add value through smarter human interaction, announced today that it has signed a new software distribution agreement with its current South Korean Partner AVA Vision.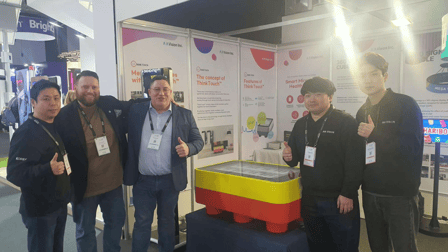 NUITEQ and AVA Vision have a partnership that has been going strong for over 13 years. During this time, AVA Vision has included NUITEQ's software with its touchscreens and touch tables, which are sold and used in various parts of Asia.

The demand for AVA Vision's interactive multi-touch displays is continuing to rise. This increase is also driving demand for software solutions compatible with their touchscreens' capabilities. Given this trend, it was a natural step for the two companies to extend their partnership agreement.



"I first met NUITEQ's CEO Harry van der Veen in 2011 and learned about the NUITEQ Snowflake touchscreen software. This product leveraged the multitouch technology he had been developing", says JJ Park, CEO and founder of AVA Vision.
He continues "AVA Vision developed a multitouch table equipped with NUITEQ Snowflake and supplied it to numerous different locations such as schools, PR centers, and exhibition halls. As a result of that experience, we developed a 32-inch multi-touch table called Think Touch in 2015, which has seen tremendous success as an interactive all-in-one hardware and software solution."

The newly signed agreement allows for the continued use of the company's educational software NUITEQ Snowflake and NUITEQ Campfire for entertainment, paired with AVA Vision's multi-user touchscreens and touch foils, in various settings including schools, kindergartens, event spaces, and advertising walls in South Korea.

"It was a great pleasure to see and support our Korean partner AVA Vision at this year's Integrated Systems Europe (ISE) trade show in Barcelona, Spain, this February. The opportunity to renew our partnership face to face and discuss strategies and opportunities that are ahead, was truly special and appreciated.", says Harry van der Veen, CEO and co-founder of NUITEQ.

AVA Vision provides its interactive touch foils, multi-touch sensors such as overlays, tables, kiosks, and walls to the Digital Signage and Education markets. Its clients are manufacturers of digital display products and companies that install video and audio devices. AVA Vision is furthermore growing in the senior market such as elderly homes, caretaking homes, and hospitals, by delivering the NUITEQ software with its 43" tables. The company's multi-touch sensors and software applications are among their most in-demand products. They combine NUITEQ's interactive software portfolio with their interactive multi-user touch screens to offer their customers a complete solution experience.
Ava Vision's Think Touch is a block design Android OS-based touch table loved by children, with a child-safe design, which can be delivered and installed by one person. Numerous amounts of units of this innovative product are sold yearly. The company further developed a second-generation product called the Castle, which also comes bundled with the NUITEQ software.

NUITEQ Snowflake is an educational software that brings interactivity to your school and increases collaboration in the classroom. While, NUITEQ Campfire uses smarter human interaction to highlight brands with a wide range of entertaining and engaging interactive games.
AVA Vision and NUITEQ have been collaborating with each other developing different technologies, adding significant value to both businesses and their resellers and customers.

By continuing their partnership, AVA Vision and NUITEQ keep working closely together to bring new and innovative interactive solutions to the Korean market and other countries in Asia.

About AVA Vision

AVA Vision Co, Ltd. is a technology-based company, specializing in system integration with audio and visual applications and networks. AVA Vision develops interactive products and offers their solutions, including touch sensors and 3d displays, to a wide market range.
For more information, visit www.avavision.co.kr for more information.

About NUITEQ®

Operated by Clear Touch, NUITEQ® is a collaborative software company that enables people, teams, educational institutions, businesses and government organisations to add value through smarter human interaction. We believe anyone can participate, exchange, learn, and get inspired by smarter human interaction with no digital boundaries.

With easy-to-use collaboration tools, customers and users benefit from improved creativity, engagement, and results. Our award-winning software solution is used by customers in over 70 countries.

For more information, visit www.nuiteq.com.

NUITEQ® and the NUITEQ logo are registered trademarks of Natural User Interface Technologies AB in the EU, the United Kingdom and the US.