NUITEQ was one of only seven companies, that was chosen to represent successful startups from Sweden, at Innovate46.
Innovate46 was held at NASDAQ at Times Square in New York on the 14th of October.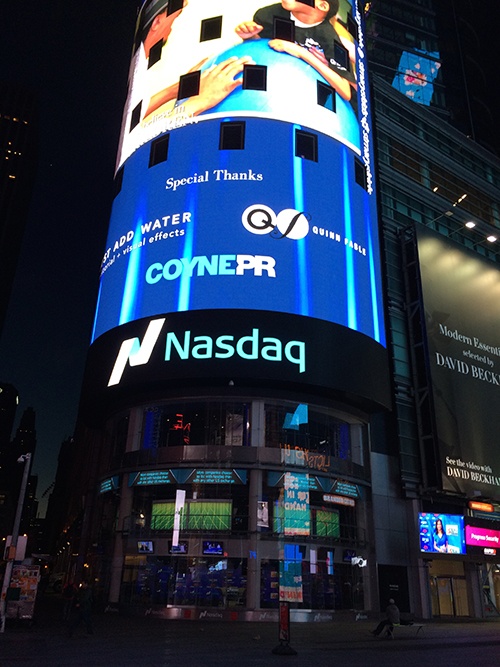 The event, organised by the Swedish-American Chamber of Commerce in New York, is a forum to meet extraordinary startup talents, as well as cool leaders and established companies. The conference aims to promote and connect Swedish companies in the US to high-level professionals and investors.
Represented companies also included Tesla, Uber, Klarna, Ericsson, Tictail, DigiExam, Widespace, Northzone and Bain Capital Venture.
Image: NUITEQ's CEO Harry van der Veen, explains the audience about the problem that most children have short attention spans and that it's touchscreen software MultiTeach solves this issue in elementary education, by making learning more fun, engaging and memorable.
In addition to delivering a 3-minute pitch on stage, NUITEQ had it's own exhibition stand, where it's CEO and K-12 Technology Specialist Lynn Marentette were showcasing MultiTeach, the software suite of collaborative learning games for multi-user touchscreens in elementary school classrooms.
It was great to receive such positive feedback on MultiTeach and to hear how much potential visitors believed our software has in the classroom, to make learning more fun and exciting.
The evening prior to the event, speakers and pitching companies were invited for dinner hosted by the Ambassador of Sweden to the US, Björn Lyrvall, which was a great networking event with excellent food and overall a nice experience.
A special thanks goes out to Tillväxtverket, as they made this opportunity possible for us.
About SACC and Innovate46
The Swedish-American Chamber of Commerce Inc. New York (SACC New York) is a not-for-profit membership organization whose mission is "to promote and enhance trade, commerce and other business relations between Sweden and the United States of America and to offer associated services to its members."
SACC New York is the largest Swedish Chamber of Commerce outside of Sweden, with a vast network of member companies and individuals representing every major industry. By leveraging its network and more than 100 years of experience, SACC New York is well positioned to help facilitate a venture of any size and complexity.