Santo Domingo, Dominican Republic, 15 December 2020 - NUITEQ®, a collaborative software company that enables teams, educational institutions and businesses to add value through smarter human interaction, announced today that it has appointed Erick Domínguez Bisonó as an Education Technology Specialist.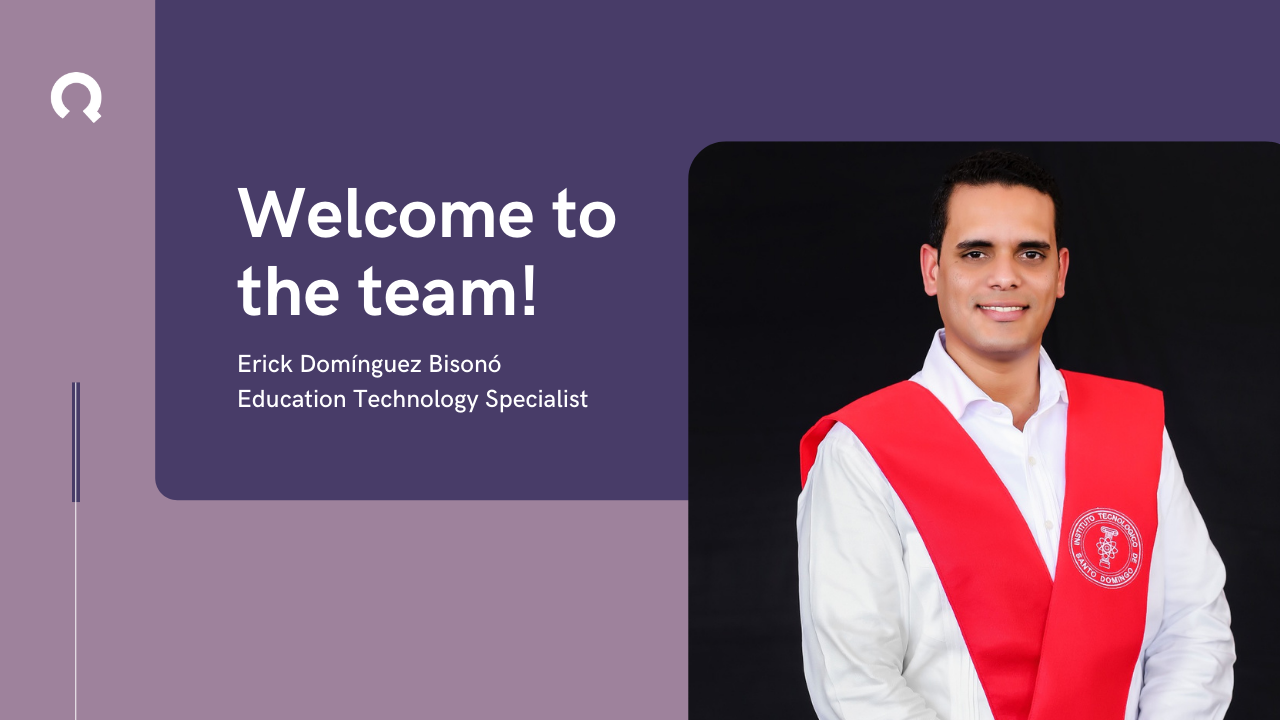 In his role, Erick will focus on developing the content offering of the education platform NUITEQ Snowflake. In particular, he will be responsible for creating new curriculum-aligned Maths lesson activities in Spanish and English. This will ensure that NUITEQ can quickly respond to teachers' need for factual content that activates students for engagement and collaboration.

"From an early age I have enjoyed transmitting knowledge to people, I feel satisfaction when I can be part of someone's professional growth, this is my legacy to society and as part of NUITEQ, I can build this everlasting legacy piece by piece.", says Erick Domínguez Bisonó, NUITEQ Education Technology Specialist.
Erick has over 13 years of teaching experience and is currently a Maths and Physics teacher and a SAT Math tutor. He continues to practice in parallel to working at NUITEQ. We believe his knowledge will contribute to our company's goal of offering teachers ready-made high quality content that saves lesson-planning time.



"NUITEQ has been investing significantly in the development of high quality educational content for the NUITEQ Snowflake platform, throughout the years and it's one of things that sets us apart from other interactive teaching and learning providers in our space. We're thankful that Erick is joining our Global Content Team, so that we can further accelerate the creation of fantastic content that makes teaching and learning more fun, engaging and memorable, both in the classroom as well as remotely.", says NUITEQ's CEO and co-founder Harry van der Veen.
Erick holds a Master of Business Administration Major in Education Management from the Florida Global University, USA.
About NUITEQ
NUITEQ is a collaborative software company that enables educational institutions to add value through smarter human interaction.

Designed to support distance learning, digitalization and productivity, Snowflake, NUITEQ's educational software solution enables educators to enhance interactive learning. It helps reduce lesson planning time, offers the tools needed for personalized learning, and provides a safe environment for authentic feedback in a collaborative setting.

Snowflake empowers digital natives' expressive learning through memorable digital storytelling.
Customers in over 70 countries have chosen the award-winning Snowflake software.
For more information, visit www.nuiteq.com.
NUITEQ® and Natural User Interface® are registered trademarks of Natural User Interface Technologies AB in Sweden, EU, and the USA.
We're always looking for talented people to join our team. If you want to be part of a creative and innovative group of people in a fun and rewarding environment, don't hesitate to contact us by clicking the button below: