Skellefteå, Sweden, 9 January 2018 – NUITEQ®, the creator of award-winning collaborative touchscreen software solutions for education and corporate meeting rooms, announced today that Attila Fabian joined the company as a Business Development Manager.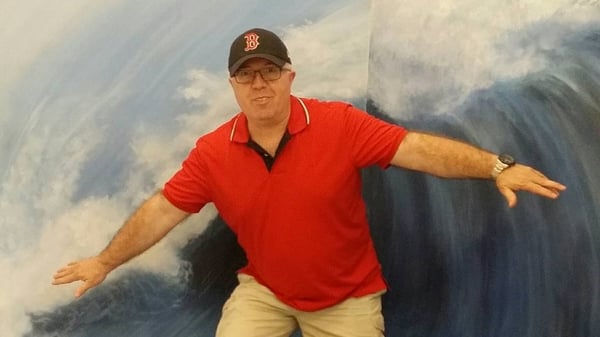 Image: Attila ready to ride the wave of success with NUITEQ
In his role at NUITEQ, Attila will be involved in maintaining current client and partner relationships and he will play an important role in developing new partnerships.
Attila Fabian has over 25 years of experience in technology related industries within different global organizations on an international level, where he held the positions of Business Development Director, Business Development & Key Account Manager, as well as Seniors Business Development Manager. His vast experience and expertise will reinforce the Business Development department at NUITEQ.
"My curiosity for new knowledge always lead me during my career. I am proud that in this exciting position at NUITEQ I can contribute to the future business success, and work together with my colleagues and partners to create a well educated world.", says NUITEQ's Business Development Manager Attila Fabian.
"2017 was NUITEQ's most successful year in terms of growth, so we're excited to bring Attila on board with his senior experience, to further develop that growth in 2018. He will mainly be responsible for our business development activities in Russia as well as Central and Eastern Europe.", says NUITEQ's CEO and co-founder Harry van der Veen. He continues, "Attila has previously lived and worked in Hungary, Greece, Sweden, Albania, and the US. With his international experience, he will be of great value to our partners, customers as well as NUITEQ."
Attila holds a Master's degree in Business Administration from Szent Istvan University in Budapest, Hungary. He finished his Bachelor's Degree studies in IT Engineering from Denes Gabor Applied University in Budapest, and holds a Bachelor's Degree in Telecommunications Engineering from the "Zalka Mate" Military Technical University.
About NUITEQ®
NUITEQ® is a pioneer in collaborative touchscreen software that enables natural interaction. The company is re-imagining and redefining education, meeting room & entertainment technology. Its software suite of collaborative apps helps to attract audiences, engage them and leave memorable impressions. The Snowflake software is used in over 70 countries. NUITEQ's vision is to empower educators, business professionals, and companies in their day-to-day work through the use of touchscreen technology.
For more information, visit www.nuiteq.com.
NUITEQ®, MultiTeach®, and Natural User Interface® are registered trademarks of Natural User Interface Technologies AB in Sweden, EU, and USA.
Media enquiries
Contact: Alina Chioran, Marketing Officer at NUITEQ® +46 73 087 7099, ac@nuiteq.com.