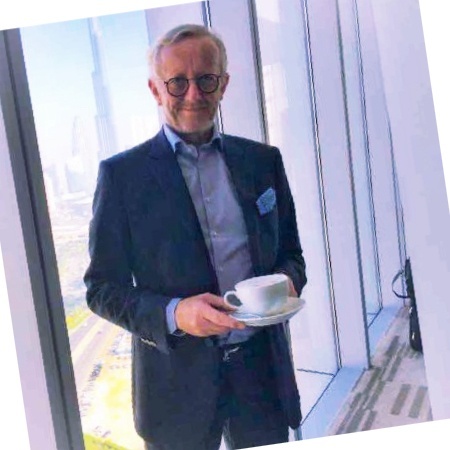 Skellefteå, Sweden – 6 November 2017 - NUITEQ®, a pioneer in collaborative touchscreen software solutions, announced today that it has appointed Håkan Forsberg to its advisory board.
Håkan Forsberg is a Sales Strategist, Mentor and Senior Advisor with an educational background in Business Administration from Stockholm University.

He has a long international consulting background and has been advising and supporting many sales organizations in their growth and transformation in different industries. Håkan resides in Dubai where he previously held Senior Advisor roles at ADB Safegate and Kilpatrick in Dubai, United Arab Emirates. Prior to that his operational background is in the IT industry and was the Group Director Marketing and Services at Esselte and he held multiple Manager positions within Sales and Marketing within IBM.
As an advisory board member, Håkan will collaborate with the company's CEO, senior management and board of directors, on a wide range of topics including sustainable sales strategy, sales process, and the company's overall strategy.
"We're excited to have Håkan join our team. His years of international experience and expertise within sales and marketing within the IT space will surely add tremendous value to our business. Our business and the businesses of our partners continue to grow, and with Håkan on board, we expect to be fully geared towards the future growth.", said CEO and co-founder Harry van der Veen.
" I am thrilled by the opportunity to work with NUITEQ and support their ambitions to grow the business even further. I am impressed with the NUITEQ story and what Harry and his team have achieved with their innovative technology. I hope I can add some experience and insights for future growth because in today's changing market landscape how you sell is just as important as what you sell.", comments NUITEQ's advisory board member, Håkan Forsberg.
About NUITEQ®
NUITEQ® is a pioneer in collaborative touchscreen software that enables natural interaction. The company is re-imagining and redefining education, meeting room & entertainment technology. Its software suite of collaborative apps helps to attract audiences, engage them and leave memorable impressions. The Snowflake software is used in over 70 countries. NUITEQ's vision is to empower educators, business professionals and companies in their day-to-day work through the use of touchscreen technology.
For more information, visit www.nuiteq.com.
NUITEQ® and Natural User Interface® are registered trademarks of Natural User Interface Technologies AB in Sweden, EU, and USA.
Media enquiries
Contact: Alina Chioran, Marketing Officer at NUITEQ® +46 73 087 7099, ac@nuiteq.com