Skellefteå, Sweden, May 12, 2022 - NUITEQ®, a collaborative software company that enables teams, educational institutions and businesses to add value through smarter human interaction, announced today that it has appointed Janni Larsen, as Customer Success Manager.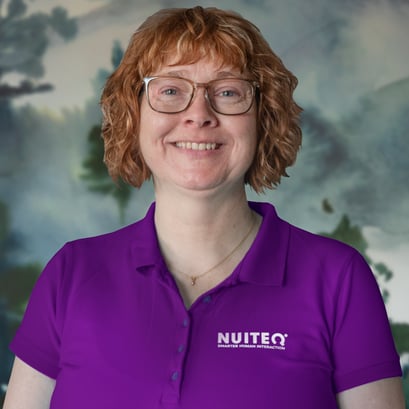 Janni joins NUITEQ to reinforce a motivated group of people whose purpose is to contribute to a world where anyone can participate, exchange, learn and get inspired by smarter human collaboration with no digital boundaries. She brings with her over a decade of combined experience in sales and software development.
In her role, Janni will guide NUITEQ's software users, from start to finish to make them successful. She will be working closely both with our sales team and the product development team. As NUITEQ is a customer-centric company, Janni will be focused on keeping users happy.
Janni's combined experience in software development and sales contributes to the end-to-end customer experience delivered by NUITEQ's growing team. Her passion for support bridges customers and NUITEQ in engaging those we serve and making those we serve successful. Janni's sunny view of life brings a positive approach to tackling challenges and further uplifts the NUITEQ spirit.

"I have always been fascinated by human-machine interactions that serve the needs of people. When software tools are more intuitive to use they help bring more joy to work every day.

When I first heard of NUITEQ, I knew it was aligned with my passions, It took a couple of years but I finally decided to actively search for a position here at NUITEQ.

I am looking forward to working with the passionate team here at NUITEQ. I love the dynamics of the team I work with every day. The atmosphere and work ethic are what I am looking for right now. I feel at home - NUITEQ's team are my kind people." says Janni Larsen, NUITEQ's Customer Success Manager.

"We're excited about Janni having joined NUITEQ. Already after a couple of days, we noticed the positive impact she is making. With her experience working as a project manager, product owner, scrum master, release manager as well as sales and customer support, she will add tremendous value to our team", says Harry van der Veen, NUITEQ CEO and co-founder.

Born in Denmark, raised in the south of Sweden and spent her work life in the north of Sweden. She will be adding another country's background to multicultural NUITEQ. Janni likes to spend time with friends and family over a great bite of food, and one or two board games. She focused on a degree in Industrial Design Engineering from the Luleå Technical University (LTU). Prior to joining NUITEQ, Janni worked for Elecosoft Consultec AB.
We're always looking for talented people to join our team. If you want to be part of a creative and innovative group of people in a fun and rewarding environment, don't hesitate to contact us by clicking the button below:
About NUITEQ
NUITEQ® is a collaborative software company that enables people, teams, educational institutions, and businesses to add value through smarter human interaction. We believe anyone can participate, exchange, learn, and get inspired by smarter human interaction with no digital boundaries.

With easy-to-use collaboration tools, customers and users benefit from improved creativity, engagement and results. Our award-winning software solution is used by customers in over 70 countries.

For more information, visit www.nuiteq.com.

NUITEQ® and Natural User Interface® are registered trademarks of Natural User Interface Technologies AB in Sweden, EU, and the USA.