We're happy to let you know that we have released a brand new version of collaborative touchscreen software Snowflake Business for corporate meeting and board rooms.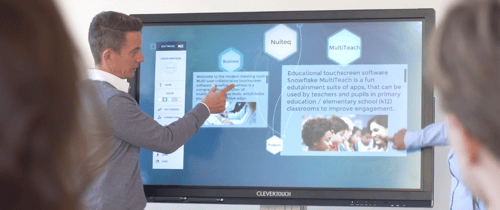 This 4.9 release brings you exciting new capabilities, to make working in the digital meeting room even more effective.
Overhauled new cloud based Snowflake License Management system
We have built a completely new cloud based license management system for Snowflake Business (this will become available for the next release of Snowflake MultiTeach later in October as well). This means that you can access and manage your licenses whenever you want, wherever you are.
It is important to note, that in order to use Snowflake Business, you now have to register a new Snowflake account at account.nuiteq.com, even if you are already an existing Snowflake user.
After you registered a Snowflake account, automatically a temporary 3 day trial license slot becomes available.
If you are already an existing Snowflake user, you can go to "Redeem code" in the Snowflake License Management system, fill out your existing license key(s) that you have and accordingly it will create available license slots for you.
Upon starting Snowflake, you'll be asked to login with the same email address and password that you used, to register your Snowflake account. Thats it! If you have any questions about this process, please let us know, as we are here to support you.
Now it is easy to keep track your license slots. So you no longer have to keep track of which key is used where. We do that for you, making your life easier.
Forgetting to deactivate a license or having a computer crash on you, is a problem of the past, so is misspelling a license code.
For our resellers and partners we have made it easy to transfer license slots to their customers.
Snowflake Remote is now available for free!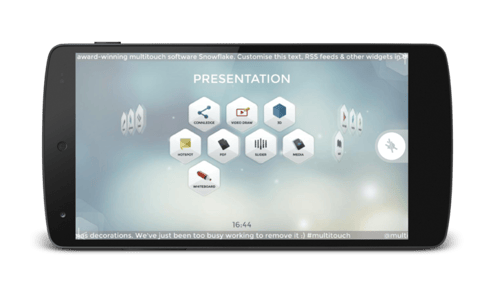 One of the things that we are especially pumped about, is that Snowflake Remote is now available for free. This Bring Your Own Device (BYOD) app that makes collaboration with your mobile devices truly real-time, is already available for iOS (iPhones & iPads) today and the free Android version will be available soon.
Learn more about Snowflake Remote here.
Added support for Powerpoint files in Media

What is a collaboration and presentation software in a corporate meeting room without Powerpoint support? That is exactly our thought. So we've added support for viewing Powerpoint files in the Media app. Captivate your audience like you never did before.
Added new file browser with thumbnail previews and jump to desktop support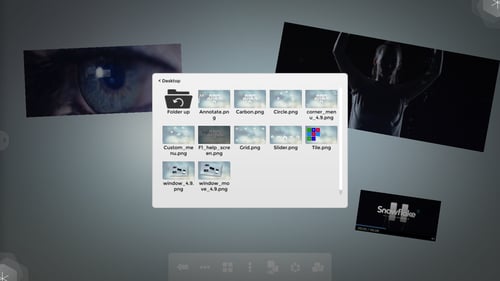 Navigating media, viewing and sharing content has now become even easier in Media.
Added support for new Snowflake Remote with file transfer capability


Now you can easily share content from the camera roll of your mobile device, such as videos and images. Share content from your mobile device to the Media app on the display in your meeting room, as well as with other users that use their own mobile devices.
Added minimize button to corner menu


We have now made it super easy to quickly switch back and forth between Snowflake and your operating system, with the minimize button in the corner menu. This way you will have all of your favourite tools outside of Snowflake quickly accessible.
Added Stage control in Media (pausing video)
We have created a mirror of Stage (you can enable the Stage app in the Configurator) so you can now play/pause videos and clear content that you are displaying on external displays.
Are you as convinced as our customers in over 70 countries? Give Snowflake Business a go now, no strings attached.
Other improvements and fixes
Added support for pasting text into text fields
Fixed several UI issues in Hotspot
Fixed several interaction issues in Browser
Fixed interaction issues when using Zones
Fixed crash in Twitter app
Various bugfixes and performance improvements
What would you like to see added next to Snowflake Business, that will make working in corporate meeting rooms more effective for you? Feel free to leave a comment below or contact us here.