Skellefteå, Sweden/Palo Alto, USA – September 7th, 2016
NUITEQ®, a world leader in collaborative touchscreen software solutions, announced today, that Snowflake MultiTeach® 5.0, the education software for interactive whiteboards, projectors and flat panel displays in schools, has been released.
The improvements and additions to Snowflake MultiTeach® 5.0 will make learning even more fun and create a better overall experience for students to learn and for teachers to teach, as it simplifies the learning and teaching processes by offering outstanding learning apps.
In this 5.0 release we've added a brand new browser that allows you to use the internet directly from within Snowflake MultiTeach®. You can safely browse your favourite sites, search for educational resources, open PDF files and even use Google Drive, Sheets, Docs, Slides and Youtube.
The Draw app has been replaced by the Whiteboard app, which offers even more functionalities such as support for PowerPoint and PDF files as well as videos. Besides this, the Presenter app has been renamed to Media and has been completely rebuilt. Media allows you and your students to create and give interactive presentations supported with text, images, videos, audio and other content.
Before we release a new product version, we rigorously test the software internally for weeks. We also receive external support from Snowflake users that help us during this testing period to ensure that the final released product is solid and working smoothly to give the best possible experience to the users.
Before we dive into detail what is new, see what some Snowflake beta testing users had to say about this new release:
Dimitris B. from Greece about the new browser:
"It's much faster than the previous browser and so far I've tried many sites without any problem and it works also with PDF."
Tobias K. from Germany about Media:
"I really like the new Media app, it's easy to use and looks extremely professional."
Emmanuel D. from France about the new design and browser:
"The new menu design is more modern. It is really nice. The new corner menu, it really needed improvement and now it's really nice. The new browser seems to work much better."
Thierry L. from Italy:
"I really like the new Media app. It is easy to use and there is additional value with "create new project" and "add your background" options. It is very fast and fluid. COOL STUFF!!! My personal favorite in this version is the browser! Creating the new browser has completely changed the product overall quality (already very good). The browser is very fast and even with multiple windows open does not consume too much processing and the PC does not overheat. My compliment to your team for that. It is just fantastic and you needed to have something like this to complete your product, because I think that this was the only downfall of Snowflake. No crash experienced only a really fast, smooth and enjoyable user experience. SUPER JOB ON THE BROWSER!"
Read further to discover the full feature improvements and additions list.
New in this release
1. Added new Media app, developed from the ground up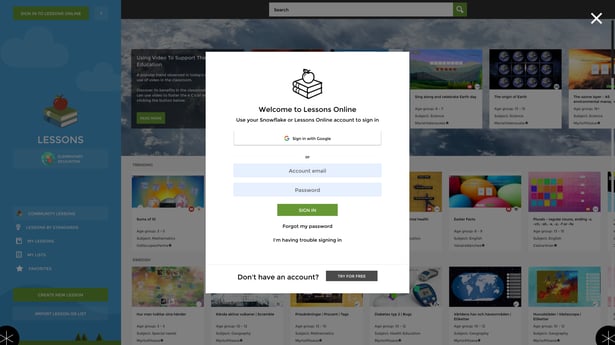 We have replaced the Presenter app with the Media app. Media is completely built from the ground up. We've designed a fresh new look and feel and we created new functionalities to help teachers and students to collaborate with more ease. Users can pick their own background and their favourite content such as images, videos, PDFs and PowerPoint files, so that the material is in line with the course and the curriculum. You can even search for content from the internet via the search option and load it into the app. Optionally you can load content from Dropbox, your computer or a USB stick.
2. Added a safe web browser that will optimize the time you spend researching the internet during instruction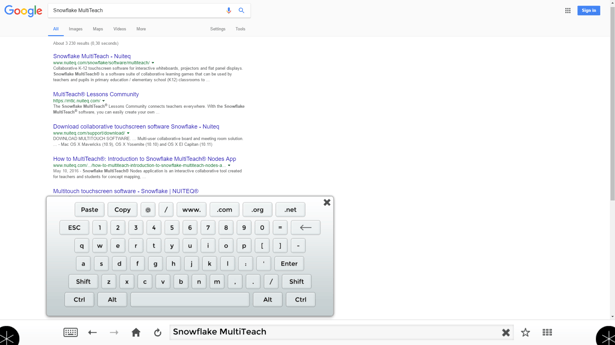 As with Media, we have also rebuilt the browser from top to bottom, using a completely new browser engine. This has resulted in an amazing performance improvements. Use your favourite resources such as Google, Youtube, Wikipedia and K-12 content websites. Pinch and zoom, to focus in on details and mark with them with annotates to stimulate discussions. We've now also added bookmarks, to quickly access your online educational resources, Google Docs, Google Drive and other websites.
3. The Draw app was replaced by Whiteboard
The Draw application has been replaced by Whiteboard, providing you with even more capabilities. You can now create multiple pages in one session, add Post-it notes and in addition to images, you can now also add videos, PDFs and PowerPoint files, making it ideal for group learning.
4. Added Welsh, German, Dutch, French, Russian and Czech Lessons translations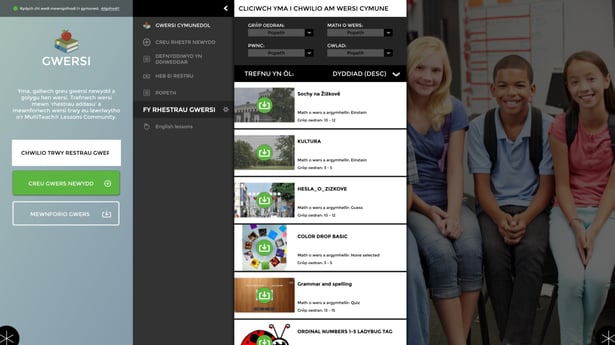 5. Added Brazilian Portuguese and other language such as Arabic, Danish, Finnish, Hungarian, Norwegian, Polish, Romanian and Slovak translations to several apps
6. Improved corner menu UI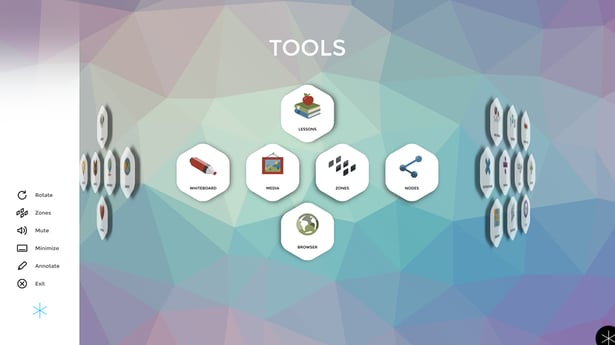 We redesigned the corner menu with additional visual aid
7. Improved visual consistency in Nodes
8. Improved keyboard UI
9. Improved Lessons editing state UI
10. Fixed issues with Lessons play mode corner menu buttons in zones
11. Fixed Chinese on-screen keyboard issues
12. Fixed interaction issues in Stage
13. Fixed various minor UI inconsistencies in Configurator
14. General bug fixes and performance improvements
How to upgrade cost free?
If you have a licensed version of Snowflake and if you are running Snowflake 4.10.1 (released February 2016) or a newer version, you can upgrade cost free simply with a few clicks. Read more here.
If you are running a version older than 4.10.1, we recommend you to do the following:
- Completely uninstall the old version of Snowflake MultiTeach®
- Install Snowflake MultiTeach® 5.0 and you're ready to go.
Important note!
If you have ever made changes to Snowflake with the Configurator that comes pre-installed with the software, please ensure that you delete the Content folder in the Snowflake MultiTeach folder, inside Documents on your computer. This way you will be able to enjoy the new menu and design and you get to keep any lessons that you might have created previously.
Ready to try out Snowflake MultiTeach® 5.0? Get the new version here:
About NUITEQ®
NUITEQ® is a world leader in collaborative touchscreen software that enable natural interaction. The company is re-imagining and redefining education technology. Its software suite of collaborative learning games, Snowflake MultiTeach®, helps to improve education outcomes for teachers, students and schools. The software creates higher engagement, greater enjoyment and better collaboration while learning. MultiTeach® is used by schools in over 70 countries. NUITEQ's vision is to empower educators to help kids learn by playing. For more information, visit www.nuiteq.com.
NUITEQ®, the NUITEQ® logo, MultiTeach® and Natural User Interface® are registered trademarks of Natural User Interface Technologies AB in the EU and USA.
Media enquiries
Contact: Alina Chioran, Marketing Officer at NUITEQ® +46 73 087 7099, ac@nuiteq.com