---
Collaboration software for corporate board rooms Snowflake Business 4.8 version released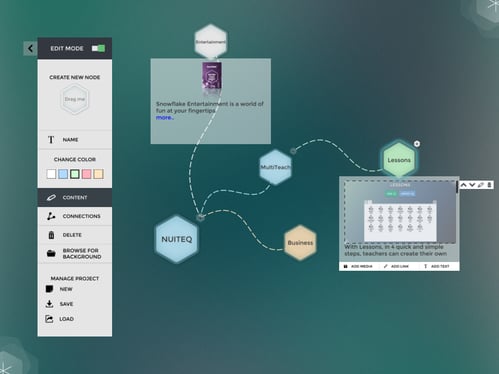 Does your company want to create engaging and memorable presentations for customers, resellers and partners in your corporate board and meeting rooms?
Does your company want to make decision making more time and cost efficient when it comes to creative processes such as brainstorming, conceptualizing and strategic planning? Don't most companies?
We built a new touchscreen app out of frustration.
We built a new collaborative multi-touch app, because we felt that there were no other apps out there, that are able to do what we wanted them to do. Many companies, just like NUITEQ, face the same challenges and problems, when it comes to interactions in meeting rooms. So we are happy that we created a tool, that we are using ourselves as well. And as we further develop this application, we would love to hear your feedback on how we can improve it.
This exciting new tool that I'm talking about, is now part of the latest version of Snowflake Business, collaboration software for touchscreens in corporate board and meeting rooms.
It solves the problem of lengthy, unorganized, time & cost inefficient meetings, when it comes to creative processes, such as brainstorming, conceptualizing and strategic planning. It positively impacts the decision making process and attendee subject comprehension, as the tool can also be used for product and company presentations.
Connledge is dead, long live Nodes
We are excited to introduce you to that new app, called "Nodes".
We have developed Nodes from the ground up and it is replacing the Connledge app, from which it got its inspiration.
One of the great new things about Nodes compared to Connledge is, that you can now add, edit and remove content in the application in the front end inside Snowflake, rather than going out of Snowflake, changing cumbersome XML files and restart Snowflake. Yes, we have just made life a lot easier for you :)
What I personally love, is that you can save your projects and load previously saved projects.
Added ability to browse to other drives on Windows within Media, PDF and Whiteboard
As some of you might know, we have a file browser inside Snowflake Business, that allows you to load content via the front-end (without closing Snowflake) into different applications, such as Media, PDF and Whiteboard.
We now added the ability to browse to multiple drives, rather than only the main hard drive.
Dropbox support for annotations
You might remember that we have Dropbox support for the Media and PDF apps, to load content from Dropbox, right into Snowflake.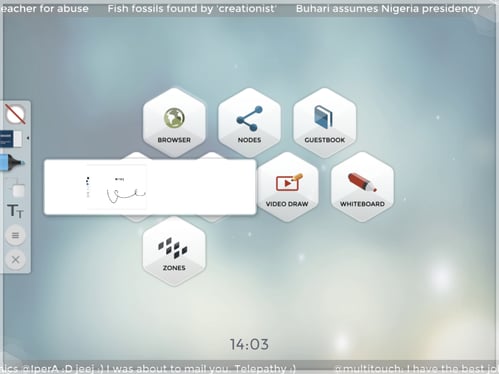 Well, the great news is, that we have now extended that functionality also to Annotate. You can find Annotate in the corner menu and you can now save and load your annotations to and from Dropbox. I know ;)
Less is more, more or less :)
Eventhough our Configurator is very advanced and allows users to pretty much change any setting in Snowflake, we at the same time love simplicity.
So for this release we decided to clean up the interface a bit and show only a select number of apps.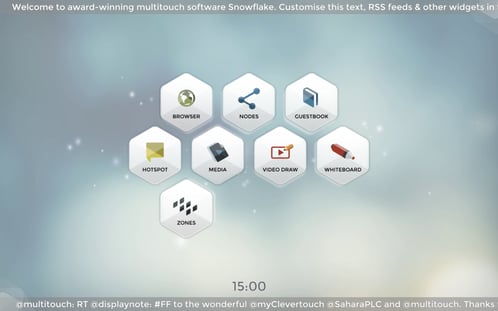 But have no fear, the apps are still here ;) If you'd want to use some of the hidden apps, just simply go into the Configurator, where you can enable them.
Extremely slimmed down installer file
We have worked hard to slim down the Snowflake installer and we have managed to reduce its size from roughly 500 MB to roughly 230 MB.
All changes for the Snowflake Business 4.8 release
Below you find the complete change log / release notes of this Snowflake Business 4.8 release:
- Replaced Connledge with Nodes
- Added ability to browse to other drives on Windows within Media, PDF and Whiteboard
- Added option to save/load Annotations to and from dropbox
- Fixed bugs and made improvements to: Browser, PDF, Configurator, MyFeed, Whiteboard, Annotate, Slider, Registration, Guestbook, Media, Twitter widget, Carbon menu, Clock widget, Draw, Videodraw
- Fixed a crash in Gallery
- Added Spanish keyboard
- Hidden apps Twitter, Youtube, Slider, PDF, Maps, 3D, Tracer
- General improvements and fixes
Summary
We've created the gorgeous new Nodes app, that is replacing Connledge and that will make life in board and meeting rooms easier.
We added some cool new functionalities, such as file searchability in Snowflake as well as storing and loading content from Dropbox. At the same time, we made some great improvements and fixes to a wide range of apps within the multitouch software Business suite.
What would you like to see added next to Snowflake Business to make your life easier in meeting rooms? Please leave a comment in the section below.
You can find more info about multi-touch software Snowflake Business here.