I recently had the chance to support NUITEQ's partner, Clear Touch Interactive, at a Pop-Up Makerspace event at Tampa's Museum of Science and Industry (MOSI). The event was sponsored by United Data Technologies (UDT), the Tampa Bay STEM network, MOSI, and the Hillsborough County Public Schools, US.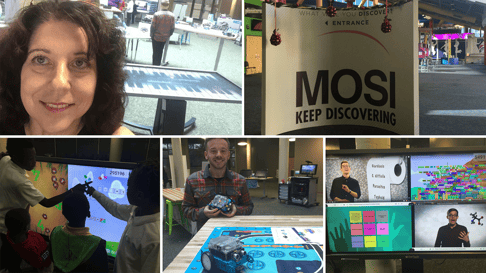 The first event was STEM Family Night. Parents and children of all ages, even babies, came out in full force. The place was buzzing with activity and it was a delight to see how the young people intuitively interacted with the demos we provided. One of the hits was a video about ways the toilet changed history, and a fun lesson that went along with it.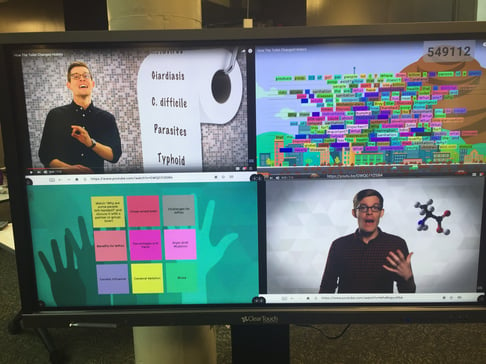 One of the displays was featured in tabletop mode. Most of the time it was in heavy use, set up in 4 zones, engaging groups of young people as well as parents and teachers. This youngster was lucky to have the entire table to himself!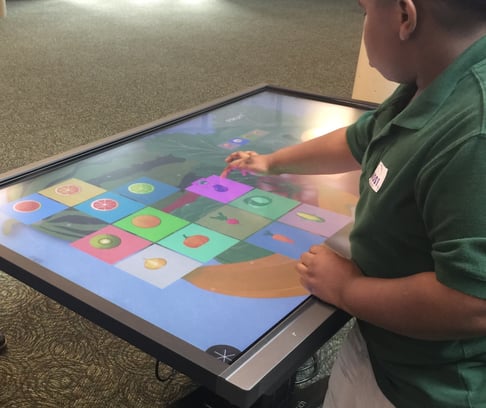 The second day of the event targeted STEM and STEAM educators from the Hillsborough County Public Schools, along with 300 students.
In the video bellow you can see teachers sharing their first impressions about Snowflake MultiTeach:
In between tours of the museum, groups of educators, as well as groups of students, had the opportunity to visit each area of the PopUp Makerspace and dive deep into loads of engaging hands-on activities. A happy time was enjoyed by all.
About MultiTeach, STEM, and STEAM
NUITEQ's Snowflake MultiTeach® software, working in tandem with Lessons Online, can support collaborative STEM and STEAM learning in a number of ways. At the beginning of an instructional unit, teachers can use MultiTeach Zones feature to divide the screen into sections and present an engaging video to spark a discussion about the topic the students are about to learn. Teachers can enhance the discussion by adding a few interactive lessons in a section of the screen and call up students to participate at the display. To extend learning and check for understanding of concepts, teachers can send lessons to students through Lessons Online, directly accessed via their 1:1 devices.
Most vendors of STEM and STEAM kits provide "How-to" videos via YouTube. MultiTeach Tools apps can be used to display these videos to the students on the large screen, making it easier for them to proceed with their maker projects or science experiments. Interactive lessons can be created by the teacher or the students to reinforce the steps covered in the videos.
In labs outfitted with tabletop displays, students can work together to plan their projects using MultiTeach's Nodes concept mapping software, and use the Browser app to access online educational resources. During hands-on maker or STEM activities, students can digitally capture their work process from start to finish, bloopers included, and import this content into various MultiTeach Tools apps to create end-of-unit presentations and share their what they've learned with others through digital stories.
Try a FREE 14 days trial of Snowflake MultiTeach educational software by clicking the button below:
RESOURCES
Museum of Science and Industry (MOSI)
United Data Technologies (UDT)
Related Blog Posts
Collaborative STEM education and careers exploration
Collaborative technology integration with Snowflake
Infuse arts into STEM projects using collaborative touchscreen tech
Creating interactive Physics lessons using the Nodes app in MultiTeach