Lynn Marentette, M.A., Sp.A.
K-12 Technology Specialist at NUITEQ®
Are you looking for ways to enhance your instructional units and lesson plans? If you are involved with problem-based or project-based learning, STEM, or STEAM, and need to power up your tech integration skills to the next level, these resources are sure to help!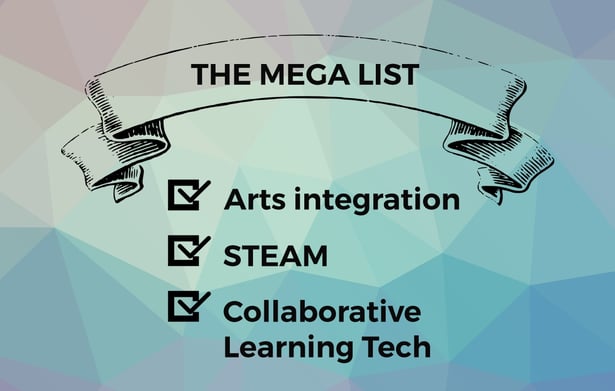 Rational for arts integration and STEAM – Learn all about it!

A Research Based Approach to Arts Integration
Vanessa Vega, Edutopia, 6/14/16
Infogram: Middle School Teachers' STEAM Perspectives
Cassie Quigley, Clemson University
How Music Education Powers the STEAM Movement
Richard Naithram, NEA Today, 7/16/14
Silverstein, L.B., Layne, S. (2010) Defining Arts Integration. John F. Kennedy Center for the Performing Arts
Ruppert, S.S. (2006) Critical Evidence: How the Arts Benefit Student Achievement
National Assembly of State Arts Agencies
Rinne, L., Gregory,E., Yarmolinskaya, J., & Hardiman, M. (2011). Why Arts Integration Improves Long-Term Retention of Content. Mind, Brain, and Education, 5(2), 89-96(8).
Ritchhart, R., Church, M., & Morrison, K. (2011).Making Thinking Visible: How to Promote Engagement, Understanding, and Independence for All Learners. San Francisco, CA: Jossey-Bass.
Project-Based Learning Research: An Annotated Bibliography
Vanessa Vega, Edutopia, 6/14/16

STEAM and Arts Integration Lesson Plans and Toolkits – a wealth of resources that will engage and motivate your students.

Resources for STEAM
Edutopia
STEM, STEAM, Makers: Turning STEM to STEAM, 24 Resources
Michael Gorman, 21st Century Educational Technology and Learning, 7/14/16
Lesson Plans and Resources for Arts Integration
Edutopia
The Art of Education Lesson Plans
Art of Education
ArtsEdge Lesson Plans
The Kennedy Center
National Gallery of Art Lesson Plans
National Gallery of Art
National Gallery of Art: Open Access Images
Math in Art
4MulaFun
5 Tools that Support Arts Integration and STEAM
Dyan Branstetter, Education Closet, 7/19/16
STEM to STEAM
Rhode Island School of Design
Design Thinking for Educators Toolkit
IDEO
Project Zero
Harvard Graduate School of Education
National Association for Music Education
Collaborative Learning, Concept Mapping, and Touch Technology- dig deeper into collaborative technologies.

How to MultiTeach®: Introduction to Snowflake MultiTeach® Nodes App
Lynn Marentette, NUITEQ® Blog, 5/10/16
How to use Touch Screen Technology in the 21st Century Classroom – a MultiTeach® How-to
Lynn Marentette, NUITEQ® Blog, 2/13/16
Collaborative STEM Education and Careers Exploration
Lynn Marentette, NUITEQ® Blog, 6/16/16
Yooun, F.S., Hing, T.C., AW, I. Collaborative Thinking Routines in 1:1 Computing Learning Environments Educational Technology Division, Ministry of Education, Singapore.
Hwang, G., Kuo, F., & Wu, C. (2013). Effects of Touch Technology-based Concept Mapping on Students' Learning Attitudes and Perceptions. Educational Technology & Society, 16, 274-285.
Salvador-Herranz, G., Camba, J.D., Naya, F., Contero, M. (2016). On the Integration of Tangible Elements with Multi-Touch Surfaces for the Collaborative Creation of Concept Maps. Learning and Collaboration Technologies, Third International Conference, LCT 2016, HCI International 2016, Toronto, Canada.
Martinez-Maldonado, R., Clayphan, A., Ackad, C. and Kay, J. (2014) Multi-touch Technology in a Higher Education Classroom: Lessons In-the-wild. Australian Computer-Human Interaction Conference, OZCHI 2014, 220-229.
Looking to integrate collaborative technology into your classroom, but don't know which tool to choose? Download the Snowflake MultiTeach® 14 days free trial!