The success of our company relies on the strengths of our employees. At NUITEQ, we take pride in combining our Swedish heritage with the influences of Asian, Latin American and North American cultures to create a unique office environment.
We want to showcase our amazing team members, and this week, we'd like to introduce you to one of our Education Technology Specialists, Odile López-Penha.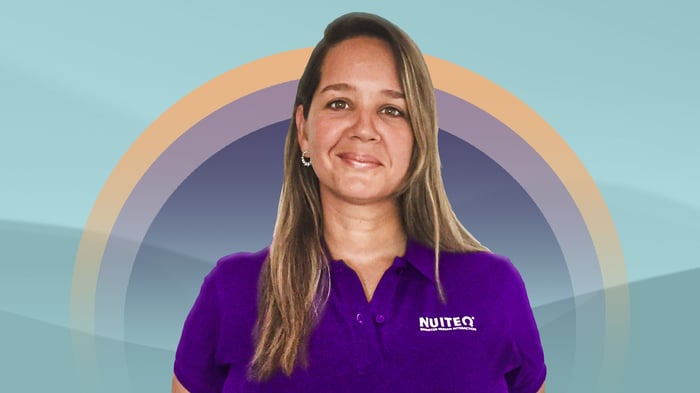 Q: Hi Odile, please tell us a bit about yourself.
A: I am a vocation educator, a person able to connect easily with others, always willing to try new experiences, and I have a strong inclination to solve problems. In addition, I consider myself an entrepreneur and a hardworking woman who is motivated by challenges.
Q: What can you tell us about your role in the company? What do you like most about your job?
A: My experience as a teacher and my daily involvement in the area of ​​education allow me to stay at the forefront with the area of ​​education; this is definitely one of the goals of NUITEQ, to provide users with activities that are diverse and foster a deeper understanding of the subject at hand. What I enjoy most about my work at NUITEQ is that I feel motivated and challenged all the time, due to the constant development of the company.

Q: What motivates you to succeed in your role?
A: To help the team succeed and enjoy the results.
Q: How do you occupy your free time, what are your passions, etc.?
A: I am a workaholic, so most of my time, I am working or helping others with their work. I like to run every other day.
Q: Where would you like to travel to in 2020?
A: The eye needs to travel, there are so many wonderful places to go, but in the Dominican Republic, my favorite place I'd like to travel to again is Manabao, La Vega.
Q: What's your favorite food?
A: Sancocho (Dominican Soup) and pizza.

We're always looking for talented people to join our team. If you want to be part of a creative and innovative group of people in a fun and rewarding environment, don't hesitate to contact us by clicking the button below: