The success of our company relies on the strengths of our employees. At NUITEQ, we take pride in combining our Swedish heritage with the influences of Asian, Latin American and North American cultures to create a unique office environment.
We want to showcase our amazing team members, and this week, we'd like to introduce you to our EdTech Coach, Myrto Pitsava.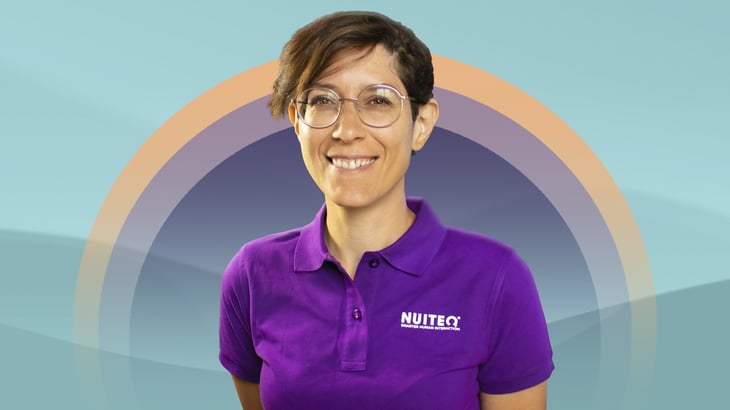 Q: Hi Myrto, please tell us a bit about yourself.
A: I am from Thessaloniki, Greece. I have been living in Sweden since 2004. Before that, I spent four years in England. I am married to a Swede, and we have two cats. I worked as a preschool teacher for ten years. I even have a few years of experience working in the mental health field.
Q: What can you tell us about your role in the company? What do you like most about your job?
A: I work as an Education Technology Coach at NUITEQ. My role is multifaceted. I create educational content that teachers can use in their classrooms, I show teachers how to use Snowflake, I represent the company during events and shows, and much more. The best part of my job is meeting teachers. I like finding out more about the challenges they face at work and showing them how they can overcome them by using our product.
Q: What motivates you to succeed in your role?
A: The way teachers' faces light up when they see the possibilities Snowflake offers them to save time and engage students in learning. Seeing that others use the content I create is incredibly satisfying.
Q: How do you occupy your free time, what are your passions, etc.?
A: In my free time, I like being active. Running is my greatest passion, and I love running far, but I also enjoy skiing and dancing. When I'm resting from these activities, I like reading, watching movies and series, and pretending I know how to play the guitar.
Q: Where would you like to travel to in 2020?
A: I can never get enough of London. On the other end of the noise spectrum, I love spending time in the Swedish mountains.
Q: What's your favorite food?
A: I love a good omelet. I would eat that every day if I could get away with it.
We're always looking for talented people to join our team. If you want to be part of a creative and innovative group of people in a fun and rewarding environment, don't hesitate to contact us by clicking the button below: