The success of our company relies on the strengths of our employees. At NUITEQ, we take pride in combining our Swedish heritage with the influences of Asian, Latin American and North American cultures to create a unique office environment.
We want to showcase our amazing team members, and this week, we'd like to introduce you to our VP of Customer Experience, Jack Reed.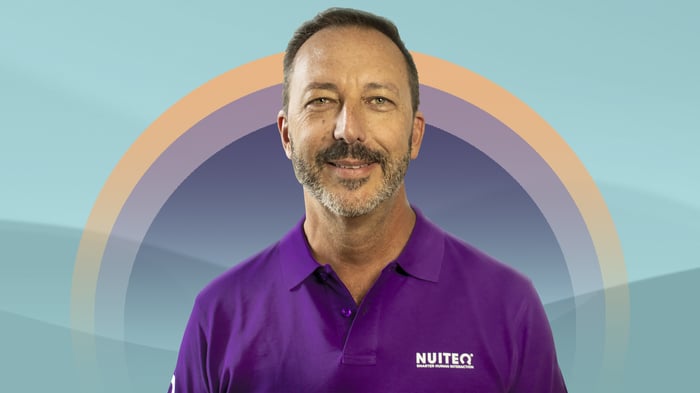 Q: Jack, please tell us a bit about yourself.
A: I am a Native Floridian, born in Jacksonville. I grew up with a rich sense of family and heritage, as my Menorcan ancestors built the "Oldest House in the USA," lived in the "Oldest Schoolhouse" and have another home "The Acosta House" located in Saint Augustine Historic District. My father's side of the family is Cherokee, and my great uncle lived on our reservation in North Carolina. I speak English, Spanish, and enough Portuguese to get in trouble.
I am married to a Puerto Rican and have two kids adopted from Brasil. My family is the most important part of my life.
Q: What can you tell us about your role in the company? What do you like most about your job?
A: I am fortunate to have the most fun job at NUITEQ. I get to visit customers, listen to how we impact education for their students and bring their feedback to our team to see how we can improve their experience. In addition, I get to work with amazing people that care about their jobs and the community around them. What more could one ask for?
Q: What motivates you to succeed in your role?
A: I absolutely get excited about education and what it can do to change the lives of people. I grew up cutting tobacco in South Georgia fields each summer. Education provided me other options. I believe it is the great social equalizer, and that is motivation enough.
Q: How do you occupy your free time, what are your passions, etc.?
A: I love the outdoors. I go for walks on the beach as often as I can. I enjoy going into the mountains to hike and find off-the-path places to explore and play. In Puerto Rico, we have a lot of rivers and swimming holes up in the mountains, and I love finding them. As I stated earlier, my passion is my family. So, whenever I can be with them, and we can eat, sing, and dance, I am good!
Q: Where would you like to travel to in 2020?
A: I don't think I can say one place. I have visited 37 countries, and find that in each there is something that is unique. I cannot imagine going to a place where I couldn't find a "favorite" thing. I can say, for sheer beauty, I love the mountain walks in Switzerland and the views from Santorini.
Q: What's your favorite food?
A: I don't think I have a favorite food. Or, does dessert count as food? As long as it doesn't come from the ocean or a river, I am good to go. I do not like any type of seafood.

We're always looking for talented people to join our team. If you want to be part of a creative and innovative group of people in a fun and rewarding environment, don't hesitate to contact us by clicking the button below: